PokerStars - get up to $33 free
In order to get a no deposit bonus from PokerStars, you'll initially have to complete the correct registration procedure at PokerStars. You'll need to take several simple steps:
If you have already installed PokerStars software (e.g. your siblings have been using it and etc.), it has to be deleted. Do the following: Start - Settings - Programs and settings (install/uninstall). The program will be deleted from your computer automatically.
Next follow thoroughly our instruction on registration at PokerStars:
Step 1. Clear cookies in your web browser. In case you don't do this, we won't guarantee your registration will be marked with our link and thus you won't be able to get our bonuses and cashback. If you don't know how to do this, use instruction on how to clear cookies in different web browsers.
Step 2. Go to PokerStars poker room website following the link.
Step 3.You'll be directed to the home page of the poker room. There you'll nee to press 'Click here' button.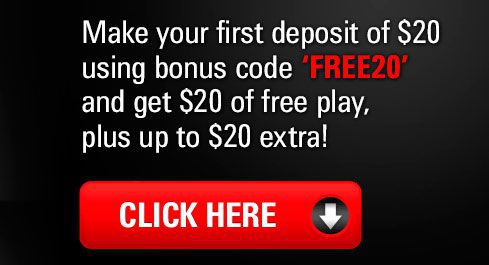 Step 4. Nest you'll be offered to download the installation file for the PokerStars software. Download it and open afterwards. Choose the setup language on the first stage (English for example), installation options, and also install location. Next accept the terms and conditions of the PokerStars end user license agreement and press the 'Install' button.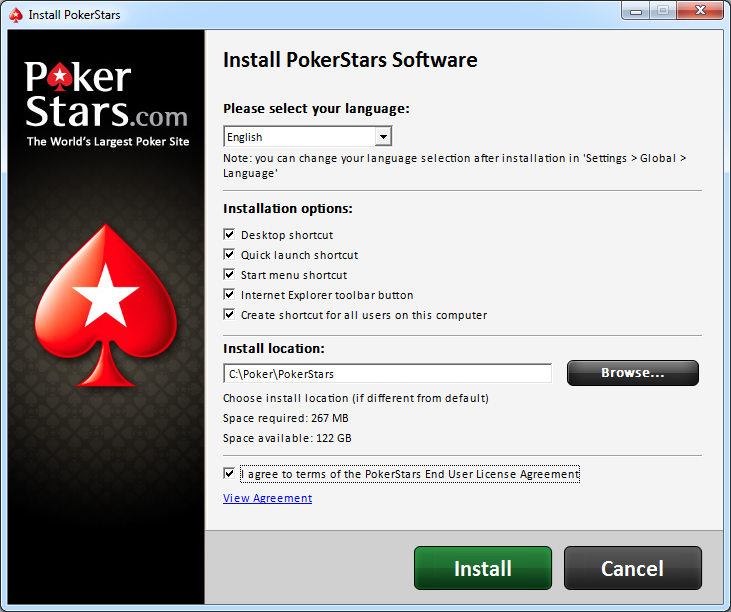 Step 5. In some cases you'll have to update the poker room software. Press 'OK'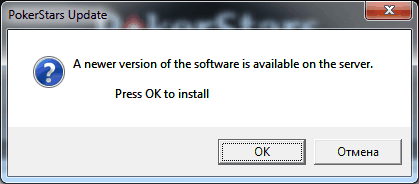 Step 6. After the installation of the PokerStars software to you PC is over, you'll see the main lobby of the poker room. Press 'Create Account' button.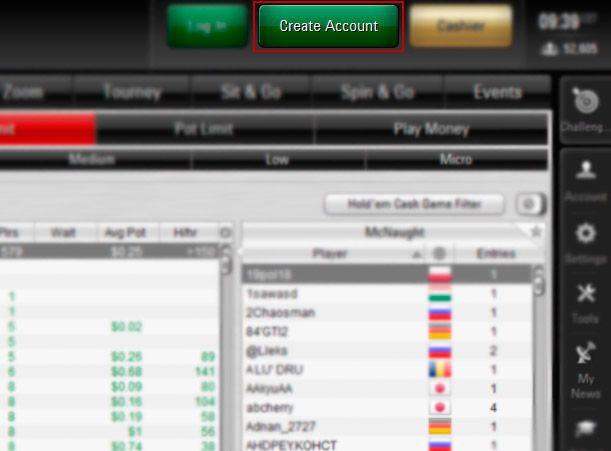 Step 7. 'Create Your Poker Stars Account' window will appear. You'll need to choose the login (your user ID) and the password.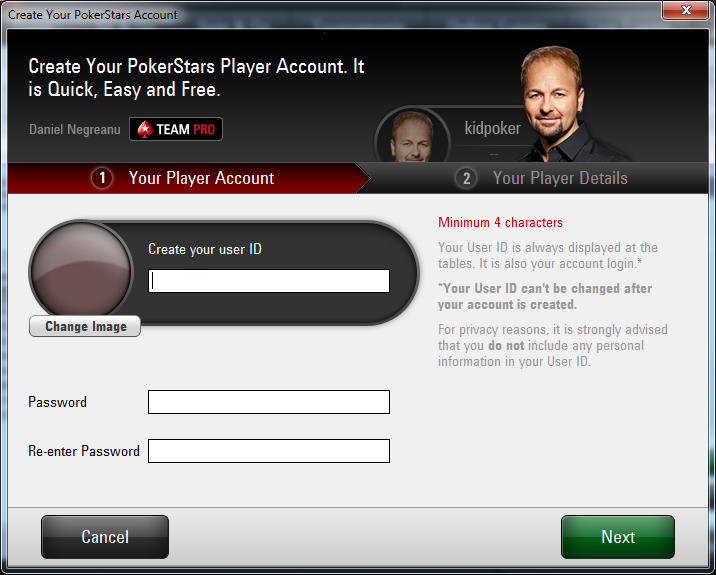 Step 8. Next you'll need to specify your email address and country of residence. It's better for you to use the real email, as the confirmation code will be sent to this address. If you wish to receive a no deposit bonus from PokerStars you need to enter marketing code. In the field 'How did you hear about PokerStars' choose source below and in the bottom field enter the PokerStars marketing code - pokerglobal.info.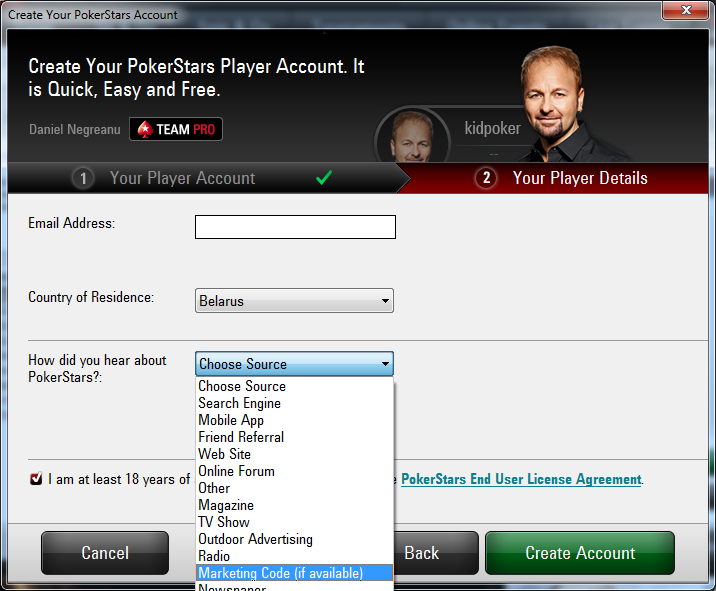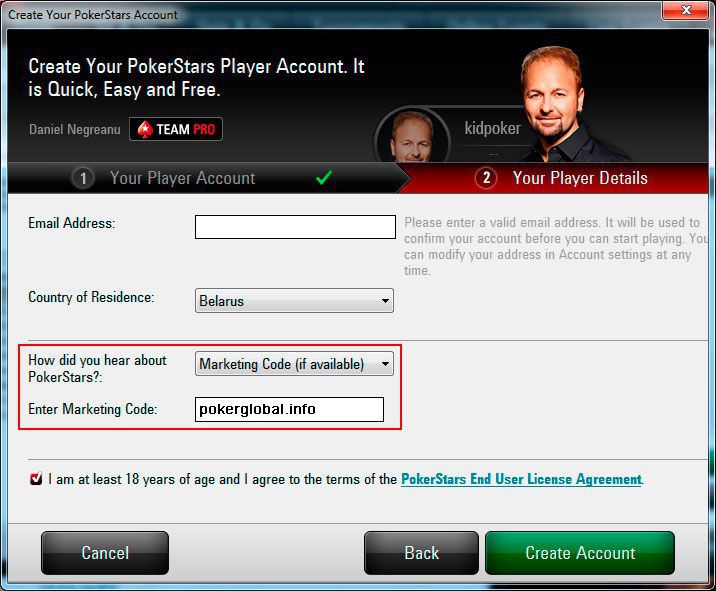 Press 'Create account' to finish.
Step 9. Now you've created and account at PokerStars and can proceed with getting a no deposit bonus from PokerStars. In order to get it, you have to stick to our instructions on getting a no deposit bonus at PokerStars.
Step 10. Log in in the poker room's lobby.
Step 11. Choose 'School' in the right menu.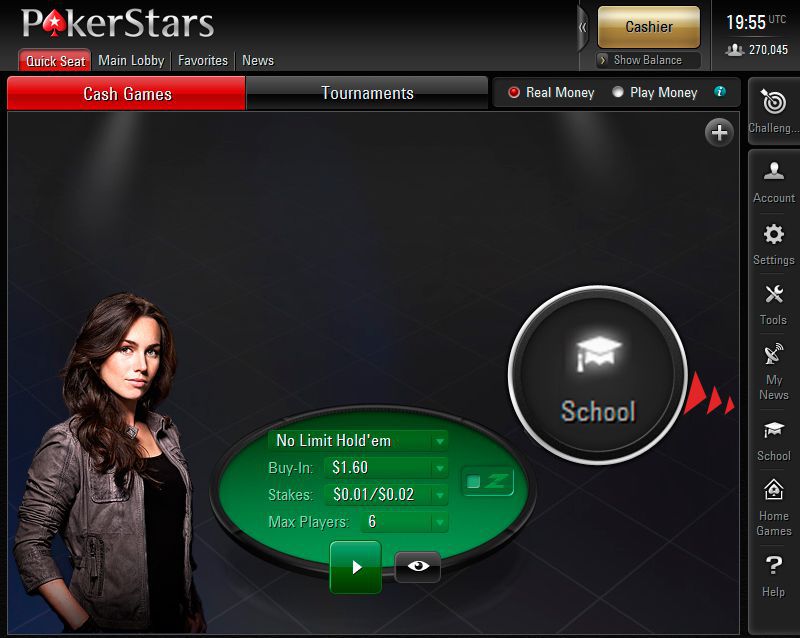 Step 12. Next create a new password for free PokerStars poker school, choose the language, accept terms and conditions and press the 'Submit' button.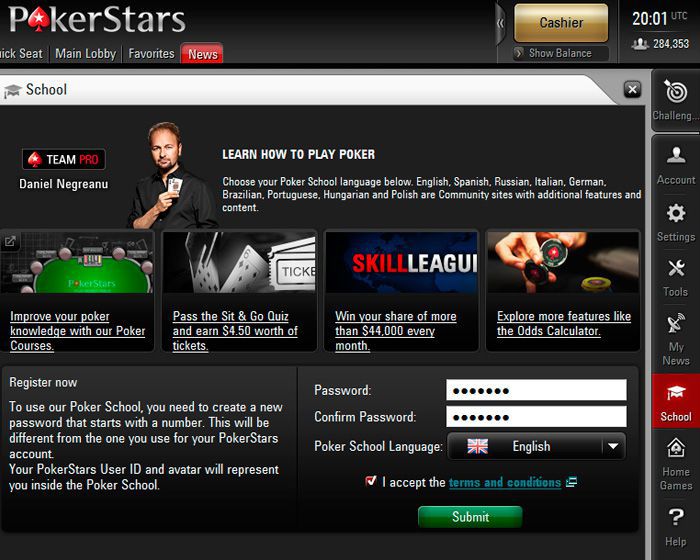 Step 13. You'll see the window offering to redirect you to the PokerStars poker school - PokerSchoolOnline - website. Press 'Yes'
Step 14. You get to the web site of a free PokerStars poker school. In order to sign in, use your PokerStars login and the NEW password for the poker school.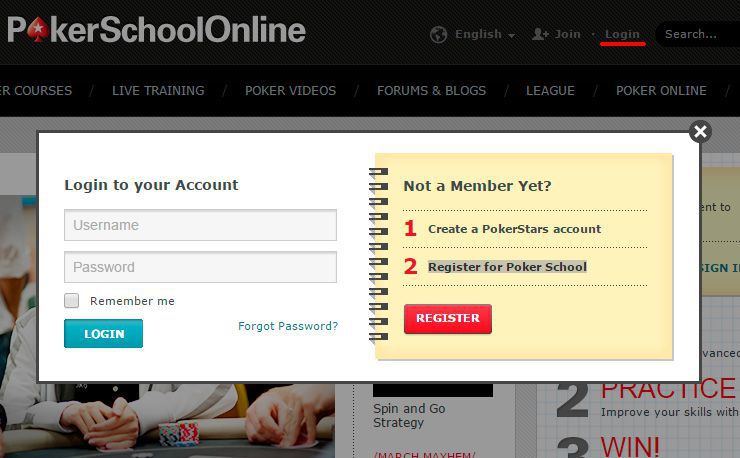 Good luck!
PokerStars
Web Site: PokerStars
Poker network: Independent
Name: PokerStars
Established: 2001
Location: Isle of Man
Currency: United States dollar, Euro
VIP Program: Up to 30%
Rake system: Weight contributed
VIP support