PokerStars real money review
PokerStars brand is famous among all the players, who have ever been interested in online poker game. Moreover, some players associate the brand PokerStars with "online poker" in general. And this is not surprising, because PokerStars is the world's largest online poker site today which gives its players an opportunity to try a great variety of poker types both for real money and for free (play money). PokerStars have been on the cutting edge of the industry for more than 10 years already if judging by the number of active players, traffic, the comfort and security of the software platform for online poker game.
PokerStars is the leading online poker room, which combines high reliability, fast and user-friendly software along with generous bonuses and promotions and freerolls.
PokerStars was established in 2001 by Isai Scheinberg, an Israeli IT-specialist, who had previously worked in IBM subsidiary in Canada. Today PokerStars is the largest poker room in the world with players traffic ranges from 50 000 to 170 000 people. The number of players registered at PokerStars above 100 000 000, which is an absolute record among other poker rooms.
By the mid 2017 PokerStars belonged to Rational Group Company, which in its turn belongs to Stars Group. PokerStars headquarters is situated on the Isle of Man.
PokerStars has its personal team of professional players, who represent the brand during all the important events of the gambling industry and festivals. This team includes about 40 popular players, with such world-famous persons like Liv Boeree, Daniel Negreanu, Barry Greestein, Chris Moneymaker and others. Moreover, until now PokerStars used to have its own Team Sportstars with only sport stars like Cristiano Ronaldo, Neimar, Ronaldo, Fatima Moreira de Melo. All these players have represented PokerStars at various events and also have taken part in marketing campaigns.
PokerStars can be utterly and completely considered responsible for poker boom that happened after an ordinary accountant - Chris Moneymaker - won WSOP 2003 Main Event. Chris won a ticket to WSOP 2003 in one of the satellites for $39 at PokerStars tables.
Official web site of PokerStars
No one will argue with the fact that the official website is the face of the poker room and the company in general. So, PokerStars gives a vivid example of what an official web site of a popular and quality poker room should be. Nothing is lacking for comfort here: user-friendly navigation, great interface, tons of useful information divided into small blocks, which very handy to read. And it is not the entire story.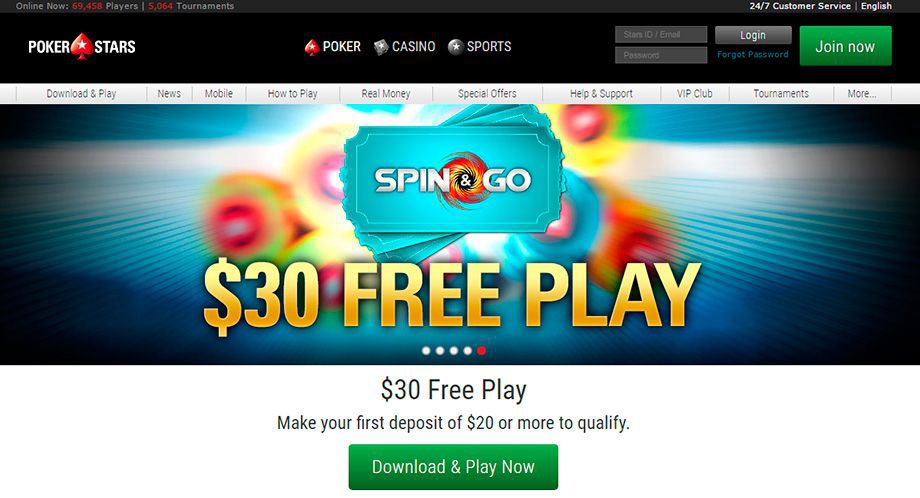 The official web site of PokerStars and its gaming client are translated into many languages including Deutsch, Norsk, Portuguese, Svenska and more. Customer support team also helps players in many languages.
PokerStars has several official web sites:
PokerStars.com - official web site for games both for real and play money. Here you can download gaming client, find out some information about special offers and also some useful tips. By the way, there's a separate web site for players from Europe, who prefer real money poker games - PokerStars.eu. Besides, PokerStars has arranged separate web sites for real money games for separate reservations (France, Italy, Spain, Portugal). There's another official web site - PokerStars.uk for players from the UK, who prefer playing poker for real money.
PokerStars.net - an official web site, which offers games for play money only. In fact, this is the world's greatest poker simulator for play money.
Each web sites mentioned above provides useful information about bonuses and promotions, poker rules, poker hand rankings; it also gives an opportunity to download mobile poker apps for Android or iOS, choose suitable payment methods (for money deposits/withdrawals) and also get information about security and reliability of the operator.
Real money poker games on the official website (gaming client) of PokerStars.com are running in several currencies: US dollars, British pounds, Euros and Canadian dollars.
PokerStars' history milestones
It was Isai Scheinberg - an IT specialist from IBM - who started to develop software for PokerStars in late 90s. In those far-off days virtual poker only started to gain popularity. As the result of Scheinberg's intensive work, a beta-version of PokerStars gaming client for play money was launched on September 11, 2001. Then, on December 12, 2001 users finally got an opportunity to play for real money. In order to manage the brand-new poker room, Rational Enterprises Company was registered in Costa-Rica.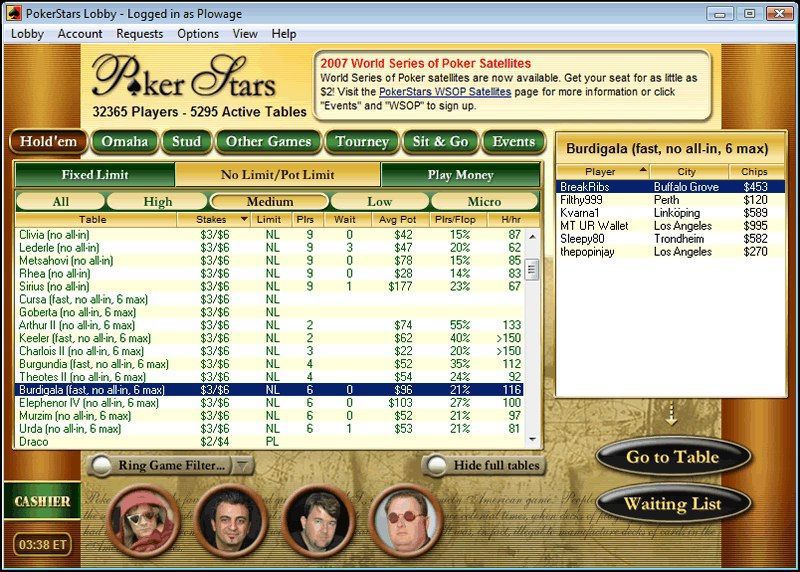 In 2002 PokerStars launched its first satellite tourneys and also arranged a championship - WCOOP (World Championship of Online Poker). Three years past and the poker room had already registered its billion hand.
On March 11, 2006 PokerStars launched a weekly tourney with a guaranteed prize pool of $1 000 000 - Sunday Million, which had later become the most popular and large-scale regular tournament over the Internet. Interestingly, the tourney has been maintaining this status ever since. The winner of the first Sunday Million tourney became "AAAAAAA" user from the USA,
Starting from March 18, 2008 PokerStars added Russian language to its software.
In 2009 the company created a team of professional players - Team Pro PokerStars, which currently includes many gifted and talented players, who represent PokerStars in many online and live events.
In 2011 FBI brought a charge against all poker rooms, including PokerStars, of fraud and illegal gambling games organization on the territory of the USA. As the result, PokerStars had to leave the US market.
In 2014 the Amaya Company bought out Rational Group, which owned PokerStars.
In 2015 PokerStars returned to the USA market after the Gambling Commission of New-Jersey accepted the submission by Amaya Gaming.
In 2016 the Amaya Company organized a merger between PokerStars and another associate poker room - Full Tilt.
PokerStars software
PokerStars offers really convenient and handy software of a very high quality, which will definitely satisfy the demands of the most sophisticated players. Failures and errors in the software are so rare, that one can count them on the fingers of one hand if taking the whole history of the poker room from the very beginning. PokerStars gaming client is rightly considered top-quality, user-friendly, rich and, what's extremely important, reliable. The developers have left no stone unturned to make you feel as comfortable as possible and enjoy playing poker for real money and for free at PokerStars tables.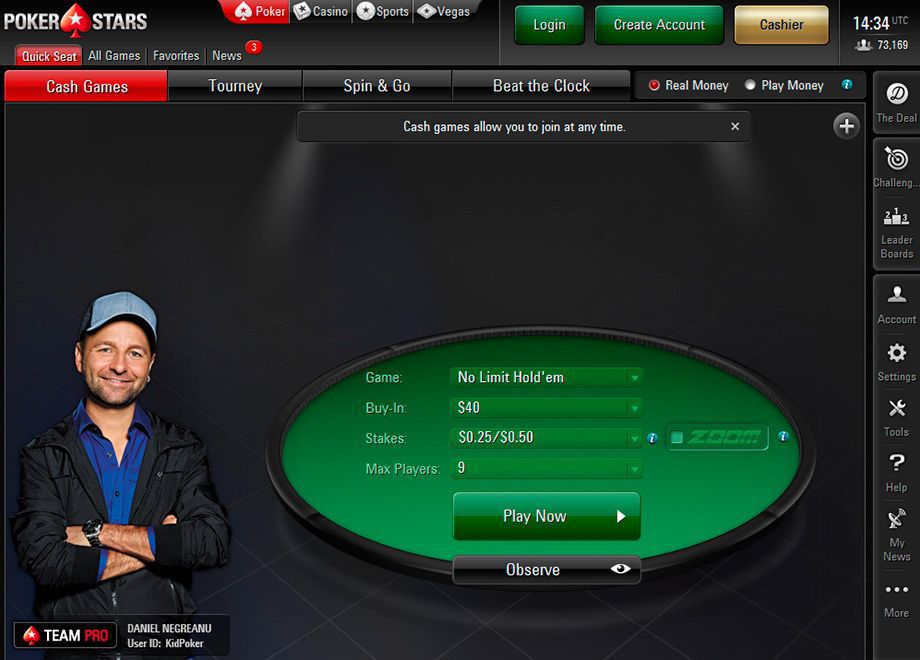 PokerStars software is very quality and secure and moreover it offers players plenty of possibilities: flexible configuration of client, notifications, tables, backs of your playing cards and many things more. Moreover, each player can multitable at up to 24 tables simultaneously, which is very comfortable for many professional players.
PokerStars: games selection
PokerStars is rightfully considered to be the biggest online poker room in the world. On average, PokerStars has about 100 000 customers playing poker at the same time and in rush hours this indicator may reach 250 000 and even more. No other poker room can boast of more players, than PokerStars has. There're quite many weak players, if you choose low-limits; but the higher limits get, the stronger your opponents are. So all in all the average game level on low stakes is very poor, but at the same time higher-stakes players are much stronger than in other poker sites.
PokerStars offers a vast choice of games: Texas Hold'em, Omaha Hi, Omaha High-Low, 7-card Stud, 7-card Stud High-Low, Razz (7-card Stud-Low), HORSE and a mix of 8 games (mixed games), 5-card draw, 2-7 Draw poker, Badugi.
PokerStars has gained its high popularity thanks to its tourneys - it isn't that there're many of them, there're actually the whole bunch of them. The poker room regularly hosts tourneys with huge prize pools. The best example is "Sunday Million" - regular weekly tournament with a guaranteed prize pool of $1.000.000. PokerStars also hosts online championships like WCOOP or SCOOP with prize pools over $40 million.
Registered players have an excellent chance to play different types of poker, no matter how much money they have on their accounts and whether they have it at all. When playing at PokerStars, you're allowed to take part in different varieties of poker games both for real money and for play money. Poker room treats players, who prefer playing for play money, and players, who choose real money games, equally seriously. In order to make the game for play money chips more dynamic and interesting, PokerStars holds special tournaments with buy-ins in the form of play money.
It's very easy to choose different varieties of games at PokerStars: in your gaming client you'll find tables with different games' types (Cash Games, Tourney, ZOOM and etc.) Moreover, in your clients lobby you may set filters to sort all the games.
Real money cash tables at PokerStars
PokerStars gives its players a chance to play different poker types at cash tables. Apart from traditional Texas Hold'em and Omaha, players are offered different types of Stud, 5- and 7-card poker, 5-card Omaha, 2-7 triple Draw, 2-7 Single Draw, Courchevel and some other variations. Most of poker games also feature various bets structures: no-limit, fixed-limit and also pot-limit versions.
In order to take part in the game at one PokerStars cash tables, users have to choose stakes: micro (up to NL16), low (NL16 - NL50), medium (NL50 - NL400) and high (NL400+). The game can be both played at the full ring (7-10 players) and short (6-max) tables. Please remember, that traditional Heads up tables were removed from the lobby in February 2016.
ZOOM Poker at PokerStars

This type of a card game involves game at cash-table, but once you fold in a Zoom game, you'll instantly be dealt a new hand against new opponents. This game is a great option for those, who like to play many hands in a short period of time. If you decide to play at ZOOM tables, you don't need to wait until the hand is over, but leave it, by pressing "Fast Fold" button. Thus each player can quickly get rid of weak hands and wait for strong ones.
Sit&Go tournaments
Sit&Go are tourneys, that start only after a certain number of players confirm registration. They don't stick to any schedule, but are held on a regular basis (ongoing): as soon as there're enough people for a tourney, it starts and another tourney opens for registration. The number of participants may vary from 2 to 990 people, and the size of a buy-in can range from $0,02 to $5,000.
Sit&Go tourneys can be held in an unconventional way: they may serve as satellites to bigger multi-table tourneys.
Sit&Go tourneys fall into 3 categories by size: heads up, single table and multi-table. The first category implies heads-up game, the second category implies only 6-max or 9-max tables and the last category implies, that there're 2 or more tables.
Spin&Go tournaments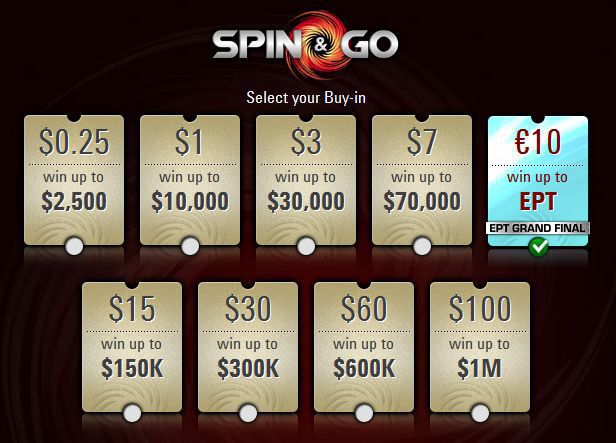 Spin&Go is a kind of a Sit&Go tourney with a prize pool chosen randomly right before the game starts. The minimum and the maximum size of prize pool (in money) for each tourney depend on the size of a buy-in as well. Spin & Go Max tournaments are available to play from just $1 and give you the chance to win up to 10,000 times your buy-in. For example, the maximum prize for a $15 tourney is $150 000. The greatest Spin&Go tourney requires a $100 buy-in with a maximum prize equal to $1.000.000.
Spin&Go are Hyper Turbo tournaments. This means, that it's a short-time game. What's interesting about these tourneys: players can both take part in the game and watch other players playing.
Multi-table tournaments at PokerStars
PokerStars regularly holds tourneys with thousands of participants. Such wide scale tourneys include WCOOP (World Championship of Online Poker), SCOOP (Spring Championship of Online Poker), MicroMillions and some other series. In addition to that, PokerStars also organizes satellite tourneys for live events like WSOP, EPT, WРТ and etc.
The poker room also regularly hosts tournaments with guaranteed prize pools equal to millions of dollars. You can distinguish several tournaments of such kind, for example, Sunday Million, which is only held on Sundays. The guaranteed prize pool of this tourney equals to $1 000 000 and the average prize for the first place varies from $160 000 to $180 000.
If you open the tab "Tourneys", you'll find many multi-table tournaments with 6 different buy-ins levels. First and foremost we should highlight freerolls.

Freerolls
Freerolls are tournaments with no buy-in required. Most of these tourneys do not demand any additional conditions from participants (sometimes they require tickets or passwords). PokerStars freerolls are an excellent opportunity to win some money, boost your bankroll and also get some experience of playing poker against real opponents. Freerolls are a great step up the limits ladder in poker. See freerolls schedule in order to find those tourneys that will suit you most.
They are followed by the tournaments with buy-ins in the form of Star Coin tourneys, micro - below $5, low - $5 to $19, medium - from $20 to $99, high - $100 +. All these tourneys are available with slow, normal, turbo and hyper-turbo blind levels. On the same page you'll find 6 types of VIP-freerolls, meant for players of different levels.
If you open "Events" page, you'll see all the regular tourneys, sorted by categories, Bubble Rush tourneys, satellites and WCOOP and mini-WCOOP events.
Knock-out tourneys
This category offers MTT and SNG tourneys with rewards for knockouts. When taking part in these tourneys, you may choose the game type, the size of the buy-in, suitable time to play and etc. the system will automatically sort out information and offer you those tourneys, which meet all your demands.
Knockout tourneys differ from traditional tourneys in the way, that each players is given a reward for knockout. This mean, that if you knockout a users out of the game, you'll be given a certain money reward. Thus, even if you don't get into the ITM zone, you'll still be able to win some money.
Live-events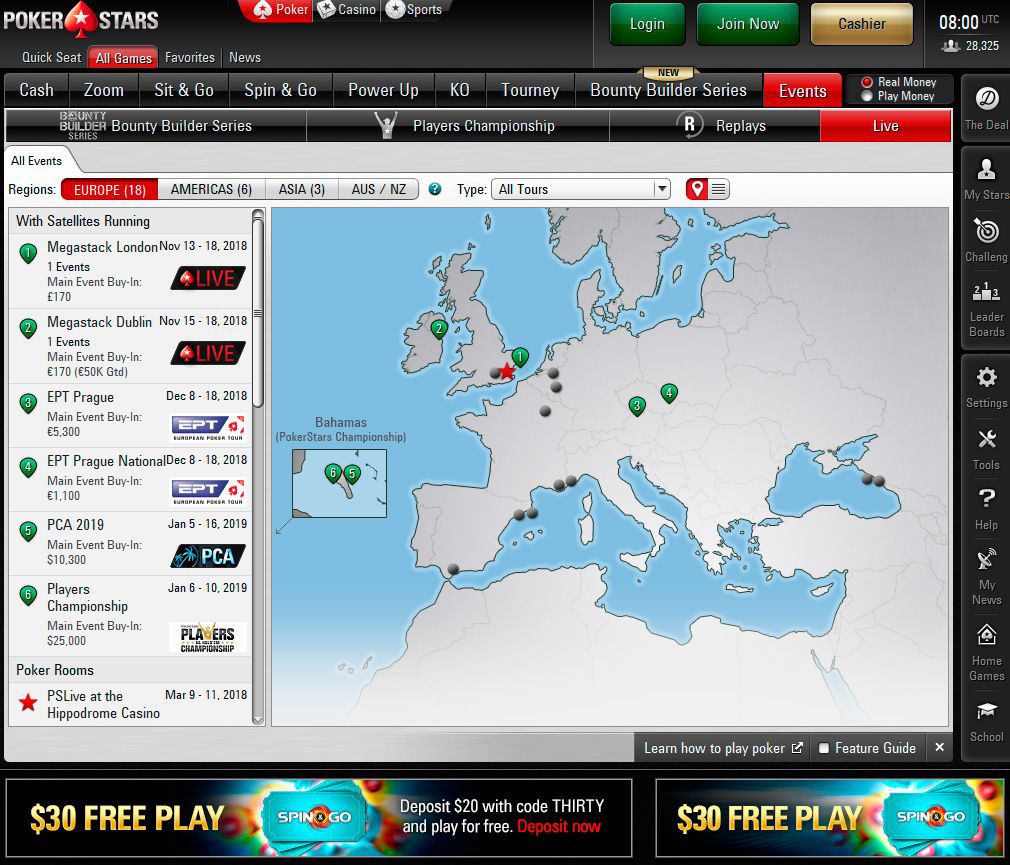 PokerStars is among those few poker rooms, which hold excellent online tourneys along with traditional live tourneys and festivals. If you have a look at& "Live events" tab, you'll be able to get some info on how ti qualify for these events.
This section of the gaming client also gives information about live-tournaments held all over the world. By accessing this tab you can get to know how to take part in satellite tourneys to such events. The upcoming events can be filtered by series or places. This section gives an opportunity to register for satellite tourneys to EPT, IРТ, FPS, Еureka and etc.
Poker for play money chips at PokerStars
All poker variants at PokerStars are available for free game/play money game. In order to make the game for play money chips more dynamic and interesting, the team standing behind the brand has decided to launch special VIP-program for those users, who have more than billion chips on their accounts. If you become a member of this VIP-program, you'll be able to get a free enter to Sunday Billion tournament - a play money version of Sunday Million.
If you brought yourself to start playing at PokerStars for play money, you'll have to switch from the real money mode in the poker room client. You can do that with the help of a special option button below the "Cashier" button.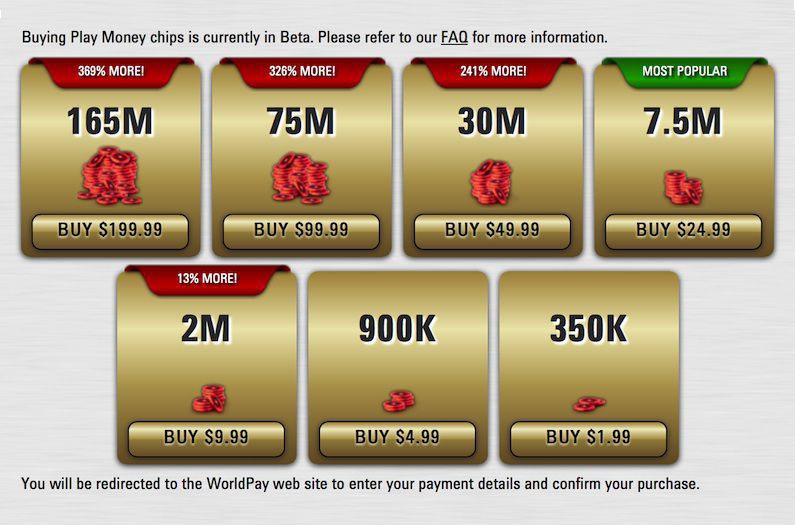 Apart from the fact that you play for chips there're no other differences between the modes. You can also play at cash tables with your play money chips, take part in Spin&Go, Sit&Go tourneys, multi-table tourneys and other poker games.
Deposit bonus at PokerStars
Being one of the best and biggest poker rooms all over the world, PokerStars has to maintain its reputation not only as a quality software provider, but also as a poker room with a great selection of games and lucrative bonuses. Clients of this online poker room have a chance to take part in different promotions and also get different valuable bonuses. For example, if you make your first deposit after creating a PokerStars account, you'll be able to get a 100% bonus up to $600. To claim the bonus you have to enter special bonus code "STARS600" when making a deposit. This particular bonus is paid partially in equal parts of $10 for each 200 VIP points, which can be scored during the real money game.
If you wish to find out more information about other specials and bonuses, which can be found at PokerStars, you'll need to visit the official web site of poker room.
School of poker by PokerStars
Unlike most of the other poker rooms, PokerStars can boast of its own free poker school, which teaches players poker for free and even gives them a chance to claim no deposit poker bonuses. Not only does free poker school by PokerStars teach its players poker basics, but also gives them tests, practical tasks and rewards in the form of free tickets and money for the game.
Moreover, each client of PokerStars has a chance to take part in monthly Poker League - participate in freerolls and win real money.
Loyalty programme
If you play for real money at PokerStars, you get special points - StarCoins. These points can be exchanged for tickets to satellites and MTT-tourneys or spent in the official PokerStars store.
After you earn a certain number of StarCoins, you'll be assigned one of six levels: Bronze Star, Chrome Star, Silver Star, Gold Star, Platinum Stаr and Supernova. In order to enter the nest level, a player has to make 20-110 steps. Each of these levels offers different rewards. For example, a higher rake-back or exclusive special offers, or a right to take part in special freerolls and many things more.
Mobile version of PokerStars for real money

There's a great option for PokerStars players - possibility to play poker for real money and for free on the go using mobile devices. The developers have produced a special gaming client for iOS and Android mobile devices, which can be downloaded on the official web site of poker room, at Google Play or in AppStore. If you decided to download PokerStars on your mobile device (download PokerStars on iOS of download PokerStars on Android), don't hesitate to do that. As the result you'll get access to the complete selection of games of the poker room. Moreover, with the mobile version of PokerStars players will be able to make real money deposits/withdrawals, take part in promotions, complete different missions and many things more.
PokerStars: safety and security
According to the administration of PokerStars, one of the main dimensions of its operation is the safety of player's data and funds. That's why such independent laboratories as Gaming Labs and GamCare are regularly hired to check PokerStars software for compliance with safety regulations. There's a PIN-code security system to protect account from hacking. This PIN-code should be entered when players enter their account by clicking buttons on the screen. Such security system protects personal pages from hacking through different programmes.
PokerStars downloadable client is protected by a 2048-byte RSA encryption, which was tested by Rational Services LTD. Moreover, PokerStars uses TSL-protocol, which also contributes greatly to players' safety.
PokerStars customer support
If you wish to get quality help from PokerStars specialist, you are free to use several contact methods. The easiest way is to complete a special form in the poker room client, choose the topic of your request from the variants offered and send your request. You can also contact the support team via email - support@pokerstars.com.
However, before you actually contact support team specialists, we strongly recommend you to read the FAQ section first on the official PokerStars web site. This will save your own time and the time of PokerStars support team members.
General information
Web Site: PokerStars
Poker network: Independent
Name: PokerStars
Established: 2001
Location: Isle of Man
Currency: United States dollar, Euro
VIP Program: Up to 30%
Rake system: Weight contributed
VIP support