PokerStars - get up to $33 free
PokerSchoolOnline is a free poker school, created by PokerStars team to help poker beginners sharpen their skills in one of the most popular card games in the world.
Poker is a very fun game and its popularity significantly grows. If you want to win in poker, you should learn the appropriate game strategies. That's why PokerStars is offering you a chance to join a free poker school PokerSchoolOnline, where you will be able to get a comprehensive and absolutely free basic poker learning. To do this, you will have to take a few courses, and you will receive a no-deposit bonuses from PokerStars afterwards. PokerStars poker school is, essentially, an academy of poker.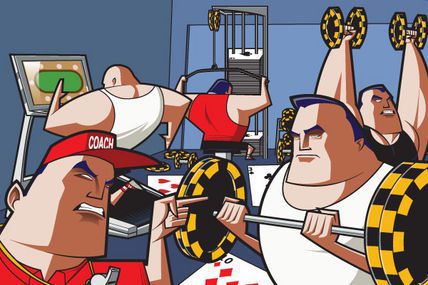 All poker school bonuses are divided into two parts: the no deposit bonuses in the amount of $12.5* + poker school tournaments tickets, as well as free $20 for your first deposit to PokerStars account. The total amount of bonuses equals $32.5 + tickets.
* To receive tickets you will have to make a deposit within 18 days from finishing the course.
Courses are recommended to take step-by-step, because knowledge and skills learned in earlier courses will be needed to understand the more advanced material. You will also have an opportunity to apply your knowledge in practice and train at the PokerStars tables in a special freerolls and Poker Leagues from PokerStars.
There are currently 7 courses available and their number is constantly increasing. After finishing each course you can take the test and see how well you have learned the material. After successful completion of each test you will receive a number of prizes, bonuses and tournament tickets.
Register at PokerStars for free and learn the materials presented in a free PokerSchoolOnline poker school, and in no time you will be ready to play real money poker games online.
After the completion of every course you will be asked to take the test. In case of successful completion you will receive great bonuses and prizes. This money can basically become your start-up capital or no-deposit bonus at PokerStars!
Get up to $33 from PokerStars →
Courses and bonuses of PokerStars poker school
1. Basic course. Poker school member's ticket
Take the test after reading all the articles within that course. If you will succeed, that will mean, that you're ready to train with real opponents. As a reward you will receive a poker school member's ticket, which will give you a chance to participate in a special PokerStars poker school tournaments (with a limited access), for example in the Poker League tournaments. And this, in turn, is a great opportunity to play against real opponents for the first time!
2. Cash games course. Free $8 as a part of Bankroll Builder promotion
This training course will tell you about fundamental concepts of the cash games, including preflop, flop, turn and river strategy. You will learn general information about pot odds, outs, selection of starting hands and tables. You will also be able to get $8 for free as a part of Bankroll Builder promotion.
3. SnG (Sit-and-Go) tournaments. 3 tournament tickets with buy-ins of $1,50 + $20 for free
Sit & Go tournaments course will allow you to get to the next level! If you haven't made any deposits yet, you will receive three tournament tickets with buy-ins of $1,50. To get this tickets you will have to make your first deposit within 18 days after completion of the course. Use FREE20 bonus code during the deposit (deposit amount = $20) and you will not only get 3 tickets for $1.5, but a bonus of $20 to your account as well. As a result, you will have $40 + 3 tickets.
4. МТТ course. 5 x School Pass VIP tickets
After completing the multi-table tournaments course, you will be ready to play in low buy-in tournaments. Develop your skills to move up to the next limits, but remember about bankroll management. As a reward, you will receive 5 School Pass VIP tickets, which can be used to participate in a special MTT satellites, exclusive for poker school members.

How to access the PokerSchoolOnline tests
Your PokerStars account shouldn't be older than 7 days
The break between the two tests shall be not less than 24 hours.
Tests should be taken step-by-step, as it's described on PokerStars site
Information about PokerSchoolOnline bonuses
Players do not need to enter any bonus codes to receive tournament tickets.
Deposit bonus is a 100% bonus up to $20. That is, if you deposit $20, you will be able to receive your bonus in full amount.
The bonus is paid in $10 increments, and you will have to earn 250 VPP points on PokerStars to receive every $10.
If you use an account in euros, you will receive a bonus in amount of €14. It is paid in €7 increments for every 250 VPP points earned.
If you will withdraw money from your account after completing the course, you will lose your bonus.
To receive Sit-n-Go tournaments tickets, you will have to make your first deposit within 18 days after completing the test.
PokerStars
Web Site: PokerStars
Poker network: Independent
Name: PokerStars
Established: 2001
Location: Isle of Man
Currency: United States dollar, Euro
VIP Program: Up to 30%
Rake system: Weight contributed
VIP support