Bubble Rush: a few facts about the new format of tournaments on PokerStars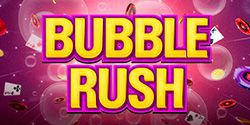 A brand new tournaments at PokerStars - Bubble Rush - were launched only some days ago and have already got their own regular schedule and own tab in the lobby (Events- Bubble Rush). So what stands for a new form of tournaments and how successful may its launch be without PokerStars' official press release? Let's figure it out.
Bubble Rush at PokerStars: what is it?
Bubble Rush - are multi table tournaments on PokerStars that begin in a hyper-turbo format and slow down when the prize zone is reached. The players start the tournament with 10,000 stake and blinds levels increase every 3 minutes. As soon as participants approach the bubble (the prize zone), the gap between the levels reaches a 12-minute rate, and 20 minutes at the final table. The later the current stage in the tourney - the longer it takes blinds to increase.
At the moment you can play Bubble Rush tournament with Buy-ins from $0,55 to $33 on weekdays and with $109 buy-in on weekends. Moreover, all the tournaments have guaranteed prize pools.
Why will Bubble Rush tournaments be in demand?
Tournament participants often have to play long hours, but can't even reach the prize zone. This is a primarily fact that pushes poker lovers away (according to PokerStars). So players choose fast games more often now (Spin&Go, Zoom Poker and others). The new edition is about to solve this problem: they shorten the game duration in tournaments a lot until participants get to the bubble. Also PokerStars offers players an opportunity to compete for money (during the ITM) in comfortable conditions with a slow tournament structure.
Is this format from PokerStars really that innovative?
The reduction of the tournament structure's pace when the players get further is widespread means to solve the problem mentioned above. And Bubble Rush is not a pioneer for sure.
In 2013 Full Tilt launched Escalator tournaments with blind levels duration growing within the game.
In 2014 Full Tilt room announced their new Flipout tournaments, where the players go all-in until the final table is determined and then the game lasts in general pace.
In 2014 PokerStars launched Bubble Dash tournaments and included it into MicroMillions series. This form is very similar to Bubble Rush.
So what is the difference between Bubble Rush and its ancestor Bubble Dash? In general, they are clones, but new Bubble is more noticeable. First of all, Bubble Rush is promoted as a separate brand. Second, it has its own tab in the lobby (as well as whole WCOOP series). Third, it has a strict daily schedule. Meanwhile, Bubble Rush edition is nothing new in the poker industry and in PokerStars as well. So, we can sum up, that it's just an enhancement of the previous format with a new marketing campaign.
Bubble Rush figures: how successful is the launch of a new format?
When this article was being written, only 7 tournaments in a new format had been held, without an official PokerStars press release. Let's check, whether Stars managed to cover the guarantees:
$22 Bubble Rush $10.000 GTD - overlay (guarantee was not exceeded and poker room added money to cover it) was $1,760
$2,2 Bubble Rush $2,000 GTD - prize pool surpassed the guarantee by $1,022
$33 Bubble Rush $20,000 GTD - prize pool surpassed the guarantee by $4,000
$3,3 Bubble Rush $5,000 GTD - prize pool surpassed the guarantee by $1,960
$22 Bubble Rush $10,000 GTD - prize pool surpassed the guarantee by $740
$2,2 Bubble Rush $2,000 GTD - prize pool surpassed the guarantee by $514
$7,5 Bubble Rush $3,000 GTD - prize pool surpassed the guarantee by $137
Only one tournament out of 7 didn't manage to cover the guarantee, other ones did succeed. After a full launch of the marketing campaign with Bubble Rush announcement, PokerStars can easily expect that the amount of registration in the tournaments will increase.
Now we suggest you to look through these interesting figures:
During the first day of the 7 Bubble Rush tournaments 7,297 players joined and paid $64,473 to participate.
2 tournaments out 7 had Russian winners
The average duration of the 7 first tournaments - 4 hours 40 minutes
The biggest prize went to the Russian Mone-lol ($4,050,84)
Only 1 PokerStars team member participated in these tournaments (without a prize pool)
During first 7 Bubble Rush tournaments PokerStars earned $40,100,4