Bubble Rush - new tournaments by PokerStars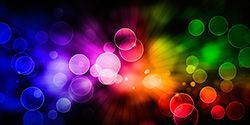 It's been almost a week since poker room PokerStars presented new MTT called 'Bubble Rush'. So what is the point of them?
Recently a new from of playing has become available to all real money PokerStars users - we are talking about 'Bubble Rush' tournaments. You can find them in a special tab Events - Bubble Rush in room's lobby. Buy-ins on 'Bubbles' vary from $0,55 to $109, so anyone can choose an appropriate event.

In brief, this brand new thing has a lot in common with a general hyper-turbo event: in the beginning blinds increase very fast (the bubble is determined in about half an hour). But, when the ITM players are finally defined, the game process slows down. Unless the participants of the online event get into prize area, the blinds increase every 3 minutes. But when reaching the ITM zone, blind levels last much longer - 12 minutes until there will be 18 players left in the tournament (then the blinds multiply each 15 minutes).
Last weekend PokerStars held two events of this series at their tables with a maximum buy-in of $109. The guaranteed prize pool on Saturday was $40.000 and $50.000 on Sunday.
The Bubble Rush tournaments have already implemented into tournament schedule of PokerStars and now more than 20 'Bubbles' events running daily. Thus, if you are tired of spending loads of time and energy to make the way up to the final stage, the 'bubbles' are about to relieve you from this. Due to them you can approach the most interesting part of the tournaments skipping the introductions.