PokerStars 100K Privilege Freerolls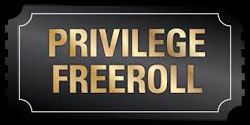 Attention: this promo is not valid already
Sign-up for PokerStars, make a deposit, participate in the daily freerolls, win cash prizes and build your bankroll!
Make a deposit right now to receive up to 124 tickets to daily freerolls with a prize pool of $1.000 each. Tickets are valid for 31 days from the time of deposit, and it just means that, if you will participate in every freeroll tournament, you will be able to fight for prize pool of over $100.000 absolutely for free. Impressive, isn't it?
Moreover, if you will enter the 'STARS600' bonus code during your first deposit at PokerStars, you will also receive a first deposit bonus of 100% up to $600.
What if the freeroll tickets have expired?
Everything is much easier than you think. If you would like to continue playing in the unique daily freerolls with prizes of $1000 at PokerStars after the tournament tickets have expired, you would just need to make another deposit to your account and you will automatically receive new ticket. You can refill your account each month and receive new ticket for 31 days by entering '100K' bonus code.
Exclusive PokerStars freerolls with a prize pool of $1.000 for players, who made a deposit with a '100K' bonus code, are held in a special freebuy format. That means, that you can play in the tournament for free, but more than that, during the first hour of play in the freeroll you will be able to make up to three re-buys for $0,30 each. Re-buys will increase the prize pool of each individual freeroll tournament at PokerStars.
This is the largest series of daily freeroll tournaments at PokerStars, which will significantly increase the value of your deposit.
How to take part in $100 000 depositors freerolls at PokerStars
Enter the '100K' bonus code during your deposit to PokerStars and a special ticket will be automatically credited to your account. To use all the advantages of this promotion, make a new deposit to your account immediately after the expiry of the current ticket.
Attention! If this is your first deposit on PokerStars, use a 'STARS600' bonus code and in addition to freeroll ticket you will receive a first deposit bonus. If you previously have made a deposit to PokerStars already, use the '100K' bonus code.
Go to freeroll schedule at PokerStars →
Poker Stars is hosting such a tournaments four times a day: at 04:00 ET, 10:00 ET, 15:00 ET & 21:00 ET. You will be able to find these tournaments in PokerStars lobby, via the 'Tournaments' - 'Freerolls' tab.
Depositors freerolls at PokerStars structure
Each tournaments starting stack - 1.200 chips. During the first hour of play there are three re-buys available for $0,30 each. Every re-buy gives you 1.200 chips. You can also make on add-on in amount of 2.000 chips for $0,30.
PokerStars - is the best bonuses and freerolls for players
If you have any questions about making deposits or participating in freerolls at PokerStars, you can ask the support team by sending an e-mail to: support@pokerstars.com.