PokerStars daily super rewards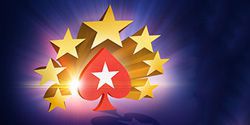 What's better than getting presents for 7 days in a row? PokerStars gives presents to everyone who hasn't yet made their first deposit. Just make your first deposit now at least a $10 (€9, £7, CAD $14) and you'll be getting prizes for the course of the whole week worth $25 in total (free $25 package).
In order to get the bonus, you need to enter a special bonus code = SUPER while making a deposit. If everything is correct, you'll get your first prize on the following day.
The prize package includes:
Day 1 - three tickets worth $1 each to Spin&Go tournaments
Day 2 - $5,60 cash
Day 3 - two tickets worth $1,5 each to all Sit&Go tournaments
Day 4 - two tickets worth $1,1 to any MTT-tournaments
Day 5 - 8 tickets worth $0,25 to Spin&Go tournaments
Day 6 - a ticket worth $3,50 to any Sit&Go tournament
Day 7 - $5,7 cash
Don't miss out a chance to add up to your bankroll by making you first deposit at PokerStars. Tickets and money for the game will be credited to your account every 24 hours during the 7-days' period.
The special offer is valid for a limited time only.
In case you still don't have an account at PokerStars, use our guide to create it in order to get first deposit bonus along with access to regular private freerolls. Do not forget to enter correct PokerStars marketing code = pokerglobal.info.