888 poker download on Android for real money

Nowadays mobile technologies are developing much faster than desktop (computers and laptops). Especially popular are devices on Android OS. Obviously, that fact had not been ignored by poker room software developers, because an opportunity to play poker from your Android mobile device (smart phone or tablet) attracts a lot more recreational players (players that do not play professionally).
888 Poker players can be happy: they can play in their favorite online poker room not only from their computer, but also from iOS mobile devices (see 888 poker on iOS) as well as Android. From this article you will learn about main features of 888 poker application for Android, as well as we will let you know how and where to download 888 Poker client for Android tablet or phone.
The forthcoming launch of mobile application of 888 Poker for Android and iOS was first announced in the beginning of 2012, and the real client was released in the middle of 2012. Developers have paid special attention to simplicity and usability of their software: there's nothing excessive, and client navigation is intuitively clear.
Attention! If you don't have an account at 888 Poker yet, we recommend you to create it following a special instructions BEFORE downloading and installing your Android app. Firstly, in that way it will be easier for you to enter the registration data, secondary after the registration following our instructions you will get a no deposit bonus from 888 Poker in an amount of $88 and will be able to play poker from your Android device with a free real money poker bankroll.
The last update of the 888 Poker Android application (game client), that happened in the middle of July 2016, brought a bunch of new features and improvement to a 888 Poker game client for Android. Thus, now before logging into the client you can choose one of the languages: English, Deutsch, Russian, and Svenska. So players from Sweden, Austria and Germany can play at 888 Poker from Android mobile devices on native language. It's not important what site you used to download the app to play 888 Poker from - all these languages are integrated into the software by default.
Right after logging into the 888 Poker mobile client for Android you will be offered to choose Classic Poker, Blast Poker and Snap Poker. In classic poker you will be able to choose a suitable game format: cash games, Sit & Go tournaments, and scheduled tournaments. The main drawback of 888 Poker Android version should be noted right here: you will not be able to play more than one table at the same time.
Blast Poker is a super-turbo Sit-n-Go tournaments, where 4 players compete for a randomly drawn prize pool of up to 10,000 times the buy-in. Once the timer runs out, everyone's all-in until there's a winner. This is one of the most suitable formats of poker game for mobile devices.
Right here in the lobby you will be able to enter the 888 poker cashier from your mobile device, as well as get an information about the amount of tickets you have on your balance.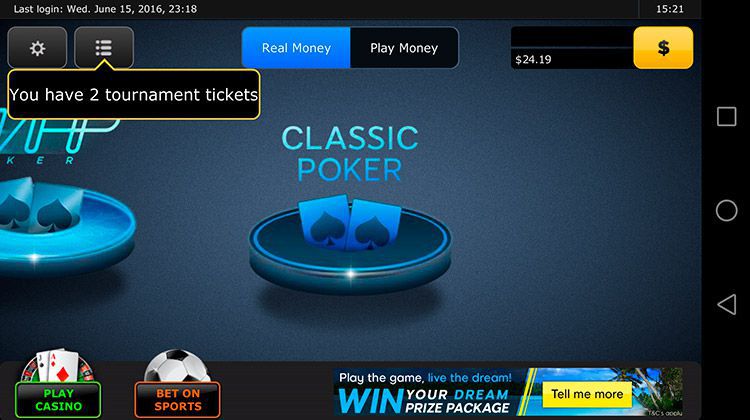 In the top left corner you will be able to change your general settings: turn on/off the sound, vibration, notifications, chat bubbles, as well as auto muck of the hands. As you see, there is not that much tweaking that can be done.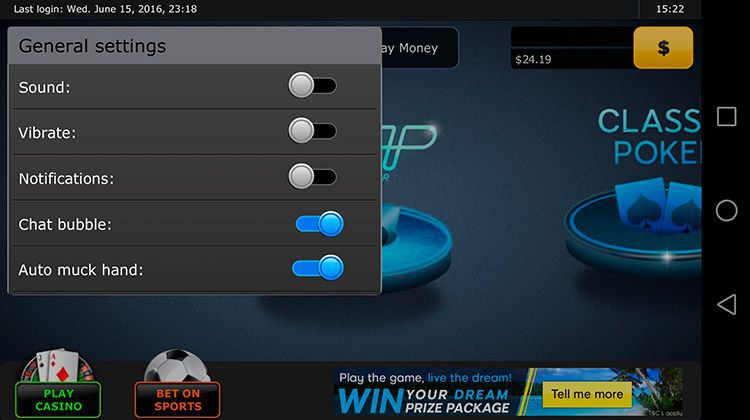 888 poker for android gives you an opportunity to to play Texas Hold'em only. If for cash games and Sit-n-Go tournaments you don't have an option to choose a specific table (there's an auto seat feature working), in MTT you can set up a buy-in size filters, as well as tournament speed; see tournament name, buy-in, number of participants and tournament status; you can enter the lobby of every tournament and see the detailed information about each event.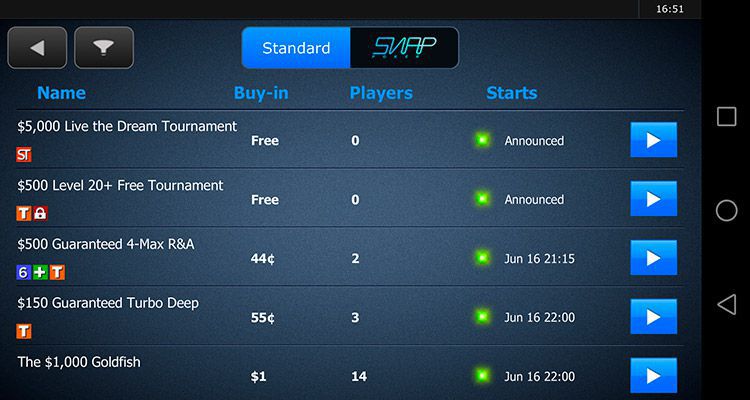 In Android version of 888 Poker application you will be automatically seated in the bottom seat, so you would have more comfortable gaming experience. When it will be your turn to act, action buttons will appear (Fold, Check, Call, Raise) on the left, and the bet sizing slider on the right. You will also see the button to open chat window on the left.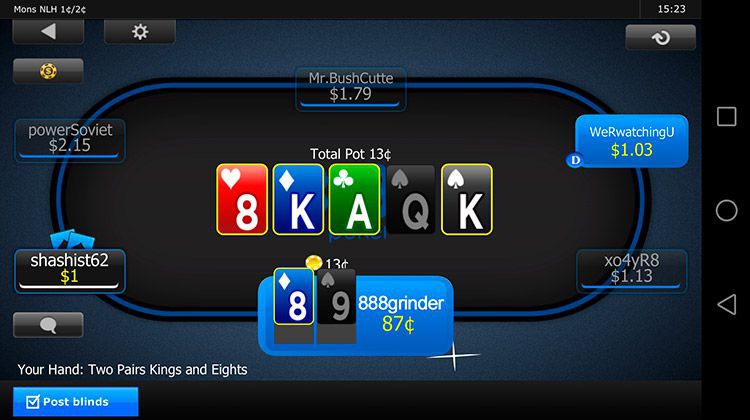 The 888 poker for Android developers had also provided the opportunity to review a history of hands played at each table (re-player). You can open the re-player by clicking the button on top of the screen.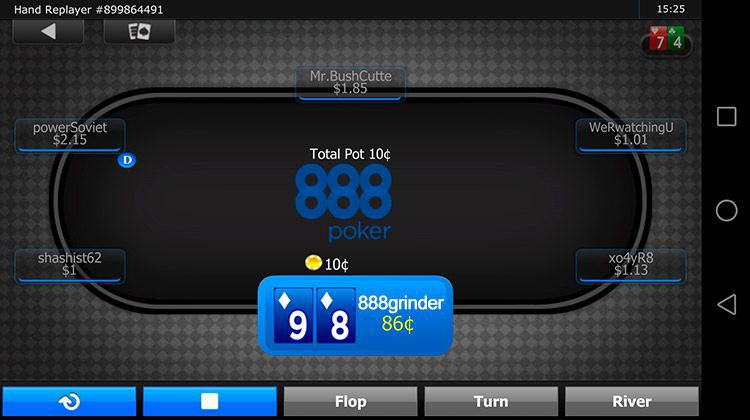 In general, it may seem to you, that 888 poker mobile app for Android is too simple, but it's working fast and stable. Interface is very comfortable and you can get used to it without any difficulties. And the lack of multi-tabling can be compensated by the presence of Snap Poker and Blast Poker in 888 Poker mobile version for Android devices.
Download 888 poker for Android for free in English
You can play 888 Poker from Android devices in two ways: in a downloadable app or in your browser (read our article How to play 888 Poker in browser).
You can download 888 Poker for Android absolutely for free, without registration on the official site of the poker room.
888 poker android app free download →
It is worth mentioning, that you will be able to download 888 poker app only from the official site of the poker room. You will always find the latest version of software there. In most countries the app is absent in Google Play market, and it's not advisable to download it from third-party resources, as you will can get malware.
We recommend you to create an account on your computer first, and only after that install the app on your Android device. There are several reasons of doing that:
1. It's much easier and faster to create an account to your computer
2. You will be able to claim 888 poker $88 no deposit bonus and then play from your mobile device for real money and with real opponents
3. Not everyone is able to download the real money app for android from an official 888 poker website, that's why most users will find it easier to download the 888 Poker apk installation file to computer, and then copy it to your device.
Preparing to install 888 poker application on Android device
Before installing the downloaded 888 poker apk file, you will need to allow your phone or tablet to download the apps from Google Play. To do so you will need to go to device settings, and put a check mark to 'Unknown sources' in the Security tab.
After that you can launch the software installation file.
888 poker Android apk download →
How to install 888poker mobile app on Android
It's very easy to install 888 poker on Android - launch the installation file and everything will be done automatically!
After the installation will be completed you will have a 888 Poker launch icon and you'll be able to log into your account. As we have stated before already, there is 888 Poker Android English, German and Sweden versions are available. However, the interface is very intuitive, so everyone will enjoy it.
You can install 888 Poker on any device running on Android OS 2.0 and newer. This means that you can download and install 888 poker on Android Lollipop, for instance.
If talking about the advantages of mobile version, then the opportunity to play from any place with an access to internet should be noted. It's very comfortable for avid players, as now you are able to play few hands sitting in public transport or standing in the line. Also, considering that Android platform is developing very fast, you can be sure that 888 app will be constantly upgraded.
888 Poker Android Cashier
In the 888poker for Android app you can not only play real money games, but also make deposits/withdrawals. There is a cashier specially for that needs. You can open it by clicking yellow butting with a dollar sign in a top right corner of your screen, or click Menu - My account. You can make a deposit in mobile version with the help of most payment options available in standard downloadable version for PC.
Please note, that if you don't have a cashier button in you mobile 888 Poker app for Android, then you have downloaded an app exclusively for play money games. To start playing real money games you will need to re-install it, using the link provided below:
888 Poker for Android - questions and answers
Is it possible to receive a no-deposit bonus during the registration in 888 Poker for Android?
Yes, that is possible. However, we recommend you to get it by signing-up from your computer, because in that case you are guaranteed to receive your bonus. The thing is that by registering from a mobile device, you might have some difficulties with your bonus.
Where can I find 888 poker app for Australia?
The 888 Poker mobile Android application is the same for players from any country (e.g Brazil, Mexico, Argentina, Czech Republic, Croatia etc.), so you just need to use the link below to visit the official web site of poker room and download the necessary file.
I can't download 888 poker on my phone, what should I do?
It's possible that your provider is blocking the app. You would need to download an installation file to your computer, and then transfer it to your phone.
Can I multi-table from my phone?
No, in Android 888 Poker client you can't play at more than one table at once. However you are free to play fast poker version - Snap Poker. If you still prefer to multi-table, we recommend you to download 888 Poker for computer.
Is 888 poker for Android safe, secure and legit?
Yes, it is safe. After all, 888 poker have set a very strict requirements to safety of its software, that is you would not be able to download the dubious software, not to harm the company reputation or expose its clients.
888 poker free Android app download →
You can also visit our poker for Android section, where you will be able to find other popular online poker rooms for that OS.
General information
Web Site: 888 Poker
Poker network: Independent
Name: 888Poker
Established: 2002
Location: Cassava Enterprises (Gibraltar)
Currency: United States Dollar
Cashback: Up to 27%
VIP support