Win a solid gold poker chip at special Spin&Go Neymar JR Edition tournaments on PokerStars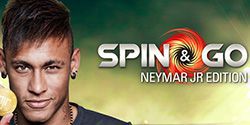 During his football career Neymar won Gold medals several times, and therefore knows how it's done. Now you are able to win gold playing at PokerStars tables and spending just a few minutes and even for free.
In the period from December, 23 to February, 15 each PokerStars client will be able to win gold poker chips by this famous football player of Barcelona FC and Brazil national team, playing the exclusive Spin & Go Neymar JR Edition tournaments. The information on how to find these tournaments and take part in them is available below.
How to participate in Spin & Go Neymar JR Edition on PokerStars?
First of all, you will need PokerStars poker client, so if you don't have it installed yet, do that. After that, log in into your account and open the Spin&Go tab in the lobby.
This tab has several regular and two exclusive tournaments: Free win up to Gold Chip and $0,50 win up to Gold Chip.
The participation in "Free win up to Gold Chip" tournament is free, you just need a special ticket. Depending on how long you are playing at PokerStars, you are able to get one to three of these tickets (detailed information is available below).
The tournament "$0,50 win up to Gold Chip" is available for registration with buy-in of $0,50 or after getting a ticket in the foregoing Spin&Go tournaments.
Let us remind that the major prize the participants will compete for is defined randomly in each game before the tourney starts. Thus, as soon as necessary amount of players register at Spin&Go tourney there will be a random draw to decide the prize pool of this particular tournament.
What is to win in Spin&Go from Neymar?
The prize pool of the "Free win up to Gold Chip" tournament includes the ticket to the same Spin&Go with $0,5 buy-in, a gold poker chip of 0,5oz and a gold chip of 5oz.
The prize pool of "0,50 win up to Gold Chip" has the cash prizes of $1, $2, $10, and gold chips of 0,5oz and 5oz.
In case you win a gold chip, you will see the pop-up notification or an e-mail.
How to receive free tickets to Spin&Go Neymar JR Edition?
As we've already noticed, depending on the date of your registration on PokerStars you will be able to receive one or three tickets to play in exclusive Spin&Go Neymar JR Edition tournaments. Let us dive in into all the situations:
If your account was created after December 23, 2016 you will automatically receive 3 free tickets to this tournament absolutely free. Just launch free Spin&Go, press "Register" button and use one of the tickets. That way you will have three tries to compete for special gold poker chips.
If you registered at PokerStars before December 23, 2016, you will receive only 1 free ticket. To claim your ticket, log in into the client of the poker room, open the tab "Service" - "Star Code" and enter the corresponding Star Code PokerStars = NEYMARGOLD. Then you will see the message that the tickets will be credited soon.
How to receive prizes?
If you're lucky enough to win one of the gold chips, you must contact to the customer support service till February 28, 2017 to confirm the winnings and negotiate on the way of getting it.
Let us notice that you are able to exchange the chips for the money within 72 hours after you win them. The chip of 0.5 ounce is worth $670,35, while 5-ounce chip is $6,703,50 worth. To make an exchange for money, contact PokerStars support team via e-mail support@starsaccount.com.
If you are willing to receive the chip, provide the support service specialist with your address. Depending on where you live, the delivery of the prize may take up to 90 days since the date of its departure.