Win €2,000 Unibet Open package on free Unibet Open Slot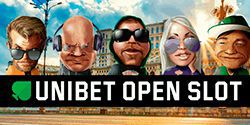 In the period from 1 to 4 December in Bucharest will be held the Main event of Unibet Open and any user of the online poker room Unibet Poker can win a free entry into this tournament with the help of special free spins on Unibet Open Slot with main prize of a Unibet Open package at a total amount €2000.
How to get free spins at Unibet Open Slot?
First of all, every Unibet user can get 1 free spin just for logging in into their accounts via the poker client. To get more free spins, one needs to fulfill daily tasks, listed below. You can carry out only 3 tasks a day and every of them will bring you 1 free spin.
These tasks demands that player has to watch a certain amount of flops in different games at various limits:
60 reached flops with your hole cards at NL4 or 40 hands at PLO4
30 watched flops at NL10 and 20 hands at PL10
15 watched flops at NL25 and PL25
40 reached flops in Banzai NL1
35 reached flops in Banzai NL5
20 reached flops in Banzai NL20
The watched/reached flop is a hand in a real money cash poker game, when the player doesn't fold his cards at preflop and have a look on the three common cards of the flop.
What prizes does Unibet Open offer?
The free spins, you receive this way, can be used on Unibet Open Slot.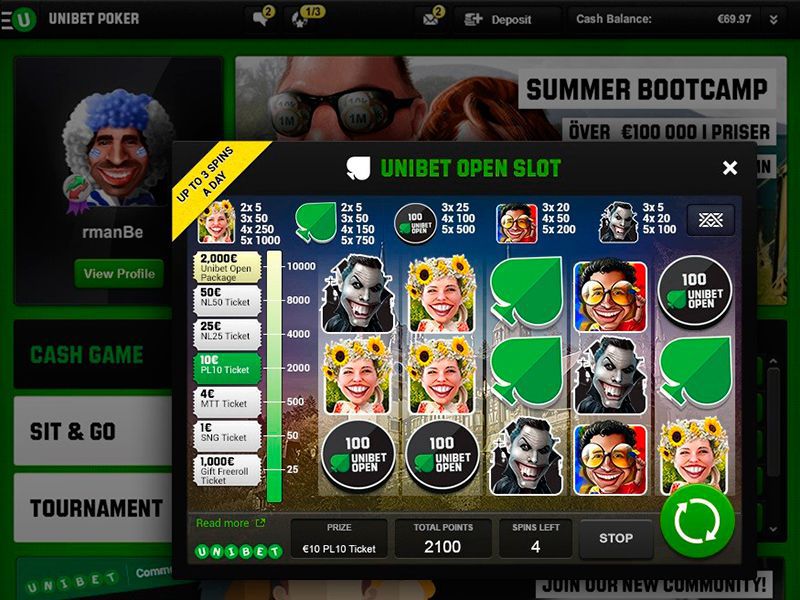 This slot has 5 reels and 25 pay lines. Playing Unibet Open you get an opportunity to win following prizes:
Unibet Open €2,000 prize package
€50 ticket to NL50 cash-tables
€25 ticket to NL25 cash-tables
€10 ticket to Pl10 cash-tables
ticket to any MTT-tournament with 4 buy-in
Ticket to €1,000 Gift Freeroll that will take place on Sundays from September,4 to October, 2
This special offer is valid until September 30. When the special offer is over, all spins left will be canceled.
We also would like to draw your attention on the Unibet Poker €10 no deposit bonus that can be claimed by all new players from Finland, Norway, Denmark, Sweden, UK, Belgium and Netherlands. The users from other countries can also claim €2 free ticket from Unibet Poker.