Unibet Poker review
The Unibet company (currently the Kindred Group) was founded in 1997 by Anders Ström. The company is listed on NASDAQ Stockholm since 2004. The poker room Unibet Poker itself was established in 1998. In the same year, Unibet obtained a UK license to engage in gaming activities.
Now Unibet is one of the most popular poker rooms to play online for real money.
The official website of Unibet Poker is operated by Trannel International Ltd, a subsidiary of Unibet, under licenses issued by the Malta Gambling Authority, the UK Gambling Commission, and gambling market regulator of Denmark (Spillemyndigheden), Estonia, Romania and several other countries where such activities are regulated by national legislation.
Company management claims that their goal is to be one of the leaders in the world market of online gambling. Let's note that they have met this bullish target. Unibet Poker room focuses on the users' needs, providing the best possible services, software as well as safe and secure games, which is highly appreciated nowadays. Little wonder that the number of players at Unibet Poker exceeds 3,500,000 people.
The Unibet Poker was one of the flagships of the MPN poker chain until 2014, when the poker room management decided to focus efforts on developing its own poker room, designed for recreational players mostly (weak poker players with little knowledge of Texas Hold'em rules and poker hands rankings).

The development of a new gaming client has totally changed the situation. Relax Gaming has created a special catching gaming client, missions for players were added as well as introduced many other innovations. As a result, the Unibet Poker management has succeeded in achieving the goal. Numerous international awards prove this. In 2014, the poker room won the "Best Poker Marketing Company" and "Innovation in Poker" awards at the EGR Awards. In 2015, Unibet was honored with the title "Innovation of the Year" at the European Poker Awards, and later it received the "Innovation in Poker" award from EGR for the second year in a row.
In 2016, the Unibet Poker affiliate program was recognized as "Best Poker Affiliate Program" at iGB Affiliate Awards.
Unibet Official website
The official website of Unibet Poker is available in 16 languages: Danish, Norwegian, Finnish, Swedish, German, French, English, Greek, Italian, Portuguese, Czech, Polish, Hungarian, Romanian, Estonian, Lithuanian and Russian.
To sign up for Unibet, the user will be asked to select currency of an account. By the way, the choice of currency here is rather wide: Brazilian real, Bulgarian lion, Canadian dollar, Croatian kuna, Czech krone, Danish krone, Euro, Hungarian forint, Norwegian krone, Polish zloty, Pound Sterling, Romanian lion, Swedish krona, Swiss franc and U.S. dollar.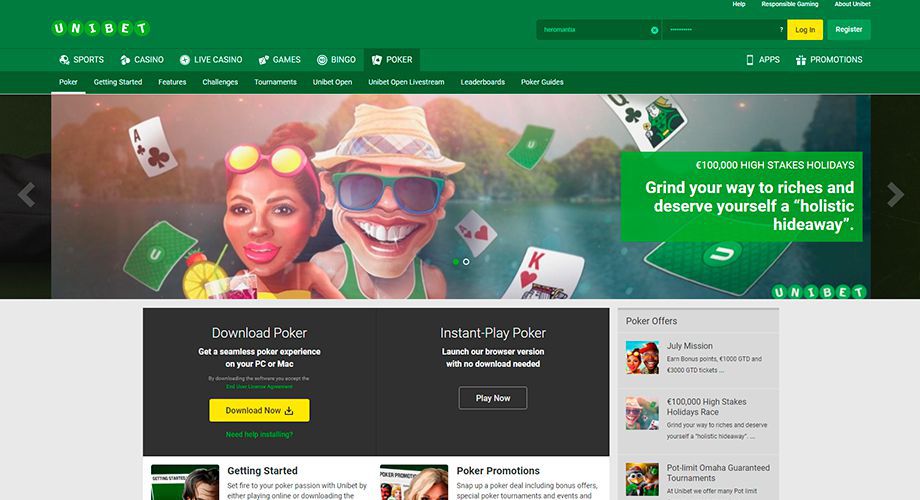 It should be noted that even the updated client is available in multiple languages, so you can freely download it from the official web site of poker room. The Unibet Poker administration spares no effort to make the poker room a comfortable place for users from all over the world.
Unibet poker software
Innovations have resulted in a limited number of games, which are Hold'em, Omaha and Fast Poker (Zoom Poker analogue). Moreover, as of now, the maximum stake at Unibet Poker is €2/€ 4 (NL/PL400).
You may set fire to your poker passion with Unibet by either playing online or downloading the client to your desktop for easy access. The downloadable poker software of Unibet Poker client perfectly runs on Windows and Mac. Get a seamless poker experience on your PC or Mac. Those who prefer mobile experience can download application and play at Unibet Poker tables on their iOS-based (see mobile poker on iOS) and Android-based gadgets (see the section poker on Android).
It is worth noting, that you are not allowed to use third-party software to collect statistics during the gaming process at Unibet Poker real money tables. This means that you will not be able to use Holdem Manager or Poker Tracker software when playing here for real money.
Unibet Poker games selection
All types of real money Unibet poker games use euros. After registration, you will get an access to the cashier (and will be able to deposit and withdraw money accordingly), and to all available games. There are three main game sections in this poker room:
Cash tables (the section "Play for money")
Sit-n-Go Tournaments
Multi-table tournaments
Cash tables at Unibet Poker. If you like to play poker at cash tables, poker room Unibet Poker can offer you three game options: Texas Hold'em and Omaha with NL (PLO) 4, NL (PLO) 10, NL (PLO) 25, NL (PLO) 50, NL ( PLO) 100, NL (PLO) 200, NL (PLO) 400 stakes, as well as Banzai cash tables with NL1, NL5 and NL20 stakes.
Banzai Poker at Unibet Poker. Banzai is a variation of Texas Hold'em with one difference: the game is held with extremely short stacks (no more than 10 BB).
It is expected that NL4 and NL10 Texas Hold'em tables are the most popular, so you will always find suitable games there. It is also worth noting that you will be able to find game at all the stakes presented. This means you can play your favorite games at any time of the day and night. Even at NL400 there is at least one active table.
Sit-n-Go tournaments at Unibet Poker. Those who like this type of tournaments can find something to entertain themselves, but the choice is limited though. Unibet Poker offers two types of sit-n-go: heads-up and 5-max with from € 1 to € 100 buy-ins.
MTT tournaments at Unibet Poker. Unlike the Sit-n-Gos, there is a wide range of multi-table tournaments. Buy-ins at multi-table tournaments vary from €0.01 to €4000 (huge buy-ins are set for qualifiers to live events).
It should be noted that tournaments with the name including "Unibet Open" are held on a regular basis. Most often, these are qualifiers for Unibet Open tournaments (a series of live tournaments, which are sponsored by Unibet).
Unibet Poker offers the following types of MTT tournaments:
Qualifiers - satellites for major tournaments, where you can win a seat by paying a lower buy-in
Guaranteed tournaments - tournaments with guaranteed prize pools. This means that the prize pool of these tournaments can't be less than a certain amount regardless of how many players register
Bounty Tournaments - knockout tournaments. You get a certain amount of money for each player eliminated
Re-buy tournaments - tournaments, which allow you to buy chips in case you lose your entire stack.
You can also view local tournaments at Unibet Poker lobby (held for players from a limited number of countries) and private tournaments, which are "not for everyone", for example, tournaments held by some poker websites and designed for certain players).
Freerolls at Unibet Poker - free tournaments with prize pools in the form of cash or tournament tickets. You can participate in them absolutely for free or by specifying a password (in case it's a private tournament).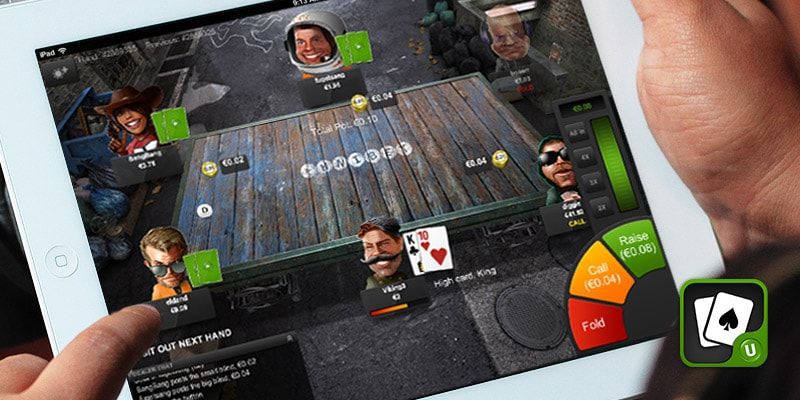 Unibet Poker Mobile - play real money poker games on mobile gadgets
As we noted before, you can play poker for real money at Unibet Poker using iOS- or Android-based smartphones/tablets. Just open official site of Unibet Poker from your mobile device, click on the smartphone icon in the upper right corner, select the menu item App - Unibet Poker App and choose the corresponding link, depending on the operation system.
Play your favourite card game on the go with Unibet's exclusive app for iOS and Android. Don't miss out on the action with Unibet mobile Poker.
With Unibet Poker application for mobile devices, you can make real money deposits and withdrawals, learn about new offers, perform missions/tasks and more. In other words, the functionality of the mobile version is not much different from the full PC version. Moreover, using a smartphone or tablet with the Unibet client installed, you can take your favorite games when going on trips.
Unibet Poker - bonuses and promotions
Speaking about promotions and bonuses offered by poker room Unibet Poker, the main gimmick is that every quarter of the year Unibet holds so-called "challenges". During these challenges, users are invited to perform various tasks at poker tables to earn loyalty points and win prizes.
In addition, every month the poker room offers to complete missions. Each mission is done in several steps. For each step completed, the player receives a ticket to the tournament or cash to play the cache game.
Unibet Poker also offers no deposit poker bonus for all new comers: after registration, you receive 5 free tickets to Welcome Freerolls and a €2 free ticket to participate in Unibet Open tournaments, where you can win cash prizes or £20 free for players from Finland, Norway, Denmark, Sweden, UK, Belgium and Netherlands. More info is available at Unibet Poker no deposit bonus for UK and Unibet Poker no deposit bonus articles.
The list of promotions and bonuses is regularly updated. Subscribe to the Unibet newsletter or visit the official website more often to be informed of current promotions.
Unibet Poker - safety and security
As we have noted above, Unibet has multiple licenses to conduct gambling activities from the most reputable regulators in the field of online gambling.
In addition, the poker room is a member of the EGBA (European Gaming and Betting Association), ESSA (Sports Betting Integrity), and is regularly inspected by eCOGRA, an international independent organization, specializing in integrity, safety and quality inspection of the services provided by poker rooms and online casinos.
Users of Unibet Poker may have peace of mind about their security, as all information and transactions are done through a channel protected by SSL-encryption technology. This means that fraudsters will not be able to access data if the player follows the simplest security rules.
Players with gambling addiction can set limits on deposits or bets, or even restrict depositing funds into their account for a certain period of time. In doing so, the poker room shows its determination to fight game addiction and desire to deliver only positive experience.
It is not too much to say about the payment system, which has a PCI DSS Level 1 status. This level (the first one) is the highest possible protection level when making payments through Visa and MasterCard bank cards.
Unibet Poker - real money deposits and withdrawals
In order to start playing poker for money, you must first make a deposit. Poker room Unibet Poker offers several deposit methods: Visa, MasterCard, Maestro, Visa Electron, Skrill, EntroPay, Neteller, Webmoney and bank transfer.
The minimum deposit amount at Unibet Poker is €10 provided you make it using Visa, MasterCard, Maestro, Visa Electron or EntroPay, and €15 when depositing in other ways. The maximum deposit size at Unibet is €13,000 per transaction, except for WebMoney, which is no more than €250. Limits can be increased. When depositing via bank transfer, the amount is unlimited.
It should be also noted that if you choose Visa, MasterCard, Maestro, Visa Electron and EntroPay to deposit, a 2.5%. commission will be applied.
You can use the same methods to cash out (withdraw funds from the account), except for MasterCard, Maestro, Visa Electron and EntroPay.
The minimum amount that you can withdraw from your Unibet Poker account using any method is €15. The maximum withdrawal amount is €1,000 per a transaction. The maximum limit can also be increased.
Note that if the user does not log into the account within 12 months but has some funds on his balance, the casino has the right to charge a fee in the amount of EUR 5, BGN 10, BRL 13, CAD 7, CHF 5, CZK 130, DKK 35, GBP 4, HRK 38, HUF 1320, LTL 17, NOK 40, PLN 20, RON 20, SEK 50 or USD 7 once a month.
Customer support at Unibet Poker
Even the most seasoned poker players can occasionally experience some problems, not only due to their ignorance, but due to problems related to software, transactions etc. In such cases, we recommend contacting support service, which aims at helping in difficult situations.
You can contact Unibet Poker customer support team members in several ways.
Support at Unibet Poker by live chat
The chat in English is available 24 hours a day, but you can also request for help in other languages:
In Swedish from 8:00 to 02:00
In Norwegian from 8:00 to 02:00
In Danish from 8:00 to 24:00
In French from 10:00 to 22:00
In German from 8:00 to 00:00
In Finnish from 13:00 to 18:00
In Romanian from 11:00 to 00:00
Customer support at Unibet Poker by e-mail
You can also get help by e-mail, which is also used to send documents (if it is necessary to verify your identity). Residents of the United Kingdom and other countries are not included in the list below can contact via e-mail documents@unibetsupport.com, info@unibetsupport.com 24 hours a day.
E-mail support at Unibet Poker for players from other countries:
Customer support at Unibet Poker by phone
In addition, you can call one of the listed numbers for immediate help. Unfortunately, the international telephone line is not available, and only residents of the following countries can call the support service:
Great Britain - 0800 329 393, 0207 257 8701 (24 hours a day)
Finland - 0800 915634, +358942451105 (from 13:00 to 18:00, Thu, Fri from 13:00 to 21:00)
Norway - 852 28861, 800 24644 (from 8:00 to 00:00)
Denmark - 898 83325, 808 26080 (from 08:00 to 24:00)
France and Belgium - 0800 74438, + 44 203 725 3771 (from 10:00 to 22:00)
Germany and Belgium - 0800 74408, +44 203 725 3770 (from 13:00 to 21:00)
Finland - 0800 915634, +358942451105 (from 13:00 to 18:00, Thu, Fri from 13:00 to 21:00)
General information
Web Site: Unibet Poker
Poker network: Independent
Name: Unibet Poker
Established: 1998
Location: Malta
Currency: United States Dollar, Euro, Pound
VIP program: Up to 56%
VIP support