Win $1,000,000 in Millionaire Grand Final free tournament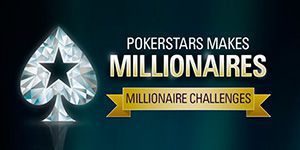 This spring PokerStars has launched a series of special offers entitled as "PokerStars Millionaires". In terms of this special offer the poker room will turn into real millionaires ordinary players, who have enough skills and luck to pass basic qualification. One of the ways to win $1,000,000 is to participate in Millionaire Grand Final free tournament, which will be held on April, 24 on 14:00, East-European time. You can join it totally for free via completing a special two-step mission. The most interesting thing about this offer is that you are to choose, which of the tasks to fulfill so as to move to the second step. You still do not have an account at this poker room? Register at PokerStars, complete missions and move towards your million.
How to become a participant of Millionaire Grand Final?
The most interesting thing in this promotion is that you cannot register at this tournament by making a real money buy-in. Therefore, every participant of Millionaire Grand Final are required to pass through a series of tasks and will be equal to one another.
To receive a ticket to a darling tournament, you simply need to complete challenge composed of two stages. The first stage includes 3 missions, but only one should be completed and it's up to you which one to choose.
The second stage is Millionaire Grand Final Daily Qualifier - qualification tournament to the main event. These satellites are held daily on 10:47, East-European time. It's also worth noting that qualification games are held in a format familiar all users of PokerStars - All-in Shootout. This means, that right after the tournament begins all participants automatically go all-in every hand. And this repeats unless the number of players is equal to the number of places in ITM.
In case you get lucky and reach the ITM zone in this qualification tournament, it means that you get a ticket to the main event - Millionaire Grand Final, the winner of which will take $1,000,000 away. Besides, a player who is the second will have $30,000.
How to fulfill missions to get into Millionaire Grand tournament
If you decide to try your luck and manage to pass qualifications to this tournament, get ready to choose and complete one of three following missions. Important: before you begin fulfilling task, make sure you've registered for it in your PokerStars client.
Make a deposit of at least $15 and a ticket to Millionaire Grand Final qualification tournament will be credited to your account
Register at Spin & Go, get x2 multiplier and gather not less than 100 points in such tournaments. Then you will get not only a ticket to Millionaire Grand Final, but also an opportunity to win a random prize in amount of $10,000. BTW, if you get a x10 multiplier playing one of the tournaments, you're considered to have this mission completed.
Play at real money cash-tables (including Zoom-tables) and win hands with at least one pocket Ace in your hand, collecting points in between. Meanwhile, if you win a hand while you are on a button, you'll get extra points. When you gather the amount of points required, you'll get a ticket to satellites and a chance to win a prize of $10,000.
More elaborate info upon missions and additional prizes you can find in the poker room client on missions' tab.
Notice, that all above-mentioned challenges are daily, thus, you can complete it every day and get a ticket to qualification tournament each time.
Extra info about participation in Millionaire Grand Final tournament
Even though qualification tournament will be held in All-in-Shootout format, the Millionaire Grand Final itself will take place as a general tournament, with experience and skills as core elements, but not luck. In case you have your account in other currency than USD, then minimum deposit that counts, so that the mission is considered completed, is £12, €14, CAD $20. Moreover, the points you collect completing the missions can't be spent, changed or passed to another user.
All additional information is located on the official site of PokerStars poker room.