Unibet Poker September missions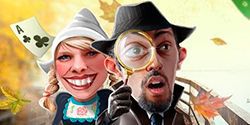 September has come and poker room Unibet Poker wants to color grey routines of chasing the real money prizes while playing online poker. Complete special September missions that are implemented by the management team of the poker room, fulfill these simply tasks and gain the prizes - tickets to tournaments and cash-tables.
Complete all missions and get an opportunity to win loads of additional gifts totally free.
September missions at Unibet Poker traditionally consist of a few steps. Each of the steps includes some tasks. You can learn the whole list of the missions below:
Step 1. Prize: €1 Ticket to Banzai game
Create a new poker identity: go to 'View Profile' tab and click 'Create New Identity'.
Watch 10 flops in Pot-Limit Omaha during 3 days in a row.
Play any Sit-n-Go tourney with €1 buy-in and MTT with the same buy-in the following day.
Step 2. Prize: Ticket to Sit-n-Go tournament with €2 buy-in
Participate at any MTT tourney with buy-in and the word 'Bounty' in the title (excluding freerolls)
Double starting stake in Banzai (i.e., earn 20 big blinds)
Win 3 hands at showdown at any No Limit Holdem cash-table and repeat it three days at a stretch.
Step 3. Prize: €4 ticket to Pot-Limit Omaha cash-tables
Get into the prize zone (ITM) of any MTT with real money buy-in (freerolls are not credited)
Take part in at least one Sit-n-Go tournament a day within 3 days in a row.
Win 5 hands at cash tables on leading position.
Step 4. Prize: €5 ticket to Sunday Entitled Qualifier tournament
Create a new poker identity as in the first task of the Step #1.
Participate in any MTT tournament for real money with a 'Qualifier' word in the name (freerolls are not considered)
Then watch 10 flops with your pocket cards at Pot-Limit Omaha cash tables and repeat it the next day at Holdem cash-tables.
Step 5. Prize: 3 tickets to any MTT-tournament with €2 buy-in
Play 10 cards of 10 and higher value at No-Limit Holdem cash-tables.
Play 20 cards (starting 10 and higher) at Pot-Limit Omaha cash-tables
Play at least one Sit-n-Go tournament a day 3 days at a stretch.
All tickets are valid until October 2. Otherwise, they will be cancelled. The special offer will last till September, 30, 2016.
Pay attention that if you still do not have an account at Unibet you can create it and get Unibet Poker no deposit bonus. And if you live in Finland, Norway, Denmark, Sweden, UK, Belgium or Netherlands you are eligible for Unibet Poker £€10 free money.