November missions at Unibet Poker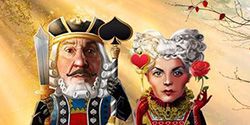 Every month Unibet users have an opportunity to participate in special missions, complete simple challenges and receive money rewards for that, as well as tickets to tournaments (this month all the prizes are paid in the form of tournament tickets). These missions are very convenient for the users, since they don't require any extra efforts: you merely need to play poker.
Get acquainted with Unibet Poker November missions and go complete them. Track your progress in the lobby of the poker room by clicking on a special icon.
There are 5 challenges offered to Unibet users in November. Each of them consists of a few steps. When the tasks are fulfilled, you will get a designated reward. Learn the list of the challenges below:
Step 1. Prize: €1 ticket to SnG tournament. Ticket obtainment requirements:
Create a new identity
Participate in at least one 5-max Sit-n-Go tournament 3 day at a stretch
Reach 10 flops with your pocket cards at Omaha cash-tables
Step 2. Prize: €2 ticket to Sit-n-Go tournament. To get a ticket just:
Play MTT (except for freerolls) with 'Qualifier' in the name
Get 10 pocket cards from 10 to A at any NLHE cash-tables
Compete in at least one SnG tournament 3 days in a row.
Step 3. Prize: €4 ticket to SnG. To get a ticket:
Participate in any SnG tournament and then any MTT with €1 or higher buy-in the next day
Go to the cash tables and get 5 pocket pairs
Play at PLO cash-tables 3 days in a row and win at least one hand at showdown.
Step 4. Prize: €5 ticket to Sunday Entitled Qualifier. To receive a ticket do following:
Update your identity
Play any MTT (except for freerolls) with the word 'Bounty' in the name.
Join any Omaha cash table and reach 10 flops there. Then repeat this at NLHE the next day.
Step 5. Prize: three €2 ticket to Sit-n-Go tournaments. To get the tickets:
Double your start-up stake at Banzai table
Participate in MTT with buy-ins starting from €1 three days in a row.
Three days at a stretch play at least one SnG tournament
It is possible to complete missions all November long up to the 30th day. Every ticket left unused will be abolished on December 2. Every user can fulfill tasks of each mission only once.