December missions at Unibet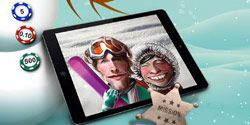 Take part in Decmeber missions at Unibet Poker and win tickets to MTT, Sit&Go and cash tables.
You simply have to open Unibet Poker client, complete missions and get prizes. Open the help bar window in the right hand corner in your client in order to study the terms of the special offers.
December missions at Unibet contain the following tasks and prizes:
Mission 1. You have a chance to get a ticket worth €1 to Sit&Go once you have taken in part in any multi table tournament with a buy-in starting from €1 (you have to register in it a new tournament lobby) and also in any Sit&Go
Mission 2. Get a €4-worth ticket to the cash NL4 tables for taking part in any tournament (not a freeroll) that has "bounty" in its name + collect flush twice at Hold'em or Omaha tables.
Mission 3. You'll get €4 for the cash PL4 tables if you manage to take part in 3 tournaments with "bounty" in their names, play pocket pair right at Hold'em cash tables 5 times + play 4 cards of the same suit right in Omaha.
Mission 4. Get a ticket to any MTT-tournament for €4. In this regard choose any three players with a tournament with kick-out prizes, play three days in succession in any Sit&Go tournament and multi-table tourney less than for €1.
The special offer will last until December 30.All tickets won should be used until January 2 of the upcoming year. Otherwise all tickets will be canceled.
Each player can get a particular prize only once.
Dare the game!