August missions at Unibet Poker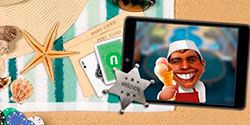 In August in case of mission accomplishment Unibet Poker grants its players with tickets to cash games, Sit-n-Go tournaments, Unibet Open and Sunday Entitled. Missions are generally very simple - you just need some spare time and be willing to play at the poker table.
There is no need to make some extra registration (opt-in) in each mission, thus it's made automatically. You can follow the process of mission fulfillment in the lobby of Unibet Poker: there is a special button here.

Unibet Poker - august missions
All Unibet Poker missions basically consist of some tasks one need to fulfill:
Mission 1. Prize: €1 ticket to Sit-n-Go tournament. To accomplish this mission you need to set new identity in the profile, visit 'Challenge' tab (Profile - Challenge) and play at least one Sit-n-Go tournament during 3 consecutive days.
Mission 2. Prize: €2 ticket to Unibet Open Qualifier. To complete the mission you need to play 1 (one) MTT with €1 buy-in and one Sit-n-Go tournament the next day. Then gain a 200BB stack playing any No-limit Holdem cash table. At last, play 20 cards higher than 10 at PLO cash tables.
Mission 3. Prize: €4 ticket to MTT. First, you should play any MTT (except for freerolls) which has a word 'Qualifier' in its name. Then you need to win a hand three days in a row at showdown playing No-limit Holdem. Finally, double your starting stack at PLO cash tables.
Mission 4: Prize: €4 ticket to PLO cash tables. Winning 5 hands from the dealer's position at the cash tables, doubling at Banzai and participating in one Sit-n-Go tournament a day (3 days in a row) is enough to accomplish this mission.
Mission 5. Prize: €5 ticket to Sunday Entitled Qualifier. It involves knockout 3 participants off Bounty tournaments, playing twice a hand with all cards of the same suits at Omaha cash tables, playing 5 pocket pairs in Texas Holdem.
All prizes gained in August missions at Unibet Poker are available till September, 2.