Another anniversary, another monster Sunday Million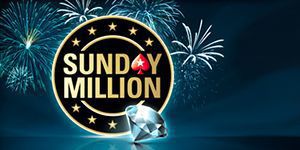 Sunday Million seems to be one of the most popular regular tournaments, which are held by PokerStars each week. Every Sunday it gathers thousands of users to fight for a part of a $1,000,000 GTD prize pool. This year Sunday Million is celebrating its 11th anniversary. In honor of it, its guarantee will be 10 times increased and the winner will become a real millionaire!
11th birthday Sunday Million will take place on April 2 with a regular $215 buy-in. It is noteworthy that each player will have three attempts to sign in to the tournament, but more info on the matter will be in short order.
How to join anniversary Sunday Million
You can register for a Sunday Million tournament, dedicated to it 11th anniversary, two ways: pay full $215 buy-in or participate in qualification satellites.
Paying an entire buy-in, you will immediately take your seat at the tournament, however, there are loads of players who would like to participate in a $10,000,000 GTD tournament, but they can't afford paying a buy-in. Those users can try their luck in qualification satellites to Sunday Million - win entry for only $1 in satellites running now, or via freerolls, which are totally free. Before the tournament begins, 600 tickets to Sunday Million will be given away among the freerolls participants. Plenty of users can be qualified via satellites as well, given the variety of qualifiers and their availability.
Freerolls to anniversary Sunday Million with $10,000,000 GTD
Before Sunday Million starts PokerStars will host three hyper-turbo freerolls: on March 18, 25 and April 1 on 13:47 ET. 200 tickets to Sunday Million will be given away in every freeroll, and the winner of each will get an extra award of $1,000. Maximum number of participants in each freeroll is 100.000.
To register for one of the freerolls to Sunday Million, you need to have a special ticket. You can get one when making a deposit from March 13 to April 1 and specifying a promo-code.
To join a freeroll on March 13 make a deposit and enter "SUNDAYFREE1" code
To participate in March 25 freeroll top up your account with "SUNDAYFREE2" bonus code
To get a ticket to the last freeroll on April 1, deposit with "SUNDAYFREE3" bonus code
If all requirements are met, each player will get a ticket to a freeroll (1 ticket for one bonus code), as well as a ticket to All-in-Shootout tournament with $10,000 guarantee. Thus, making one deposit only, you get a spectacular opportunity to fight for a ticket to one of the hugest tournaments of the year and to participate in $10,000's part give-away.
Satellites to $10k GTD anniversary Sunday Million
In case you used all three free attempts to win a ticket to Sunday Million and none of them was crowned with success, we offer you to get a ticket at one of the qualification satellites with real money buy-ins. These satellites are available in a few variations:
Spin&Go-satellites. These tournaments have $5 buy-in and a prize pool can be $10, tickets to a more expensive satellite (with $27 buy-ins), and also the main prize - ticket to Sunday Million worth $215. Spin&Go satellites are held from March 20 until the beginning of the tournament.
On-demand-satellites. These tournaments are located in the tab "Events" and have much in common with Spin&Go satellites - they start only when a certain number of participants is gathered. The buy-in is $27.
Deadline-satellites. The peculiarity of these tournaments is that they are held just before Sunday Million tournament - on April 2. There will be held 4 similar tournaments. Moreover, additional $1 qualification tournaments to $11 satellites will take place.
VIP-satellites. You can pay the entry fee with StarsCoins. The first tournament of this series will be held on March 25 on 13:00 ET (20:00, Moscow), the second - at the same time on April 1. There will be more that 150 seats guaranteed to Sunday Million.
Extra requirements for participation in Sunday Million $10,000 tournament
In case the user wins a ticket to a Sunday Million tournament, he will be automatically registered without the right to cancel the registration and ticket exchange for cash. Each bonus code, which is applied to deposits, may be used once by one user. Thus, each player can participate in each freeroll only one time.
And in case you reach the final table, you will be able to win while commuting to job, since you can play PokerStars on Android or via PokerStars iOS app wherever you have an Internet access.