888 Poker Club - loyalty program of 888 Poker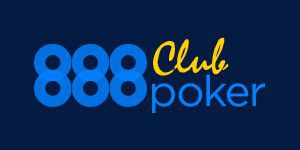 Playing real money poker games at 888poker tables, each user is able to receive additional prizes and privileges taking part in the loyalty program called 888 Club Poker. After meeting certain requirements, player moves up the level ladders and earns gold tokens, which subsequently can be exchanged for valuable prizes and/or real money. In this article we will tell you of how to earn these gold tokens and how to exchange them into real money.
How does loyalty program at 888Poker work?
Loyalty program of poker room 888 is made in the form of special VIP club called 888Poker Club. Participation in the 888poker Club Program is free, and commences automatically from the first time a player places a real money bet at 888poker. By completing challenges, each player earns special points. After accumulating enough points, he enters a new level. There are 1000 different levels in the Loyalty Program of 888 Poker Club at 888Poker. For reaching each level, gold tokens are credited to the player. Later they can be exchanged for goods in 888 online store. In case you fail to complete some challenge, your level won't be decreased so you have nothing to worry about. The higher the level you're at, the more Gold Tokens you get.
Besides, 888poker Club members have several additional advantages. For instance, they have an access to freerolls with general monthly prize pool of $100,000, which take place on a daily basis. You can find them at our 888poker freerolls schedule. Also, after reaching every fifth level, the player will receive club scratch card after erasing protective coverage of it he is able to win additional prize. More detailed information is available in the article privileges for 888 Poker Club members.
How to earn 888poker Club points?
Playing at the real money poker tables at poker room 888 and completing 888Poker Club challenges, users will accumulate points. The points will be credited instantly after completing the challenges of gradually while they're being credited. You will know of it from the challenge description. In rare occasions, the points will be credited within 72 hours after completing the challenge.
Accumulating a certain number of points, you will move up level after level. As we've noticed earlier, the number of levels in 888Poker Club is limited with number 500. At any moment, the player is able to know the number of accumulated points or the challenge progress by entering "My account" menu in the client of poker room.
In case you've earned more points, than you needed to enter a new level, the rest will be credited at another level.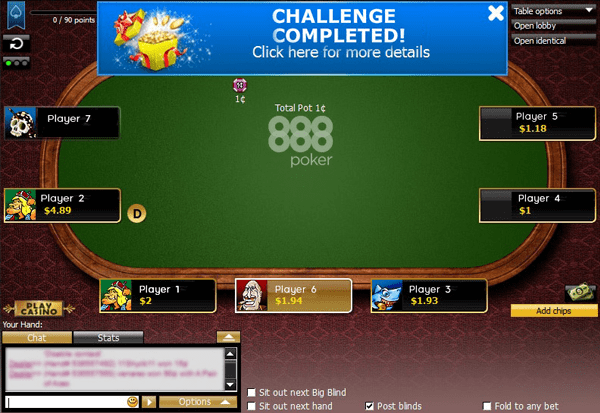 What are the challenges at 888poker Club?
To start completing challenge, you need to download 888 Poker for your desktop or 888 Poker on Android, enter "My account" menu in poker room and select one of them. The challenges don't depend on the level of the player so two users of the same level can have very different challenges. Below are the examples of the challenges for you to know what to be ready for.
Play poker: earn 100 points for each $1 of rake
Be active: earn points for playing poker for a certain number of days. All the points will be credited after completing the challenge
Get a friend: earn points for each user you will bring as a friend.
As you can see, those aren't difficult challenges and they can be completed even by an inexperienced player at the poker tables. That's why you are free to enter 888Poker Club and start earning points. If you still don't have an account in this poker room, right after registration you will get free $88 for playing at 888 Poker.
How to climb up the loyalty program of 888Poker Club?
By completing challenges, you will earn points and climb up the status levels. At each of the levels, the number of challenges will be different, so you won't be missing of their similarity.
Besides, some levels will bring prizes to the players. For instance, for each five levels, the player will receive a special 888poker Club Scratchcard. After scratching it, one is able to find the valuable prize or a profitable offer/bonus. Also, depending on the level, the player will be able to participate in special tournaments. The terms of participating will regularly change and you have to follow the on the web site of poker room.
888Poker Club members are able to only increase their level because it can't be lowered under any circumstances. The example of these privileges are 888 Poker freerolls. As you reach Level 10 (it is fairly simple), you get an opportunity to participate in freerolls $200 Level 10+ Free Tournament twice a day as well as in $100 Level 5+ Free Tournament and also once a day in $50 5+ Free Tournament - Omaha. That way, you will be able to play at 888 Poker for free and fight for the part of the prize fund of $650 every day (that's almost $20.000 in free tournaments during the month without any additional freerolls and depositing to your bankroll).
How to earn Gold Tokens at 888Poker Club?
To receive Gold Tokens, you have to reach the new status level of 888Poker Club. To enter the new level, you have to accumulate a certain number of points.
Let us notice that Gold Token have no real money value and they can't be transferred from one player to another. They could be exchanged only on the goods offered in the menu "My account" or online store 888poker.
Besides, if you don't use Tokens within 60 days after they are being credited to your account, they will be annulled and lost. So just spend them right away by purchasing interesting lots in the store of 888.
How to exchange Gold Tokens at 888Poker Club for prizes?
To exchange Gold Tokens for prizes, one has to enter "My account" menu in the client of the poker room or visit an online store of 888Poker. Depending on your level, you will be able to purchase different bonuses, tournament tickets, some memorable things having more than 10 Golden Tokens on your account.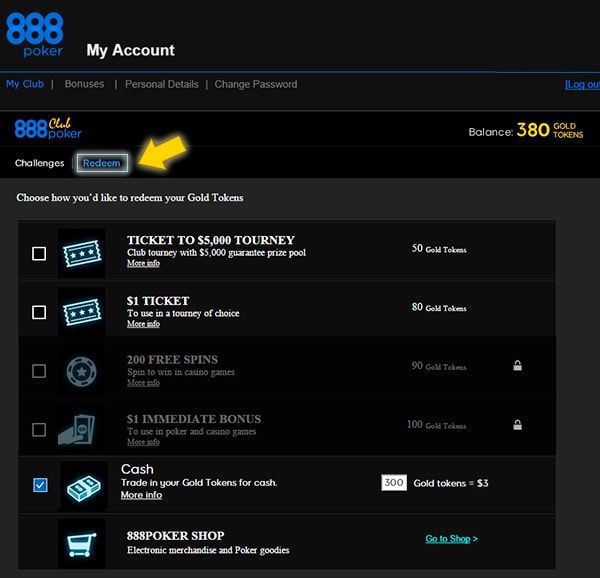 In case the goods you wish are currently absent, you will be offered an alternative of the same cost.