€20,000 September flop race at Unibet Poker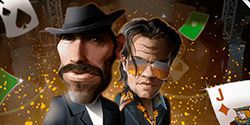 This September poker room Unibet Poker holds a race for those, who prefer playing at mid stakes. The most keen players can fight for a part of a prize pool of €20,000. If you consider yourself strong enough and able to play at the top, go to Unibet's poker tables, collect points, move up the leader board and get prizes according to it, with the main prize at amount of €2,500.
To join this special offer, you can simply play at real money poker cash tables at PL200, NL400 and PL400 limits. Earn points for every hand played at these tables that reaches a flop with your hole cards, surpass your rivals in the race for the main prize - €2,500.
For each reached flop hand at the PL400 (€2/€4) and NL400 (€2/€4) tables you will be granted with 1 point.
For every hand at PL400 (€2/€4) tables, you will get 1,5 points in case you reach a flop.
'To reach a flop' stands for playing a hand at real money cash game tables with mentioned above stakes, when you don't fold the cards at preflop and see at least three common flop cards.
Every earned point will be recorded into the leaderboard and when the special offer is over the top-40 players will be defined. The players who reaches top-40 will get money prizes from €300 to €2,500.
The prizes will be distributed this way:
1 place - €2,500
2 place - €1,800
3 place - €1,400
4 place - €1,000
5 place - €800
6-10 places - €500
11-20 places - €400
21-40 places - €300
The special offer will be held till September 30. Then the results will be announced and the winners will get their prizes within a week. All the prizes are credited to the accounts of the players as real money funds.
Do not also forget that all new players can get an Unibet no deposit bonus for poker in the form of free tournament tickets and all new players from Finland, Norway, Denmark, Sweden, UK, Belgium and Netherlands can get Unibet £€10 free in real money for poker games.