Stars Rewards - a new rewards program by PokerStars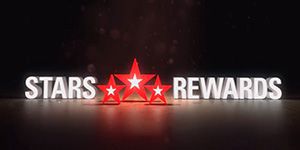 Information of the new reward program at PokerStars has appeared recently. This program got the name Stars Rewards. This systems means new reward program of the players - with the help of special chests with random rewards. Each user who plays poker for real money will be coming closer to opening of his own chest which could contain any prize up to 1,000,000 Stars Coins or $1,000.
At some point the chest will become available for opening and the user will have a choice to open it right away or continue playing to increase the size of the chest. The more you play, the bigger reward waits for you in the chest. Let us notice that random rewards in chests look like another step of PokerStars towards such multiplayer games like HearthStone, which use similar methods of promotion for quite a long time.
In the video below you can see the approximate process of getting Stars Rewards.
More on Stars Rewards by PokerStars
This reward system is being launched in order to increase the interest of gaming process for all the users. Its essence lies in the fact that each player is able to receive the prize of any size so there is an element of surprise. Opening the chest, you will be able to find Spin&Go tickets, MTT tickets, cash rewards, Stars Coins and even prize packages for PokerStars Championship worth several thousand dollars.
However it should be noted that each chest will be maximally adapted to the player. For instance, if user regularly plays Multi-Table Tournaments, the prize would probably be connected with it somehow. If you like cash games, obviously you will get cash to play along. That way PokerStars tries to please most of the clients providing them with maximally comfortable and entertaining game.
Moreover, players who are at the PokerStars tables regularly are able to use special "Boost" function, and that would allow speeding chests' growth for some time. This would allow encouraging the players who play more than the others.
If the claims of PokerStars media persons are truthful, inside currency of PokerStars - StarsCoins - will be left without any changes and will remain functioning - it still would be exchanged for tickets, souvenirs, money or use for playing The Deal game.
Instead of conclusion
PokerStars is currently preparing test launch of Stars Rewards in Denmark and by the next month, it also will be tested in Italy. For the remaining markets the system will start functioning in the nearest summer, the players will be notified via e-mail.
Leaving classic direct rakeback system is going to become the biggest change of VIP system of PokerStars ever.