PokerStars Championship - new name of EPT brand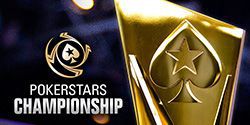 Before the second playing day of the main EPT Barcelona event began the administration of the PokerStars live events announced, that a popular brand European Poker Tour is going into liquidation in the beginning of the next year.
But don't worry about it! PokerStars will still hold series of tournaments all over the world, but they will be named differently now.
The managers of the project has decided to set clear goals on events' development and divided them into international and regional ones.
PokerStars Championship - is a result of the evolution of the biggest poker tournaments series - EPT. In terms of the new series, PokerStars will hold international tournaments in the most fascinating and interesting places in the world including the Bahamas. This will be the main live tournament series hosted by PokerStars.
The most successful participants of every PokerStars Championship event will get an opportunity to compete for $100.000 in the special tournament, where the winner gets everything. Next stop of PokerStars Championship - Bahamas (January 6, 2017).
PokerStars Festival - is a regional descendant of EPT, that includes a whole range of big events with various buy-ins to collaborate poker communities in different countries. The event is based on such regional series as Estrellas Poker Tour (ESPT), Eureka Poker Tour and UKIPT. Next stop - New Jersey (October, 29 - November, 6, 2016).
Moreover, popular Brazilian tournament series Brazilian Series of Poker (BSOP) will keep on working and its name will remain the same.