Liv Boeree - rules of life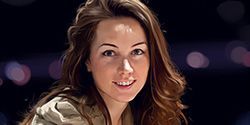 Liv Boeree is a tournament player, PokerStars Team Pro member.
Had I become prime-minister, there would be lessons at schools where children were taught to make rational decisions.
Poker clearly showed me much could cost an inflated ego, unnecessary stubbornness and superstition.
I always worry when I'm at TV-table. I can't help thinking about the people who will be watching at me.
Women in poker always gets a lot of unfair criticism.
My major fans are my father and stepmother. I can't imagine what I would have done without their support.
I have a rep of a party animal. And it's true: I let my hair hang down and head to the party every now and then.
I don't know a better way to travel round the world than poker.
Constant flights are exhausting, I hate this way of life. At the same time, nothing can be better.
I am lazy as it gets so my figure is only natural because of good metabolism.
I know a bunch of jokes, but they are dirty or weird.
Poker is a man's world. Had I won every other tournament, there still would have been those who would say that my major plus is tits.
When I was a child I didn't wear dresses and I cut the doll's heads. At the parents' meeting I was called 'the most notorious boy in the class'.
PokerStars doesn't let pros loose. Every EPT I have a full day of interviews.
Many people say that I became famous due to my looks. I completely agree. Is it supposed to be somehow offensive?
German highroller community is full of wonderful people with fantastic poker mindsets. I'm just a lucky girl who managed to make friends with them.
Igor and I think we are modern-days hippies. Climate change is one of the most important topics for us nowadays.
I got irritated by those who are against the fight with global warming. They think that if the fatal effect is not 100% guaranteed, nothing needs to be done.
We need more charity tournaments. Then we will have something to say to those who think that poker is bad.
Please, don't ask me how to start poker player career. I have no idea.
I love Phil Helmuth. There is no other man on this planet who would believe in himself more than he does.
I would have played heads-up with Buddha.
While travelling I somehow get run out of clean socks.
The role of women in poker increases. Trust me, there will be more of us.
I am not ready to claim with confidence that there is no God.
I am proud of what I've achieved. Those who don't like it can go fuck themselves.