Get the latest from the first PokerStars Championship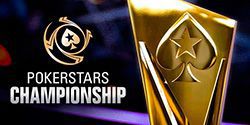 Welcome to a new era in live poker! The first ever PokerStars Championship takes place in The Bahamas, January 6-14, 2017, and you can keep tabs on the biggest pots, the best players and the latest news with live webcast on pokerstars.tv and blog.
PokerStars Championship Bahamas LIVE will be streaming direct from the tournament floor for five days, January 10-14, covering the Main Event from Day 2 right up to the (cards-up) Final Table. Join expert commentary team, alongside some of the game's biggest names, for all the action plus exclusive viewer freerolls (PokerStars TV Freeroll, $2000 Added), prizes, quizzes and more. Commentary will be available in nine languages, and you can even watch on your mobile device.
Passwords to PokerStars TV Freeroll, $2000 Added will be published on the passwords to freerolls page.
Meanwhile the PokerStars Blog will be covering every aspect of the Championship with interviews, features, tournament reports and chip counts, plus a closer look at the most interesting hands and characters to be found at the tables and beyond.
The webcast begins January 10 with coverage of Day 2 of the Main Event, while the Blog will cover the entire Championship.
Start the year in style - with PokerStars!