888poker's XL Inferno daily recap. May 15, 2018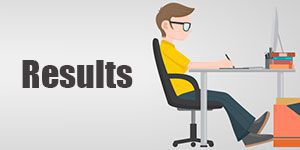 The 2018 XL Inferno rolled on Tuesday with three more events. Day 6 was full of high roller action, and when they wrapped 18 tournaments from the 34-event schedule were in the books.
Remember, everyone who wins an XL Inferno title earns a ticket into the Champion of Championstournament, which will see the top three finishes each win a prize package to the 2018 World Series of Poker.
Some players to already secure a seat in the XL Inferno Champion of Champions are Ukraine's "psyhoagromor" and "GangstaGo," Qatar's "Emveer," Belarus' "GoFighTer," Russia's "Kaktus26rus," and two-time champ Sluuut123.
The Netherlands' "MisterN411" Wins XL Inferno High Roller
The $2,600 buy-in Event #16: $200,000 High Roller, the biggest buy-in of the XL Inferno, easily surpassed its guarantee by attracting 84 players who rebought 47 times.
That created a $327,500 prize pool.
Among those to compete in the tournament were 888poker Ambassadors Chris "888Moorman" Moorman and Martin "MJacobson888" Jacobson, as well as poker pros Mike "SirWatts" Watson, Chris "NigDawG" Brammer, Jans "Graftekkel" Arends, Roman "Romeopro33" Romanovskyi, and Adrian "ADRI_ATM" Mateos. Surprisingly, none of them managed to make the money.
Some of those to earn a payday were Johannes "TrollKonst8" Korsar (12th - $8,187), Alexsandr "Biack88" Trofimov (9th - $9,825), "PulledPorker" (6th - $17,194), Tomi "wellyxx" Brouk (4th - $31,112), and "cockbandit44" (3rd - $45,850). After just over nine hours, the title came down to Dimitar "trino11" Yosifov and the Netherlands' "MisterN411."
The latter held a big chip lead when the final hand developed. It happened when Yosifov got his short stack in with queen-four and failed to overcome the pocket kings of "MisterN411," who earned $90,063 for the victory.
In March 2017, "MisterN411" topped a field of 333 entries to win the $100,000 Baby Whale for nearly $20K.
Event #16: High-Roller results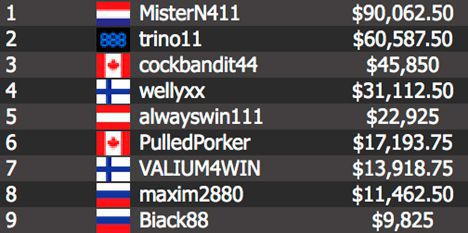 Super Whale Champ "I__AM_ZLATAN" Wins Mini High Roller
The $215 bu-in Event #17: $100,000 Mini High Roller saw 413 players rebuy 232 times to create a 645-entry field. That generated a $129,000 prize pool paid out to the top 54 players including XL Blizzard champ "23NoraB" (38th - $709), Dimitar "trino11" Yosifov (25th - $903), "CKLouis" (14th - $1,419), Jason "jadedjason" James (6th - $5,482), "allesrigged" (5th - $7,224), and "1LevelAbove" (4th - $10,320).
After "J.Tatum" exited in third place for $13,545, Russia's "CalmRevolver" squared off against the Netherlands' "I__AM_ZLATAN" for the title. After 8 hours and 49 minutes, the Dutchie prevailed to capture a $24,755 first-place prize.
"I__AM_ZLATAN" was best known for topping a field of 940 entries to win the 2015 $500,000 Super Whale for $129K.
Event #17: Mini High-Roller results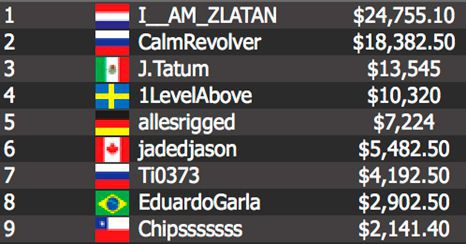 Russia's "kassigor" Denies Ukraine's "GangstaGo" a Second Title
Event #18: $30,000 Late High Roller, which cost $160 to enter, drew 181 players who rebought 79 times. That created a $39,000 prize pool paid out to the top 27 finishers including "88ANDREI88" (21st - $390), Event #8 champ "Kaktus26rus" (16th - $487), "Limonad19" (10th - $682), "KelevraJesus" (5th - $2,340), and "Nordynordbrg" (3rd - $4,582).
After 6 hours and 36 minutes, it came down to Russia's "kassigor" and Ukraine's "GangstaGo," who was seeking his second title after winning Event #4: $20,000 Twins Royal. The Ukrainian also had a prior second-place finish in the series, and he'd get another one when his Russian opponent came out on top to win $8,385.
It was the latest win for "kassigor" since last November when he took down the $2,50 Pacific Starfish. A month earlier, he had won the $4,000 Typhoon, and less than three weeks before than claimed a $3,000 Twister title.
Event #18: Late High-Roller results