888poker's XL Inferno daily recap. May 13, 2018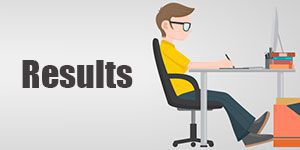 The fourth day of the 2018 XL Inferno saw five more events play out, meaning 13 tournaments from the 34-event schedule have completed. The series, which runs through May 20, offers a wide range of buy-ins with seven figures in guarantees.
Remember, everyone who wins an XL Inferno title earns a ticket into the Champion of Champions tournament, which will see the top three finishes each win a prize package to the 2018 World Series of Poker.
Some players to already secure a seat in the XL Inferno Champion of Champions are Ukraine's "psyhoagromor" and "GangstaGo," Saudi Arabia's "Shebalow," Argentina's "germaxii," Belarus' "buldos," and Russia's "Kaktus26rus."
The 2018 XL Inferno Has Its First Two-Time Winner
Two days after besting a 622-entry field to win the $55 buy-in Event #5: $20,000 Twins Flush for $5,663, Sweden's "Sluuut123" navigated a field of 706 entries (484 players + $222 rebuys) to win the $215 buy-in Event #9: $120,000 Mega Deep for $26,828.
For winning two XL Inferno events, "Sluuut123" was awarded a bonus $1,000. If he manages to win a third anytime in the next week, that'll increase to $10,000, and if per chance he makes it four it jumps to $100,000. Finally, in the unlikely events that he wins five events - and keep in mind he's already 40% of the way there - he will walk away with $1,000,000!
The tournament saw the top 63 players earn a piece of a $141,200 prize pool including 888poker Ambassador Natalie "888NatalieH" Hoff (55th - $621), Cristian "progree69" Sampaoli (23rd - $847.20), Event #8 champ "Kaktus26rus" (9th - $2,344), "stockfish9" (4th - $11,013), and runner-up "HomoDeus" ($19,768).
Event #9: Mega-Deep results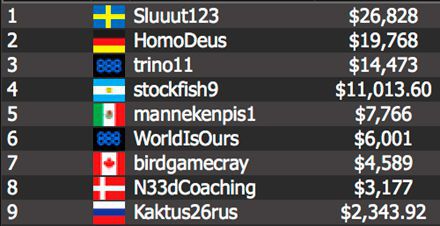 Switzerland's "Justaduck" Wins Tune Up for Nearly $29K
The $160 buy-in Event #10: $150,000 Tune Up drew 744 players who rebought 303 times, which created a $157,050 prize pool paid out to the top 99 players. Among those to earn a payday were "Pelfort" (60th - $487), Event #3 champ "germaxii" (29th - $675), "LuckyBoss" (8th - $3,455), "ShipGold" (5th - $8,166), and "LivinThDream" (3rd - $15,548).
After 11 hours and 21 minutes, Switzerland's "Justaduck" defeated "1majomf_sz" in heads-up play to win $28,819 and the title.
Event #10: Tune-Up results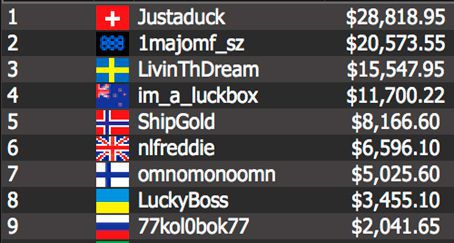 Uruguay's "ramak10ss" Takes Down Mini Tune Up
The $12 buy-in Event #11: Mini Tune Up drew 2,898 players who rebought 1,193 times. That resulted in the top 425 players earning a piece of the $50,000 prize pool including "devir13" (31st - $135), "RoboChips" (19th - $155), "popsnpoker" (10th - $305), and "Squ33z3m3Plz" (4th - $2,950).
After Brazil's "thiagovapt" bowed out in third place for $3,950, the title came down to the Netherlands' "geniuSSSSS" and Uruguay's "ramak10ss." After 10 hours and 42 minutes, the latter came out on top for $7,450.
Event #11: Mini Tune-Up results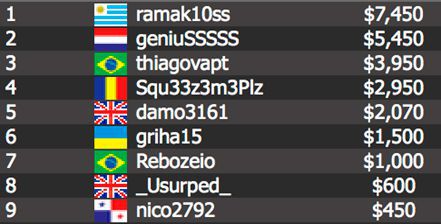 Whale Ends in Heads-Up Deal Between Qatar's "Emveer" and Canada's "PBD03"
Event #12: $150,000 Whale, which cost $1,050 to enter, drew 121 players who rebought 65 times. That surpassed the $150K GTD by creating a $186K prize pool paid out to the top 18 players including Jans "Graftekkel" Arends (16th - $3,813), Preban "prebzzz" Stokkan (13th - $3,999), "8myl8m8" (7th - $7,440), and "kiskutya23" (3rd - $22,599).
After 9 hours and 42 minutes, the final two players struck a deal in which Canada's "PBD03" took second for $34,907 and Qatar's "Emveer" claimed the title and $37,632 in prize money.
Event #12: Whale results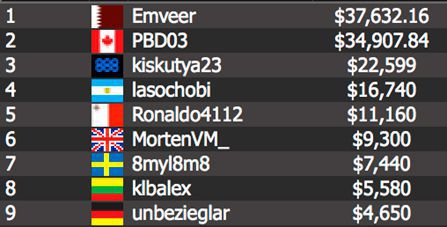 "Jaxon234" Claims Late Tune Up Title for Germany
With 445 players who rebought 142 times, Event #13: $25,000 Late Tune Up surpassed its guarantee by creating a $29,350 prize pool paid out to the top 63 spots. Among those to win some money were "_Lord_Xenu_" (56th - $129), Event #4 champ "GangstaGo" (31st - $161), "busterchair" (13th - $293), "Iermat" (7th - $954), and "Doked" (3rd - $3,008).
After 7 hours and 14 minutes, Germany's "Jaxon234" and Russia's "nU3DOC" struck a deal in with the latter for $4,720 and the former $4,965 and the title.
Event #13: Late Tune-Up results