888poker's XL Inferno daily recap. May 12, 2018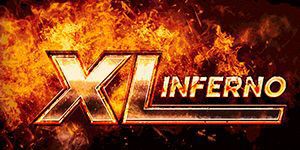 Day 2 of the 2018 XL Inferno saw a trio of events play out, meaning eight tournaments from the 34-event schedule have completed. The series, which runs through May 20, offers a wide range of buy-ins with seven figures in guarantees.
Mega Deep Champ "eltxupacabra" Wins XL Inferno Crazy 8
The $88 buy-in Event #6: Crazy 8 drew 438 players who rebought 153 times. That meant the top 56 players would earn a piece of the $50,000 prize pool including "ParzivaI" (33rd - $275), "carbondating" (21st - $485), "LeshiyAS" (10th - $815), and "OverM1nd" (4th - $3,750).
After "diegoodl1" exited in third place for $5,250, the title came down to "ITonya" and "eltxupacabra" with the latter coming out on top to win $9,500. It was the second win of the year for "eltxupacabra", who back in March take down the $215 Mega Deep for more than $20K.
Event #6: Crazy 8 results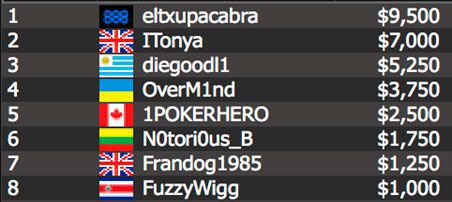 "buldos" Compliments XL Eclipse Win with XL Inferno Title
The $8.80 buy-in Event #7: $15,000 Mini Crazy 8 surpassed its GTD with 1,317 players who rebought 606 times. That generated a $15,384 prize pool paid out to the top 160 players including "OPH1UCHUS" (55th - $44.61), XL Inferno Event #3 champ "germaxii" (29th - $56.92), "ImaBarista" (12th - $126.14), and "DaniMarinov" (4th - $1,077).
After 10 hours and 8 minutes, Belarus' "buldos" defeated Latvia's "PhoenixRuffy" in heads-up play to win $2,770. It was the second XL title for "buldos", who last September topped a field of 2,021 entries to win the XL Eclipse Event #98: $25,000 Mini Tune Up for $5,118.
Event #7: Mini Crazy 8 results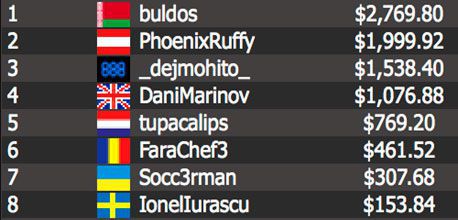 Opening Event Champ "psyhoagromor" Denied Second Title By "Kaktus26rus"
The $44 buy-in Event #8: Late Crazy 8 drew 271 players who rebought 71 times. The $15,000 prize pool was paid out to the top 40 spots including "germaxii" (30th - $100), "TboneMunson" (16th - $225), "Kroat". (9th - $300), "pokerdave128" (4th - $1,200), and "heroes333" (3rd - $1,650).
The title came down to Russia's "Kaktus26rus" and Ukraine's "psyhoagromor," who you might recall beat out a 1,237-entry field to win Event #1: $100,000 Opening Event for more than $22K. Unfortunately for "psyhoagromor," he was denied a second title as "Kaktus26rus" came out on top to win $2,925.
If that name sounds familiar, it's probably because "Kaktus26rus" is a three-time from last September's XL Eclipse. First, "Kaktus26rus" won Event #121: $15,000 Breeze for $3,134, and then he took down Event #152: $100,000 Quarterback for $21,099 after beating World Series of Poker bracelet winner Chris "NigDawG" Brammer heads up. He then topped it off by winning the XL Inferno Event #168: $15,000 Lightining 6-Max for $4,576.
Event #8: Late Crazy 8 results