888poker's XL Inferno daily recap. May 11, 2018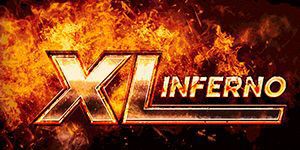 The second day of the2018 XL Infernoknocked off another two tournaments from the 34-event schedule, meaning five are now in the books. The series, which runs through May 20, offers a wide range of buy-ins with seven figures in guarantees.
That includes a $1,050 buy-in, $1,000,000 GTD Main Eventon Sunday, May 20.Remember, everyone who wins an XL Inferno title earns a ticket into theChampion of Champions tournament, which will see the top three finishes each win a prize package to the 2018 World Series of Poker.Among those to win their way in on Day 1 of the XL Inferno were Ukraine's "psyhoagromor", Saudi Arabia's "Shebalow", and Argentina's "germaxii".
XL Series Champ "GangstaGo" Wins an Inferno Title
The $55 buy-in Event #4: $20,000 Twins Royal easily surpassed its guarantee by attracting 440 players who rebought 166 times. That created a $30,300 prize pool paid out to the top 63 spots including Opening Event runner-up "_Lord_Xenu_" (56th - $133), XL Blizzard champ "Pasha813" (26th - $181), XL Blizzard Main Event winner "Pepepepepe". (16th - $242), "Atrepok" (6th - $1,287), and "LucySagara70" (3rd - $3,105), another XL Blizzard winner.
After 8 hours and 43 minutes, Ukraine's "GangstaGo" defeated Ireland's Dan "xXGlamBabeXx" Wilson in heads-up play to win $5,757. The Irishman had to settle for second place and a $4,242 consolation prize.
In January of last year, "GangstaGo" topped a field of 349 entries to win the $215 buy-in Super XL Event #61: $50,000 Turbo Mega Deep for $13,506.
Event #4: Twins Royal Event results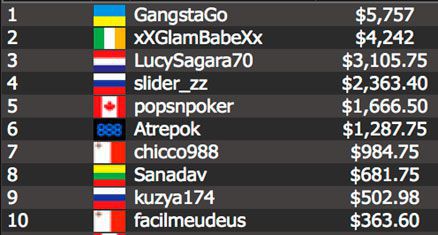 "GangstaGo" Denied 2nd Title as "Sluuut123" Claims Twins Flush Title
The $55 buy-in Event #5: $20,000 Twins Flush boasted a $31,100 prize pool after 447 players took to the virtual felt and rebought 175 times. Among the 63 players to get paid were "abmarin" (37th - $155), "Fukuruku" (20th - $186), 2017 XL Inferno champ "tikkapekka" (8th - $700), and winner of Event #4 "GangstaGo" (3rd - $3,188).
Remember, any player who final tables three XL Inferno tournaments will be receive a $600 tournament ticket in their 888poker account. With more than week of events remaining on the schedule, "GangstaGo" is well on his way to doing it.
After 8 hours and 38 minutes, Ireland's "LeggySusie" and Sweden's "Sluuut123" struck a heads-up deal. The former locked up $4,600 while the latter claimed $5,663 and the title.
Event #5: Twins Flush Event results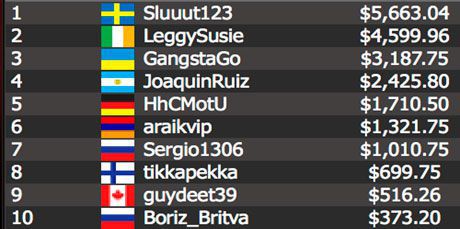 Big Fish Series Continues to Pay Out Big Prizes
In other news, the Big Fish, which is comprised of six new daily tournaments, continues to impress with $100,000 in guarantees DAILY and buy-ins starting as low as $5.50.
Here's a look at all those who won Big Fish titles on Friday:
Sweden's "eddeheuheu" topped a field of 1,241 entries to win the $5.50 Big Fish for $1,117.
The UK's "OPH1UCHUS" bested an 822-entry field to win the $33 Big Fish for $4,658.
The $16.50 Big Fish saw the final four players of a 1,482-entry field strike a deal, each locking up over $2,000. Germany's "ocin1337zipf" for the most money with $3,085, but "johny08080" actually won the title for $2,420.
The $33 Big Fish drew 1,002 runners and saw Canada's "iknewiwould7" win it for $5,516.
The second $5.50 Big Fish saw 2,546 entrants take to the virtual felt. After more than seven hours, Brazil's "pibr774" walked away the victor for $2,370.
Finally, the second $16.50 Big Fish ended when the final two players of a 704-entry field struck a deal. The UK's "pipakos555" took second for $1,681, while Russia's "Gatty022" claimed the title and $1,777 in prize money.