Treat your poker like a business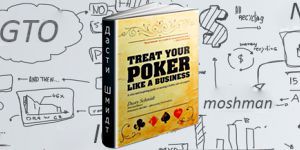 Dusty "Leatherass9" Schmidt is a professional poker player who started his career back in 2005. In the period from 2007 to 2008 Dusty earned $600.000 playing cash games and received Supernova Elite status on PokerStars. Later he signed a short-term contract with PokerStars. "Leatherass9" played about 8 millions of hands online throughout his career, which brought him over $3,000,000 in profit. It is worth noting that he never had an losing month in his career although he used to play at 20 tables simultaneously.
Dusty "Leatherass9" Schmidt is not only a great poker player but also tries to learn others to this craft. He was actively training players for several years and in 2010, being one of the DragTheBar.com coaches, he wrote a book which can be legitimately called a special one. The book got the title "Treat your poker like a business" with the slogan "An Inspiring Guide to Turning a Hobby Into An Empire". Dusty "Leatherass9" Schmidt dedicated the book to the low-stakes players who don't let the grass grow under feet but trying to change their lives.
The book "Treat your poker like a business" by Dusty "Leatherass9" Schmidt is not very big and is only 145 pages long. The content of chapters is short and straightforward.
The book "Treat your poker like a business" is not a textbook for newbies or some collection of strategy choice recommendation: it is intended for those who knows the essentials of the game and some peculiarities of it, but not for those who do not know the rules of poker or poker hand rankings. The book will be useful for those who are willing to make poker their full-time job but for some reason stopped in their development as a professional poker player and can't play their best game (so-called A-Game).
Dusty Schmidt develops a single thought in each chapter and reveals his point of view on the issue. His experience helps the reader to plan the time and reach maximal concentration at the table and change the attitude towards the game for the better.
In his book Dusty emphasis on the psychological factors and problems that prevent you from playing your best poker. In most chapters he gives a lot of useful tips by following which you will learn to control your emotions, be disciplined, and you will be able to change your attitude towards negative moments which will inevitably haunt you during the gaming process.According to the author, the correct application of all the tips and advice cumulated in the book will help you to increase your hourly win rate by 1 or 2 BB.
Dusty Schmidt hasn't left "the life around poker" out of the book. In some chapters of the book there is "a recipe" of combining poker with family, life and work. Yeah, yeah, it turns out that one could have a real profession and combine it with playing poker successfully.
In general, "Treat your poker like a business" could be called a unique book. After reading it, you will change your view of the game, and should you start treating it like a job, the results will not keep waiting.
Author: Dusty Schmidt
Type of poker: Applies to all varieties of games
Level: Intermediate
Year of publishing: 2009
Number of pages: 145
Language: English
Knowledge base's sections