Phil Gordon's Little Green Book: Lessons and Teachings in No Limit Hold'em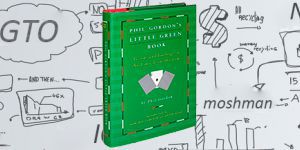 "Little Green Book" by Phil Gordon isn't that little as it title says. There are 177 paged in the book, and in them the writer reveals the strategy of No Limit Texas Hold'em.
Phil Gordon is a professional poker player, TV commentator and the author of several poker books. He was born in the USA. The fist book about the game of poker from Phil Gordon was released in 2004 ad it was titled "Poker: The Real Deal". Despite it was left unnoticed in poker community, Phil didn't give up and wrote another book on poker titled "Little Green Book". The community paid interest to the publication. Later Phil published three more books: "Little Blue Book", "Little Black Book" and "Little Gold Book"
The foreword of the "Little Green Book" Phil Gordon is written by the professional poker players and friends of Phil Gordon - Annie Duke and Howard Lederer. Howard and Annie encourage reading this book steadily, slowly, stretching and savoring, they compare it with the bottle of expensive wine: "Don't be in a rush, you should capture and evaluate what Phil says".
In the author's opinion, after reading the book you should be able to find answers during the game to the questions like: "why am I doing this?" or "why do I play like that, not otherwise" and so on. The development of the skill to find the answers to those questions is the main aim of "Little Green Book".
"Little Green Book" is written in conversational form which will be easy to understand for the poker beginners. At the beginning of the book the author tells basic poker stuff: explains the fundamental theorem of poker, the most common mistakes of the most players and tells about the importance of position at poker table and aggression at the poker table, about reasons for betting and so on.
Then Phil Gordon talks about preflop, flop, turn and river play. Separate chapters are devoted to the tells (it will be useful to live poker players), tournament strategies and poker mathematics and psychology of poker.
"Little Green Book" covers many aspects of poker game. All in its place: poker math, game psychology, strategy, hands examples, jokes and funny stories.
In general, this book is a must read for everybody who is willing to study the game.
Author: Phil Gordon
Type of poker: No-Limit Texas Hold'em (tournaments)
Level: Beginner
Year of publishing: 2005
Number of pages: 177
Language: English
Knowledge base's sections