TWIST tournaments at Mobile Poker Club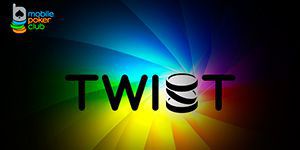 Mobile Poker Club is inviting all players to participate in the new TWIST tournaments.
TWIST are a hyper-turbo winner-take-all tournaments for three participants.Each tournament may offer a pleasant surprise as the size of the prize pool of TWIST tournaments is determined randomly and can make up to 500 buy-ins! The minimum buy-in is only $0.25, which is, sure enough, cheering news for the fans of micro-limits. Jackpot tournaments with maximum multipliers of 500 and 50 will reward all their players: placing 2nd or 3rd will be rewarded with 10% of the prize pool.
There are 5 buy-in levels available for players: $0.25, $0.75, $1.5, $3, and $7. The starting stack is 500 chips, and the levels change every 3 minutes. Prizes and their distributions are available on the official website of Mobile Poker Club.
Mobile Poker Club is the largest poker room designed exclusively for mobile devices. The room supports iOS and Android devices, mobile devices running Symbian OS, Bada, Java, or Windows Phone. During the existence of the Club it has reached more than 15 million registered players from all over the world with about 500 million hands conducted along the way. Mobile Poker Club offers one of the best rakeback systems and loyalty programs on the market.