Triobet Poker - first deposit bonus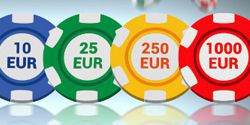 Online poker room by Triobet offers its users to get a first deposit bonus worth up to €1,000. Make a deposit, claim the bonus and double your money.
To gain a bonus one needs to make an at least €10 deposit using one promo code (out of 4). Codes are entered in the section My Bonuses - My Poker at Triobet Poker's official web site.
Each bonus is divided into blocks: you get a part of a bonus amount that matches a certain wagered block. To wager a block you need to rake €5 for every €1 of bonus money. E.g., to wager a €250 bonus block you will have to earn a €25 rake (it has 50 blocks worth €5 each).
Bonus codes for deposits:
Starting from €10: bonus code PKRFDB10 - €10 bonus amount and 100 blocks
Starting from €25: bonus code PKRFDB25 - bonus amount €25 and 25 blocks
Starting from €250: bonus code PKRFDB250 - bonus amount €250 and 50 blocks
Starting from €1,000: bonus code PKRFDB1000 - bonus amount €1,000 and 100 blocks
Notice, that you are to choose only 1 bonus code when making your fist deposit. The rest codes would be disables.
You can follow the process of clearing on the "My account" tab in the lobby of the poker room. Bonuses are credited to your real money account automatically when you meet clearing requirements.