The Turbo Mega Deep tournaments on 888 Poker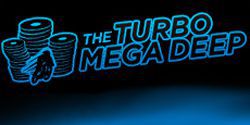 The Turbo Mega Deep is weekly tournaments of the Mega series at 888 Poker. The Mega series consists of 5 tournaments with big guarantees held on Sundays.
The prize pool of the Turbo Mega Deep is $50,000 with $215 buy-in. It starts at 21:05 - the best time for the majority of CIS countries and Europe. Isn't Sunday evening the perfect time to play some poker hands?
Brief info about The Turbo Mega Deep tourneys
Name: The Turbo Mega Deep
Date and time: Every Sunday at 18:05 GMT
Buy-in: $215
Prize pool: $50,000
How to find: 'Tournaments' - 'Special' tab
A distinctive feature of these tournaments is that even though it has deep 10000 chips starting stacks, the blinds are multiplied every 6 minutes. Thus, the bets are rising rapidly and you need to control the table from the very beginning and maximize your EV at every hand.

The period of late registration will last 75 minutes after the tournament starts, so don't worry if you can't join the action in the very beginning.
By the way, they have satellites from $0,01 for those who can't register for the tournament.