Sit-n-Go players' ratings at MobilePokerClub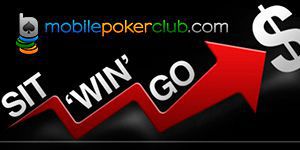 Sit-n-Go players' rating is a regular promotion at MobilePokerClub poker room. All the Sit-n-Go tournaments are included in this rating with exception of Double-or-nothing and Heads Up tournaments.
The prize pool of monthly Sit-n-Go players rating at MobilePokerClub isn't fixed and makes 10% of the rake paid by the players in the tournaments. In other words, the prize pool depends on how much Sit-n-Go will be played during the month.
The prize pool is shared between 10 best players of the month with the biggest number of rating points.
In case two or more players show the same result in the end of the month, total prize pool percentage for the place shared will be paid in equal amounts. For example, if two players have the same number of points and placed 4th and 5th, they will receive half of the prize money for the 4th and the 5th place each.
Rating points are counted by formula = (rake * the number of players in the tournament) / 10 and shared among the players ITM. The more points you get, the higher you are in ratings, the more is your total prize.