Happy Birthday, PokerDom!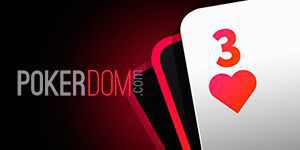 End of Summer can be not that sad as this time one is able to cover the holiday spending and earn some more without living your home with PokerDom.
This year the first Russian online poker room - PokerDOM - celebrates 3-year anniversary; and it invites you on August, 19th to celebrate. The administration of poker room is going to celebrate it in a big way: a special two-day tournament called 3 Years Anniversary with a guaranteed prize pool of 3,333,333 RUB to be hosted this day.
PokerDom 3 Years Anniversary tournament is the biggest event in the history of poker room. Anyone is able to take part in this tournaments either by making a 3,333 buy-in or for free (you may win tickets to satellites by completing daily missions).
The structure of the PokerDom 3 Years Anniversary tournament:
Day 1 (August, 19). The tournament starts at 14:00 GMT and will continue till Level 15 included (495 minutes of the playing time).
Day 2 (August, 20). The tournament starts at 14:00 GMT and will continue till the winner is defined.
Starting stack - 3,333,333
Blinds level - 33 minutes.
In case one is out during late registration period, he is eligible for re-entry.
Satellites to PokerDom 3 Years Anniversary tournament
In addition to direct buy-ins, there will be a system of satellites. Daily at 16:00 GMT there will be 3 guaranteed seats satellites, and Super Satellite will take part on Sundays at the same time with 13 trips to the event.
For those who for some reason won't be able to qualify for the tournament, LAST CHANCE satellite will take place at 15:00 GMT on August, 19. The buy-in for the satellite tournaments will be 333 rubles.
If you want to take part in the party absolutely free, make "Daily missions" at cash tables and win tickets to the satellites. More details of this are available in poker room lobby.
In addition to big cash prizes, the winner of the tournament will receive a valuable present from PokerDom!
Don't miss the main poker event of this summer!