888 Poker free $88 sign up no deposit bonus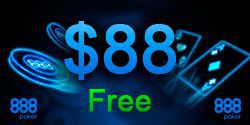 Poker room 888 Poker holds an excellent special offer on a regular basis that enables all the players from several countries* to get a bonus package of $88 absolutely free (or £20 for UK players) - T&C apply. Only those players who still do not have an account at 888 Poker can claim free $88.
There's no need to make a deposit in order to get the bonus package.
How does 888 poker bonus work?
Free $88 from the 888 Poker are divided into an immediate part and a pending bonus. The immediate part from 888 Poker amounts to $8 which are to be credited to your account. The immediate bonus is issued as $2 in cash together with tickets to tournaments with the value of $6.
The pending part of the 'Free $88' bonus package amounts to $80 and is credited to your account in parts, $8 each ($1 in real money on player's account and $7 in tickets to tournaments), every time you gain another 250 bonus points (points can be received only while playing poker at real money tables). Free tournament ticktets from 888 poker are creditted over a 1 week period - 2 tickets worth $0.5 every day.
How can I receive free $88?
In order to get the free bonus package of $88, you have to visit 888Poker poker room's website following special link and create a new account. Please note: if you have previously had an account at 888 Poker, under no circumstances do try to create another one, because both of them will be frozen without right to be restored the moment you try to withdraw your winnings.
After you have created an account, you'll receive a letter from 888 Poker on your email with a confirmation of your email address and your intention to take part in 'Free $88' promotion.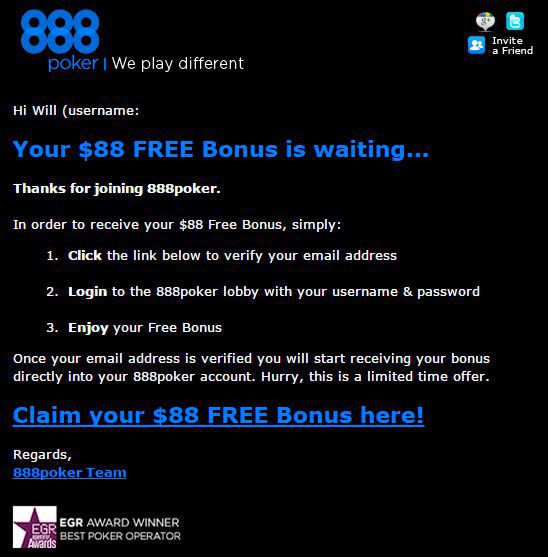 You'll be given 14 days starting from the registration day in order to activate no deposit bonus of $88 from 888 Poker.
Next you're to receive $8 from 888 Poker and $80 of the pending bonus that will be very easy for you to clear. Good luck at the tables.
*No deposit bonuses at 888poker are available for players from almost every country.