€50,000 Konnect Kings promotion at Red Kings Poker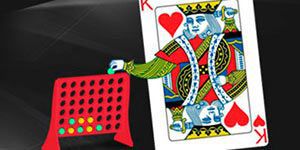 From November 13 to 26 every user of the poker room Red Kings Poker are able to win a piece of a prize pool of €50,000. We mostly talk about a guaranteed prize of €10, which any player of the poker room can claim. Win hands with Kings in any poker hands, build horizontal and vertical lines in a special table and win instant money prizes.
The special offer will take place till November 26, or till the moment the prize pool is fully paid. So hurry up to win your money reward.
How to join Konnect Kings at Red Kings Poker
To take part in this promotions, you need to play No-Limit Holdem at cash tables at €0,10/€0,20 or higher. As soon as you play a hand with one of combinations from the special offer board, an appropriate circle will be filled. When a full line (horizontal or vertical) will be collected, you will win a cash prize of €10, which will be credited to your account straight away without extra requirements.
The maximum amount each user can win is €80. To get it, you need to build all lines (vertical and horizontal) displayed in the table.
There's no need to mention that in case you collaborate with other players at the table, your prize will be abolished, you will lose your right to participate in this promotion and, probably, your account in general. Also remember, that you are allowed to take part in this offer only once. Multi-accounting is prohibited as well.