$1.000.000 treasure quest at 888poker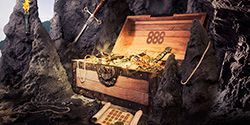 All hands on deck! Poker room 888 poker has incredible treasures for you of total amount of $1.000.000 in cash prizes and presents, which are able to make real pirates drop their jaws. You are able to start your sea adventure to chase these treasures right now! For starters, let us briefly review the promotion and we'll have a look of details of it below.
New Year at 888 poker starts with a new promo - Treasure Quest. You are able to compete for the major part of the prize pool of the promotion for $1 million till February, 25. We are mentioning dates for a reason. New 888 poker promo is some sort of calendar quest where lotto and tear-off calendar are somehow mixed. The earlier you get to sail for treasures, the higher are your chances to find the major treasure.
Complete fun and easy daily Challenges, move up the treasure map step by step and aim for really huge cash prizes of up to $100,000.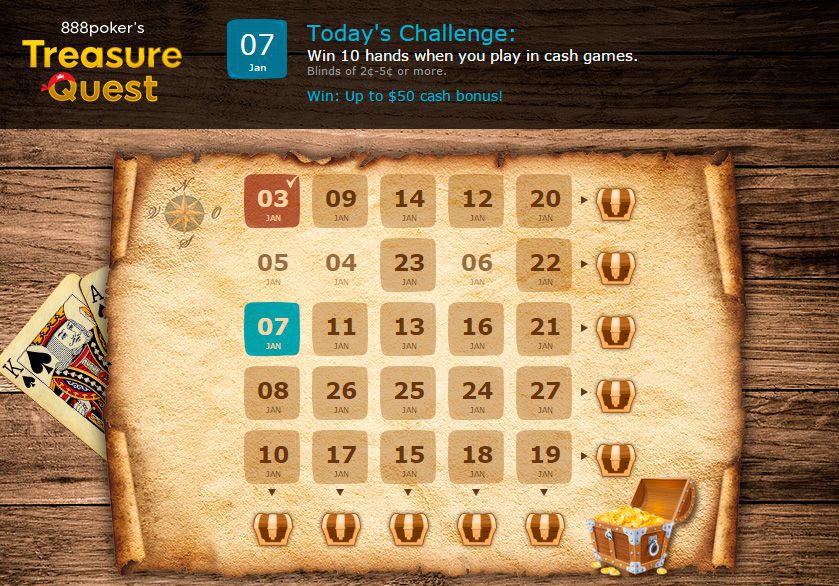 In the beginning of the promotion, each player of 888poker gets the map, thanks to which he is able to start his own path towards the treasures. He can move up the map by completing easy daily challenges. One date = one challenge = one treasure slot. After you finish the quest, you open up the slot on the map and get your first prize: from ticket to $6,000 Pirates Prizes to $50 to your account in the poker room.
We also recommend you to claim a great offer and get $88 free at 888 poker just for signing up
As you complete the challenges, the prizes get bigger. For players who completed five challenges across or down the map, the prizes grow bigger. For each completed line, player gets an opportunity to win $5 to $5000.
Finally, the bravest of the pirates who were able to cover the whole map by completing all the challenges, there is a special prize. Maximal winnings in that case reach $100.000!
In addition to cash prizes, $9000 are drawn each day in special freeroll tournaments twice a day. 888poker will hold freerolls of $1,500 Treasure Quest Tournament and to participate in them you won't even need a special ticket - just make at least one successful deposit on your 888 poker real money account. Search for free tournaments in the lobby of the room:
$6,000 Pirate's Prize Tournament - daily at 21:08 GMT - win the tickets by competing daily challenges;
$1,500 Treasure Quest Tournament - daily at 11:04 and 17:04 GMT - no tickets needed - free for all depositors!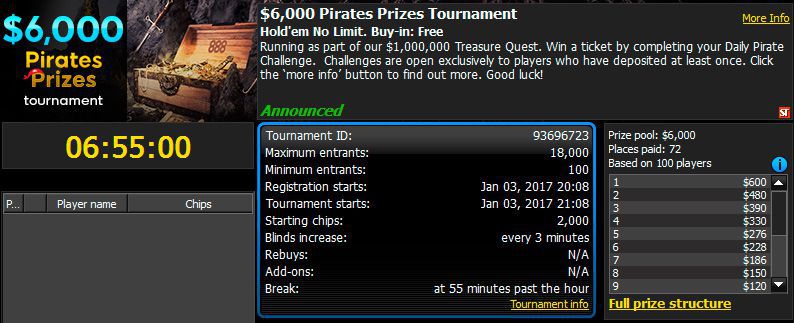 Go and get the treasures! Yo-ho-ho!
Treasure Quest by 888 poker - how to participate?
Firstly, let us notice that participation in the promotion is only available to players who've made at least one deposit before January 3, 2017. If this requirement is met, enter the lobby of the poker room 888 every day from January, 3 to February, 25 to know which challenge you have to fulfill this time. Complete the quests and get amazing prizes from tickets to the tournament of the pirates called $6,000 Pirates Prizes Tournament to cash prizes of $1 to $50.
| | |
| --- | --- |
| Prize | Odds |
| 1x Pirates Prizes Tournament ticket | 80.00% |
| 2x Pirates Prizes Tournament tickets | 13.00% |
| $1 | 5.90% |
| $5 | 1.00% |
| $50 | 0.10% |
$6,000 Pirate's Prize Tournament will take place on a daily basis during the whole period of the promotion. To register, you have to get a ticket, which can be won after you complete one of the quests. The beginning of the tournament is at 21:08 GMT. Players who've made at least one deposit before the beginning of the promotion have the right to receive 4 free tickers to this tournament. To receive them, contact 888poker players' support service.
After you've completed five quests in a row (it could be vertical or horizontal row on the treasure map), you will be able to participate in an additional prize drawing: from $5 to $5,000. To do this, press on the image of the treasure chest.
| | |
| --- | --- |
| Prize | Odds |
| $5 | 72.00% |
| $10 | 22.99% |
| $50 | 4.00% |
| $500 | 1.00% |
| $5,000 | 0.01% |
Those players who are able to complete all the daily quests and fill the treasure map will compete for the biggest prize. Those participants will get prizes of $20 to $100,000. To start the drawing you have to always press on the chest.
| | |
| --- | --- |
| Prize | Odds |
| $20 Bonus | 87.489% |
| $100 Bonus | 12.00% |
| $1,000 Bonus | 0.50% |
| $10,000 cash | 0.01% |
| $100,000 cash | 0.001% |
Daily quests in promotion Treasure Quest on 888 Poker
Win a hand with the cards of any suit. Playing at cash tables of No Limit Hold'em at stakes of $0,02/$0,05 or higher, Sit&Go tournaments of $1 or more and at the SNAP-tables, win any hand with the hand of the same suit.
Play in MTT-tournament. Play in any multi-table tournament (including SNAP-tournaments) with buy-in of a least $1. Freerolls and heads-up aren't considered.
Play the N-number of the hands. Play at cash tables or SNAP table for as many hands as it is required in the quest. Only the hands at the stakes $0,02/$0,05 or higher are taken into account.
Finish in the ITM of the MTT-tournament. Take part in multi-table tournaments, Sit&Go or SNAP-tournaments with buy-in of $1 or higher and get into the prize zone. The tournaments of 10 participants or less are not taken into consideration.
Play in Blast tournaments. Take part in Blast-tournament with the buy-in given in quest.
Additional prizes from 888 poker
In addition to the above mentioned opportunities to win a huge amount of money, 888 poker users will have one more of these - free tournaments $1,500 Treasure Quest Tournament. They will take place from January, 3rd to February, 25th twice a day and to register in them, you don't have to pay a cent. That is a great opportunity to boost your bankroll using skill and experience to compete with other players.
The only requirement to enter the tournament is to make at least a single deposit for the whole time the account of the player exists. That means if you ever have made a deposit to 888poker account, the entry is open for you.
Additional conditions
All the money won in the promotion 'Treasure quest at 888poker' should be cleared before withdrawal. For this, earn at least 3/5 bonus points for each $1 won. If you win more than $5,000, this money doesn't have to be cleared.
All the tickers you receive as a win in terms of this promotion will be valid through February,25. As this term expires. All the tickets will be annulled.