€100,000 Freeroll Festival at RedKings Poker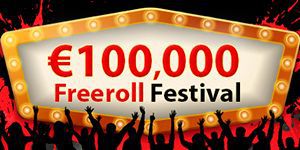 In the period from July, 10 to July, 30 RedKings Poker will hold a grand promotion called Freeroll Festival with a total prize pool of €100,000. Thus, anyone who will take the trouble will be able to celebrate the warmest and sunniest month of the year at poker tables, surrounded by the atmosphere of rivalry and potential big wins.
Freerolls will take place during the next three weeks and to register for each of them you need to complete one or a few missions. Participation in tournaments is absolutely free, yet by reaching ITM zone you will be able to win decent amount of real money. You can learn more about this special offer, missions and freerolls in the information disposed below.
How to take part in RedKings Poker Freeroll Fest?
To join Freerolls Festival at RedKings Poker and fight for big prizes, you need to register in this poker room. Then just wait for the beginning of the fest and start completing simply missions/achievements.
In order to get a ticket for this or that freeroll, you need to reach a certain level. Each level consists of a few missions (you can get acquainted with it on the official web site of the poker room). Every day poker room offers you 2 freerolls of the "Level 1" and 1 freeroll of the "Level 2" and you will have two achievements levels to unlock per day. One level disclosure provides a player with a ticket to register for a freeroll:
Reach Level 1 and get 1 ticket to Freeroll "Level 1" (its value is €0,01)
Level 2 supposes you get 1 ticket to freeroll "Level 2" (its value is €0,02)
Each ticket is valid for 24 hours since the moment it's credited.
For instance, to register for a freeroll on July 20, you need to win one hand at the cash-table and then take part in Fish-Party tournament with €1 buy-in. Further you will receive a ticket to the freeroll. In general, missions are rather simple, hence anyone can take part in this Freerolls series and combat for their piece of the prize pool in the entire amount of €100,000.
To get more precise info about Freeroll Fest at RedKings