Virtual Cards and a Rise in Popularity for Casino Poker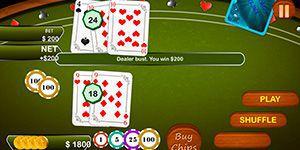 Online casinos have existed for about as long as the internet itself, from simple card hands to flash slots. It's a niche market for sure – though the games are popular, their populations are relatively compact, making for particularly stiff competition amongst the market. Companies are forced to rely on gimmicks, promotions and quality services to invite in an audience; everything from free spins or bonus cash to movie-based rooms with various iconic characters. Any game style once found in Vegas can now be found on online, albeit with even more bells, whistles and flashing lights to boot.
Introducing live Casino variants. These online rooms are some of the most unique on the web, and they're beginning to see a rise in popularity. And for good reason.
The Old Guard
Traditional poker, blackjack or roulette is quite simple. A player turns up at any given casino, cashes in for chips and takes the seat of their choice. There's a dealer present to oversee the cards, there are men and women in fancy wear and there's a real atmosphere about it all. Risk. Luxury. Profit. You get to see the cards split. You get to see them dealt. You can read the poker faces of your opponents, feel the velvet table under your hands, and at the end of the night when all's said and done, retire to your room just floors above. Traditional casino play is as much about the experience cultivated as the profit. And when you translate these kinds of things to the online market, a lot of that experience can fade away. And that's where live casino variants come in.
What is Live Casino Poker?
There are plenty of good reasons why someone might decide on online poker or slots rather than a trip to their closest Vegas equivalent. It could be resources, it could be convenience, it could be that they're a total beginner and intimidated by the scene! Regardless, it's down to the host site to make their time with a player as fun as possible.
Live casino poker takes all the benefits of being online in the first place, cultivates them, then goes one step further. Just look at Casino Cruise. They allow players to view the dealer they're up against. That last part is very important. Whereas traditional online poker is hosted by code and random chance, live variants has a human face to it all. And it doesn't end there.