Poker room Playboy Poker to shut down on July 27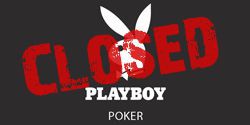 Very few people knew that poker room Playboy Poker really excisted … but it did. Playboy Poker was founded by a man's magazine far back in 2007, but was eventually closed up. Later in 2013, having gained the support of Amaya Gaming, the poker room got restarted as part of the Ongame network.
After the restart in 2013 the poker room authorities have announced that the whole Playboy Poker team consisted of beautiful women and handsome men who are ready to share experience with players. The poker room also used to organize interesting special offers: the winners got the chance to play in the Playboy club in London. As it later turned out it proved to be insufficient to compete with the leading poker rooms. The poker room operation was aimed at the attraction of both professional and recreational poker players.
And recently the Internet was stirred with news of the renovated Playboy Poker to suspend its work once again. The poker room authorities introduced it as a business-solution to the media and announce July 27 to be another date of the closure.

Everyone interested are welcome to play in the poker room but the administration recommends to withdraw all the assets until the July 27. The press agents promise all the cashouts to be processed within 24 hours after the request.
Those players who don't manage to withdraw their money from Playboy Poker before the due time will have a chance to submit it within 30 months. Afterwards all the accounts will be completely deleted.