Online poker is winning in the US and here's why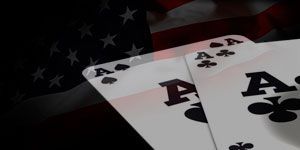 Online poker in the U.S. is a somewhat peculiar business. Ambiguous rules concerning where and how it's permitted, along with vetting operators and onboarding players have all posed historical challenges in the online poker industry's quest to establish itself stateside. While no current Federal law expressly prohibiting online poker, the sport is traditionally considered a game of chance and subject to strict regulations in the U.S. However, modern science may indicate poker is both a game of skill and chance, depending on experience. So, states have the right-of-way to decide if they want it, leading to a slow adoption across the country.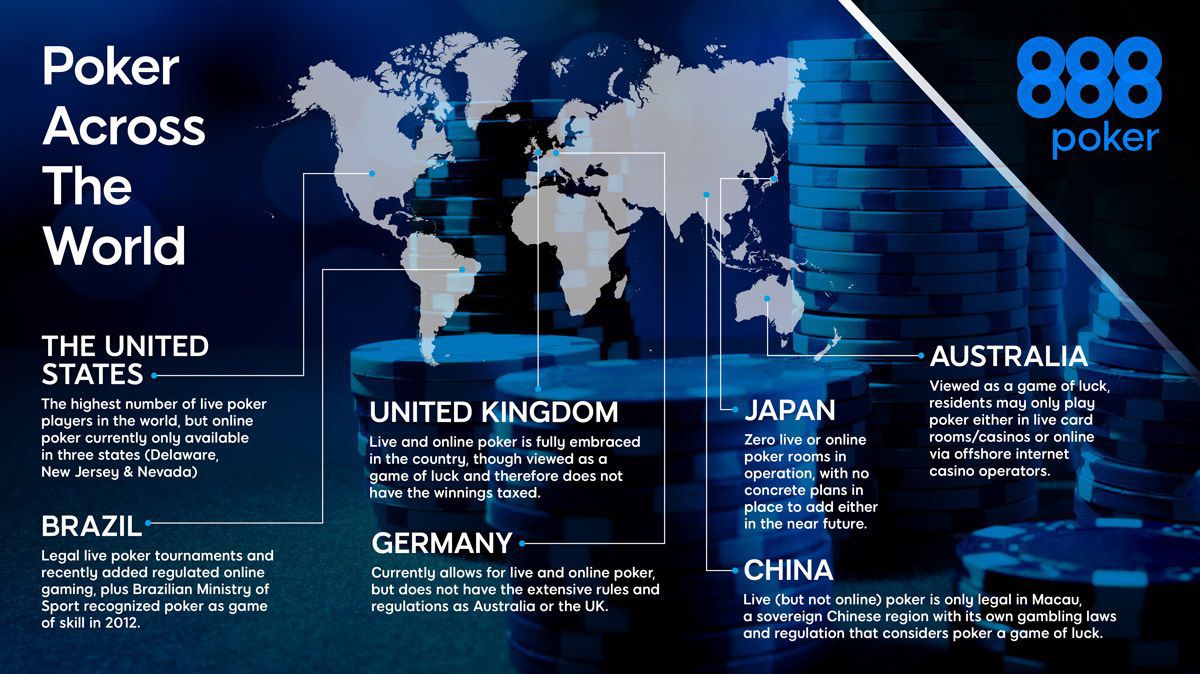 Caption: The rules governing online poker vary by country, and even state to state in the U.S.
However, recent years have witnessed a breakthrough, with a few states choosing to allow online poker, and players signing up in droves. With a large national market remaining mostly untapped, the business of online poker in the U.S. is quite promising.
Not Quite a Full House Yet
The current market for online poker players in the U.S. seeking to bet and win real money consists of Nevada, New Jersey and Delaware. It's no surprise these states lead the charge as they all have a history of aggressive gambling adoption.
The big three also have well-established rules for how and where players can access online poker games. They offer safeguards to ensure the online poker operators conducting business in the state are legitimate.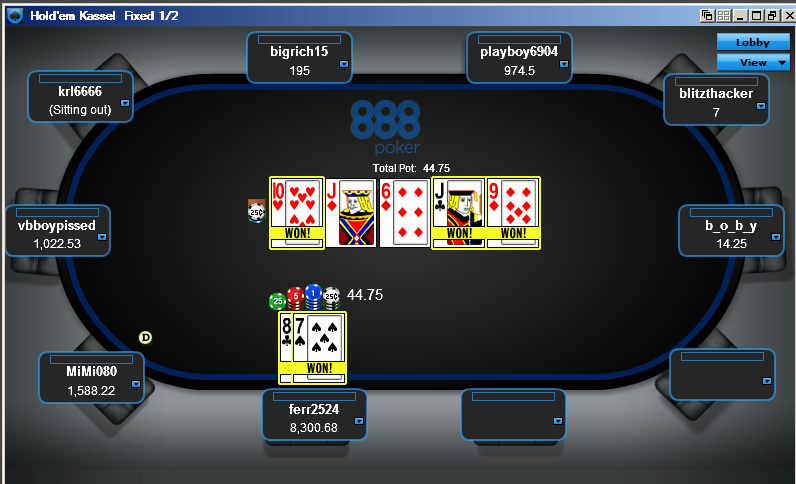 Caption: A typical online poker room with interactive players.
At first glance, it may seem unnecessary for a state to impose rules concerning online poker, but such measures are intended for the protection of players. When real money is on the line, players need to have confidence that the online poker sites they visit aren't fly-by-night scams.
A gambling expansion initiative passed on October 30, 2017 in Pennsylvania will now permit online poker in the state. While not yet live, players in the Keystone State will be able to play online poker and other casino games at some point in 2018.
A handful of other states are strongly considering moves to permit online poker participation. Illinois and New York appear to be the most likely candidates right now while New Hampshire took up an online lottery rule that could pave the way to online poker.
Michigan, Massachusetts, California, West Virginia and Hawaii are also in play to join the states with online poker. The potential for market expansion is good news for players across the U.S., as well as online casino operators.
A Slice of a Larger Pie
Similar to how you would expect poker tables in a land-based casino to be surrounded by other table games and slots, online poker is generally considered a segment of the broader online casino industry when approached by states. Therefore, when states weigh permitting online poker, they're usually considering a range of casino games at the same time.
States and operators benefit from this arrangement by producing revenue from a diversified portfolio of games, instead of relying on poker as the single breadwinner. Revenue earned from online casinos supplements traditional tax sources and boosts the coffers of participating states.
Caption: A live online casino dealer demonstrates a game of Casino Hold 'Em.
A notable exception is Nevada, which exclusively allows online poker. However, the Silver State has not enacted a full range of online casino games at this time.
There's also a new compact on the horizon expected to drive more revenue through the U.S. online poker market. New Jersey, Nevada and Delaware have entered into a liquidity sharing agreement, allowing players in the three states to compete against each other, breaking down state geographical boundaries that had carried over into cyberspace.
The new borderless pool of online poker may present a glimpse into what the future U.S. market will look like as more states onboard online poker. The online poker liquidity arrangement will launch sometime in 2018, and Pennsylvania is slated to eventually join the cohort.
Aces by the Numbers
Of course, business is all about the bottom line. A peek into the current financial state of online poker in the U.S. reveals a booming industry with a steady upward trajectory. Year-over-year growth is generally positive, although online poker is not immune to the negative growth every business faces from time to time.
The total online casino volume in the U.S. was $39.71 billion in 2015. This figure is projected to reach $59.79 billion in 2020, a 37 percent increase over five years.
A closer look into more recent data shows that a cohort exists of six of the top online casino operators in the U.S. - 888, The Stars Group, GVC, Kindred and Zynga - a total of $314 million in U.S. revenue for Q3 2017 alone. The same group raked in $266 million during Q3 2016. That's a $48 million bump for the quarterly comparison.
Impressive short-term growth across the industry doesn't hinge on a "build it and they will come" philosophy. Online casino operators aggressively court new players and reward repeat customers using a grab bag of proven tactics. Enhanced loyalty programs, upgraded player experiences and a constant rollout of new games.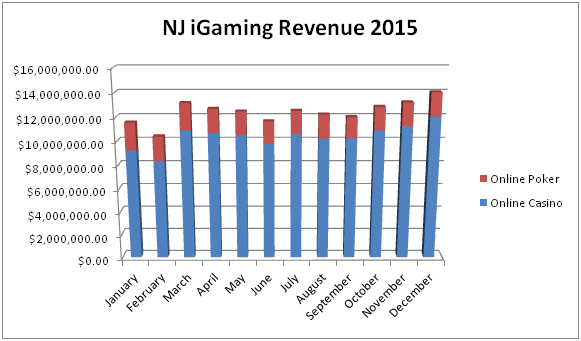 Caption: New Jersey's online poker revenue as a portion of total online casino revenue by month in 2015.
The incentives are working especially well in New Jersey where 2017 was a good year for online casinos. Operators increased their revenue nearly 25 percent over the previous year while pulling in $245 million.
Delaware's online casino market is much smaller by comparison and has remained relatively flat over the last two years. A 62 percent revenue uptick in 2016 was offset by a 56 percent decline in 2017, to $2.4 million statewide.
Specific annual figures for online poker are harder to parse out for Nevada where the online poker numbers are wrapped up in total gambling revenue for the state.
More than 20 years after bursting on the Web 1.0 scene, online poker continues to enjoy growing revenue and player counts. While availability in the U.S. is currently limited to three regulated states, the expected near-term implementation signals a lucrative emerging market. Existing financial indicators combined with the potential market size of the U.S. paint a promising domestic future for poker and online casinos at large.