How to Add a Competitive Edge to Your Poker Playing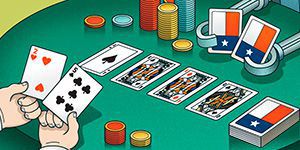 Plenty of people love to play poker with friends and family. This is a fun, relaxing hobby but what if you want to move your poker playing on to the next level? Adding a competitive edge to poker can make it even more exciting.
It is also good to see that this can be done without the stress of getting involved in high-pressure and high-stakes games. So, how can you do this? There are a few different approaches you might be interested in trying out.
Understand the Rules and Strategies
If you are serious about playing poker, then the first step is to more fully understand the rules and strategies involved in it. You might have got to grips with the basics but if you are going to play competitively, then you need to go a step further.
This means understanding the math behind the game, although, according to Towards Data Science, it is more about heuristics than math. You will also want to discover all of the different tactics you need to have in your armory.
Encourage Friends and Family to Take It Seriously
Do you currently play poker with friends and family for some light-hearted fun? This is a terrific way of spending time with your loved ones but perhaps you long for them to take the game a bit more seriously.
This doesn't have to mean that you play with massive stakes if you don't want to. Just encourage them to see it is as a genuine challenge the next time you play Texas Hold 'Em or some other variant at home. You might also want to keep a record of who wins each hand or play for modest but worthwhile stakes.
Try Online Poker Tournaments
There is no doubt that the arrival of online games has revolutionized the world of poker. It is now possible to play competitively or for fun just about anywhere and at any time. This has seen the popularity of the game sky-rocket.
A way of using this modern approach to your advantage is to look at the schedules for different types of online poker tournament on sites like Redbet. These range from freeroll tournaments to high stakes events and satellites to live tournaments, so you can choose the approach that you prefer.
Learn from Good Players
As with most skills, there are few better ways of learning than by watching the experts. Do you know someone who can teach you advanced skills? Or will reading about the world's top poker players such as Doyle Brunson and Phil Ivey give you a competitive edge?
Watching World Series of Poker tournaments will help, with the 2019 Main Event scheduled for Las Vegas. Of course, there is nothing quite like playing against great players for learning new skills and getting inspired. However, this can be a tough experience, as you can expect to lose far more than you win at the start.
There are numerous ways of getting the competitive poker experience that you crave. By taking the time to explore them, you can easily make this card game even more interesting and rewarding.