Global Poker Fumbling "Fully Legal" USA Online Cardroom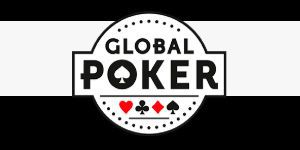 Global Poker opened in February 2017, billing itself as a completely legal poker site that could process payments to American and Canadian customers through PayPal. With this convenient selling point, it grew its traffic to the point where even high-stakes $10/$20 games would run often. However, this internet card room has turned out to perhaps be too good to be true, and many former supporters are now grumbling at recent decisions the company has made.
Global Poker's $weeps Model
In order to avoid anti-gambling laws and restrictive PayPal rules against using its e-wallet product for real money gaming, Global came up with a unique sweepstakes model. When you make a deposit at Global, you're actually purchasing play money Gold Coins. However, as an added incentive, you're given an amount of $weeps Cash corresponding to the sum you fork over to buy these Gold Coins.
The Gold Coins are for playing purposes only; they can never be withdrawn from the site. But $weeps Cash can be used to play effectively for real money, and you can cash them out at par with the U.S. dollar. It's possible to obtain a small sum of $weeps for free by sending envelopes in through the mail. Global contends that this arrangement causes its operations to fall within the ambit of sweepstakes law rather than gambling law.
About the Poker Room
Global Poker uses no-download software to allow it to work on pretty much any device that has an up-to-date web browser. There are NL Hold'em and PL Omaha $weeps Cash ring games, sit-n-goes and multi-table tournaments. Cash tables exist for Limit Hold'em too although traffic is quite sparse. The practice chip Gold Coins section has all of these formats plus Crazy Pineapple cash games.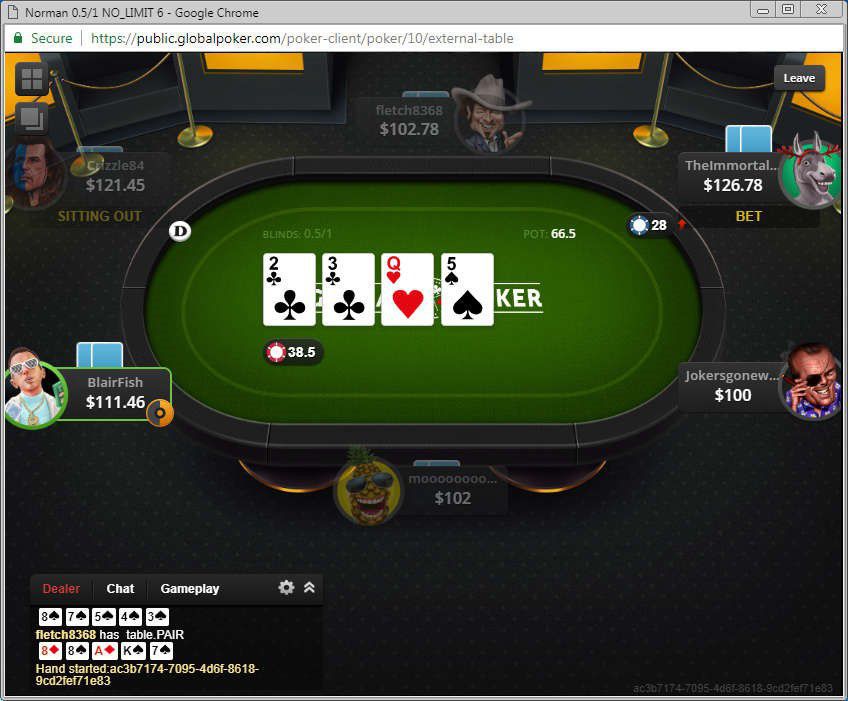 Global Poker $weeps Cash Table
$weeps ring games cover a broad spectrum of blind levels from $0.02/$0.04 up through $10/$20. SNGs meanwhile comprise regular speed, turbo and hyper contests from $1 + $0.10 to $200 + $18. The weekly tournament schedule includes dozens of contests at varying price points every day, culminating in the Sunday Scrimmage, a $200 + $18 affair that guarantees $50,000. Every few months, there are tournament series that have bigger paydays than the normal weekly lineup.
Unfortunately, the house cut taken in many of these forms of poker is greater than the industry average. For instance, cash game rake can reach as high as $5.50 at some blind levels, about $2.50 more than is the norm at competing operators. Turbo SNGs extract a full 10 percent fee even at the higher buyin levels. MTTs with $100 and $200 buyins charge $10 and $18 respectively as opposed to the $9 and $15 that are commonplace at other internet card rooms.
Global Poker Promotions
For a relatively new poker enterprise, Global is doing surprisingly little to reward new and existing players. Perhaps it counted on the drawing power of its (now nonexistent) PayPal support to keep people coming back for more. Whatever the rationale, Global Poker doesn't have any first deposit bonus, rakeback, reload bonuses or the other enticements traditionally offered by online gaming firms. Only rarely are there any small promotional giveaways, and they're typically only available for a short period of time.
Cashier Setup
Despite its former reliance on PayPal as its sole payment processor, Global Poker no longer transacts with this firm and now handles payments through Worldpay instead. Controversially, the poker site made this switchover with only a few days' notice to users in June 2018.
With the move to Worldpay, users were distraught because the credit card deposits and bank transfer cashouts supported by the new payment channel are less convenient than electronic money movements to and from customers' PayPal wallets. Furthermore, one must now have a bank account to receive money from Global, which was formerly not the case. Moreover, the speed of withdrawals has jumped from a couple of days previously up to weeks or even longer nowadays.
Global hasn't really given satisfactory explanations for why it discontinued working with PayPal. There's plenty of speculation, though, that it was deliberately cut off by PayPal on short notice. You see, the sweepstakes justifications that the business was using to get around PayPal's restrictions on gambling transactions were paper-thin. Indeed, the Gold Coin games that were Global's alleged raison d'être counted for only about 20 percent of its poker traffic. The remainder, 80 percent, was basically real cash gaming, which PayPal dislikes and could have been the motivation for ending the relationship with Global Poker.
Other Global Poker Missteps
Large, international organizations are bound to make mistakes every now and again, but Global Poker seems to do so with a frequency and clumsiness that raise questions as to the overall competence of its personnel and their ability to run a poker room. Some of the recent scandals in which the company has been embroiled include:
Rattlesnake Open Cancellation
On May 20, 2018, Global was supposed to hold the three Main Events of its Rattlesnake Poker Open series, but these tourneys had to be suspended and cancelled due to technical issues. Such incidents are sometimes out of the poker room's control, but what is definitely a responsibility of the site on these occasions is to see to it that all the money involved is distributed according to publicly stated policies. According to the Global Poker rules at the time, all overlays incurred in these tourneys would be fully honored and awarded back to the entrants.
Nevertheless, this site failed to pay out according to the formula on its website, instead diverting tournament funds to cover losses in other events. This unpopular decision was announced by a company representative on a major poker forum. As it transpired, there were later complaints that Global Poker wasn't even fulfilling its duties according to the altered payout equation posted by the rep.
Document Security Lapse
In June 2018, it was discovered that errors in setting up Global Poker's ZenDesk software led to a situation wherein personal documents that users submitted for identity verification could be seen by anyone who possessed the correct web addresses! There was no password protection on these sensitive files. Even worse, the URLs to the documents in question were often sent to customers in plain-text emails. This gap in Global's security protocols is estimated to have been in existence for more than a year before being fixed.
Further Insight
There are other online poker locations that open their doors to American players, and most of them offer a more compelling product than Global Poker does especially given its recent player-unfriendly moves. If you still have more questions about this site, you can consult this in-depth Global Poker review for further information.