888poker's XL Inferno daily recap. May 17, 2018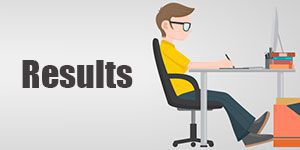 The eighth day of the 2018 XL Inferno saw three more events play out on Thursday. Now, 24 of 34 tournaments on the schedule are in the books. Still, three more days, 10 more tournaments, and seven figures in guarantee prize pools remain.
Some players to already secure a seat in the XL Inferno Champion of Champions are Ukraine's "GangstaGo," the Netherlands' "MisterN411," Sweden's "LivinThDream," Romania's "POK_33_TATOO," and two-time champ "Sluuut123."
As for Thursday action, it was comprised of Quarterback tournaments, which allowed players to rebuy a quarter of their starting stack at a discounted rate in case they lost all their chips within the late registration period.
Whale Runner-Up "PBD03" Captures Quarterback Title
The $215 buy-in Event #22: $75,000 Quarterback drew 313 players who rebought 287 times. That created a $76,950 prize pool paid out to the top 45 players including Steven "Kale333" van Zadelhoff (34th - $500), 888poker Ambassador Chris "888Moorman" Moorman (18th - $769), "MAMOHT_T" (7th - $2,616), and Johannes "TrollKonst8" Korsar (3rd - $8,464).
After 8 hours and 32 minutes, the title came down to "PBD03" and "KimberSlice." The former prevailed for $14,890 while the latter had to settle for second place and a $11,158 consolation prize.
It was redemption for "PBD03" after he finished runner-up to "Emver" in Event #12: $150,000 Whale, good for nearly $35K.
Event #22: Quaterback results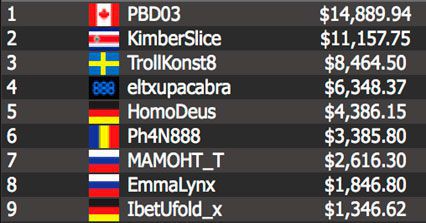 UK's "11BRS11" Prevails in Mini Quarterback
The $44 buy-in Event #23: $25,000 Mini Quarterback saw 583 players rebuy 319 times to generate a $26,510 prize pool. The top 81 players earned a piece of it including Cristian "progree69" Sampaoli (41st - $106), "PBD03" (34th - $119), "Openpunks" (14th - $252), "boquillas" (7th - $862), and "joaof6" (4th - $2,015).
After "Sefas01" bowed out in third place for $2,678), the UK's "11BRS11" squared off against Austria's "23NoraB," a XL Blizzard champ from back in January The Britt closed it out 8 hours and 10 minutes into the tournament for $5,008.
Event #23: Mini Quaterback results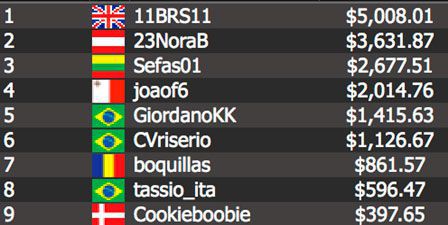 XL Series Champ "petrofv5501" Wins XL Inferno Title
The $109 buy-in Event #24: $20,000 Late Quarterback had 178 players rebuy 80 times. Among those to finish in the op 27 and get a piece of the $20K prize pool were Anton "anteen" Bertilsson (26th - $200), "yrkkk" (15th - $300), Event #14 champ "GoFighTer" (12th - $350), "Bullflag" (6th - $1,000), and "summuNNN" (4th - $1,750).
After 5 hours and 11 minutes, Russia's "petrofv5501" defeated he UK's "Kroat." in heads-up play to capture a $4,300 first-place prize. In January 2017, "petrofv5501" won the XL Series Event #32: $109 Eight Max NLH for $11,641.
Event #24: Late Quaterback results