888poker's XL Inferno daily recap. May 14, 2018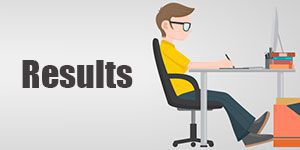 Day 5 of the 2018 XL Inferno saw two Rebuy & Add-On events play out, meaning 15 tournaments from the 34-event schedule are in the books. The series, which runs is nearly halfway done but runs through this Sunday, offers a wide range of buy-ins with seven figures in guarantees.
Remember, everyone who wins an XL Inferno title earns a ticket into the Champion of Champions tournament, which will see the top three finishes each win a prize package to the 2018 World Series of Poker. Click here for more details.
Some players to already secure a seat in the XL Inferno Champion of Champions are Ukraine's "psyhoagromor" and "GangstaGo," Saudi Arabia's "Shebalow," Argentina's "germaxii," Belarus' "buldos," and two-time champ "Sluuut123."
Belarus' "GoFighTer" Wins Event #14: $40,000 R&A
The $55 buy-in Event #14: $40,000 R&A Event cruised by its guarantee by attracting 361 players who rebought 350 times and accounted for 178 add-ons. That generated a $44,450 prize pool paid out to the top 54 players including Cristian "progree69" Sampaoli (54th - $222), Bryan "DePittsterje" Paris (36th - $267), "grownupguy83" (12th - $578), and "guydeet39" (4th - $3,556).
After "fu2.10" bowed out in third place for $4,667, the title came down to Sweden's "cuadrado12" and Belarus' "GoFighTer." After 6 hours and 30 minutes, the latter came out on top to capture the title and $8,530 first-place prize.
It was the first win for "GoFighTer" since February 15, which is when he won the $44 buy0in $15,000 Daily Challenge for $3,068. Before that, he finished runner-up in the XL Blizzard Event #13: $20,000 Late Tune Up for $4,702.
Meanwhile, it marked the second time "cuadrado12" finished second in a XL Inferno event. Last May, he was the runner-up out of 913 entries in Event #184: $150,000 Mega Deep for $23,738.
Event #14: R&A results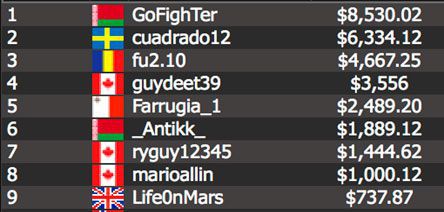 Pair of XL Eclipse Champs Finish First & Second in Event #15: Mini R&A
The $5 buy-in Event #15: Mini R&A saw 1,159 players rebuy 1,247 times and do 517 add-ons. That meant a $15,000 prize pool was on tap and among the 153 players to get a piece of it were "VanessaHinz" (58th - $40.50), "EmoBoyfriend" (36th - $55.50), "d.smurf" (16th - $73.50), "KirusRUS" (9th - $165), "jogowhack" (5th - $742.50), and "Arcan3poker" (3rd - $1,425).
After just over eight hours, Brazil's "Ov3rTiLt" defeated Ukraine's "YAMAHA1311" in heads-up play to win $2,589. If you recall, "YAMAHA1311" is a XL Eclipse champ after winning Event #142: $20,000 Americas last September. As for" Ov3rTiLt," he is also a XL Eclipse champ having won Event #104: $20,000 Mini Turbo Mega Deep for $3,916.
Event #15: Mini R&A results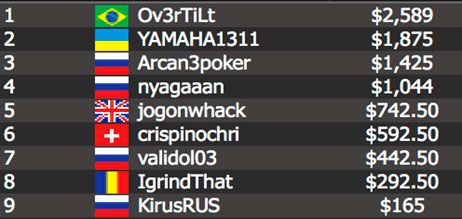 Wanna see your nickname in the next review? Then what do you wait - register at 888poker and start playing poker on one of the most trusted online poker site.