888poker's XL Blizzard Recap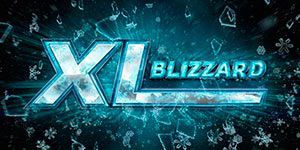 The first day of the 888poker XL Blizzard kicked off in a big way when the Netherlands' Jan "Graftekkel" Arends took down the Opening Event for more than $17K. By doing so, he became the first player ever to win both XL Eclipse and Blizzard titles. Meanwhile, both "bygavuga" and "scellone94" also found success on Thursday. Find out all the details in our daily 888poker XL Blizzard recap.
The 11-day XL Blizzard, which will run through January 28, kicked off with the first trio of tournaments on the 34-event schedule. All told, the first day of the popular series catered to 3,902 entries and awarded $150,906 in prize money. By the end, more than $2.8 million will be won.
We'll be bringing you daily updates of the XL Blizzard, so be sure to check back every day. For now, you can read about the first three events below.
The XL Blizzard, which offers events as low as $5 and as high as $2,100, on 888poker is just getting started. There are several exciting events on this year's schedule including $50,000 Crazy 8; $2,100 buy-in, $250,000 GTD High Roller; and $1,050 buy-in, $1,000,000 GTD Main Event on Jan. 28. We're also offering new promotions such as awarding big cash prizes to anyone who wins multiple events ($1,000,000 if you can win five of them), a "Bubble of Bubbles" tournament (gain entry if/when you bubble a tournament), and the return of the Champion of Champions event.
The Champion of Champions returns for the XL Blizzard series and one lucky 888poker player will win a $12,000 WSOP Vegas package. Each time you play in an XL Blizzard event, you earn leaderboard points. The top 50 players on the leaderboard receive a ticket to the Champion of Champions tournament and everyone in that special event wins a prize.
XL Eclipse Champ Jan "Graftekkel" Arends Wins Opening Event
The $109 buy-in XL Blizzard Event #1: $80,000 Opening Event needed 800 entries to hit the guarantee, and it was hit with ease as 667 players rebought 279 times to create a $94,600 prize pool. That was distributed to the top 90 players, and the man finishing in 91st place was Argentina's "BtM4Ever," who left emptyhanded, but became the first player to lock up a seat in the "Bubble of Bubbles" tournament.
Among those to cash the tournament were 888poker Ambassador Chris "888Moorman" Moorman (62nd for $302.72), "Cashdurrr" (36th for $425.70), "jareth3542" (21st for $473), and "Wall2Wall3b" (10th for $1,040.60).
After nearly 10 hours of play, the final table was set, and it was a truly international affair. In Level 29 (22,500/45,000/5,625), Russia's "M9yM9so" got his stack all in preflop with the :Ah :7d and failed to hold against the :Qs :8h of the Netherlands' Jan "Graftekkel" Arends after a :4c :6h :8d :8s :Th run out. "M9yM9so" earned $4,020.50 for finishing in sixth place.
With three players left, Canada's "BTIPPPPP" got his last 13 big blinds all in preflop holding the :Kc :Ks and was primed to double through Arends. Unfortunately for him, the board ran out :Js :8c :3d :Ad :9c and Arends rivered a straight to send the Canadian home in third place for $9,460.
In the final hand of the tournament, Ireland's "123magmag123" got his chips in on a :Tc "9s :Js :9c board holding the :Kh :9d for trips, which was behind the :8d :7s straight of Arends. The :Ac river was a blank and "123magmag123" had to settle for runner-up and a $12,771 consolation prize.
Last March, Arends topped a field of 702 entries to win the $80,000 Sunday Challenge for $15,991. Six Months later, he bested a 302-entry field to win the XL Eclipse Event #100: $250,000 Whale for $64,930.
With a win in the opening event, Arends becomes the first player to win both XL Eclipse and Blizzard titles.
Event #2 Mini Opening Event Ends in Three-Way Russian Deal
Over in the $12 buy-in XL Blizzard Event #2: $15,000 Mini Opening Event, 1,508 players rebought 832 times to create a $25,506 prize pool. Among the 207 players to get a piece of it were "888Ferraro" (138th for $35.70), "AdamWinwood" (72nd for $56.11), "KKicker10" (26th for $96.92), and "sifakwai" (10th for $214.25).
As for the bubble boy, that was Ukraine's "_FALCON_", who became the second player to be awarded a seat into the "Bubble of Bubbles" tournament.
When action was down to the final three players, who all happened to be Russians, they struck a deal before playing it out. "APCEBAT," who actually got the second most money with $3,364.42, ended up busting in third place, and then "bygavuga" defeated "VyachesLove" in heads-up play. They earned $3,393.54 and $2,963.48 respectively.
"scellone94" Scores a XL Blizzard Title for Malta
The last XL Blizzard tournament of the day was the $55 buy-in XL Blizzard Event #3: $20,000 Late Opening Event, which drew 441 players who rebought 175 times. That created a $30,800 prize pool that was paid out to the top 63 players.
Someone who just missed out on it by finishing in 64th place was Brazil's "R.nahtanoJ," who became the last player of the day to punch their ticket to the "Bubble of Bubbles" tournament.
Among those to cash were "t8ofdiamonds" (51st for $144.76), "EyeofSkadi" (25th for $184.80), 2016 Super XL Main Event runner-up "carmen.1957" (14th for $308), and "n0sferatv" (11th for $369.60).
After 7 hours and 35 minutes, the title went to Malta's "scellone94," who defeated Germany's "Charlymogo" in heads-up play to win $5,852. A former Lightning 6-Max champ, "scellone94" finished runner-up in the January 3 $20,000 Mega Deep New Year's Special for $5,385.
What's Coming Up on Friday?
Two more events will take place on Friday, January 19, both at 19:00. The first is the $55 buy-in XL Blizzard Event #4: $20,000 Twins Royal and the other the $55 buy-in XL Blizzard Event #5: $20,000 Twins Flush. We'll bring you a recap of the action once they wrap up.
Do not forget to claim 888 poker free money no deposit bonus for new clients.