888poker's XL Blizzard Recap #2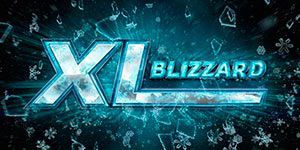 Day 2 of the 888poker XL Blizzard consisted of two events, appropriately dubbed "Twins" for their $55 buy-ins and similar structures. In Event #4: $20,000 Twins Royal, "vampa500" was denied a second XL title, while in Event #5: $20,000 Twins Flush "Ao1ing" had to settle for yet another runner-up finish in a XL event.
Day 2 of the XL Blizzard, an 11-day series that will run through January 28, played out on Friday with two more tournaments off the 34-event schedule. The second day of the popular series catered to 1,161 entries and $58,050 in prize money.
That means between the first two days of the series, 5,063 entrants have taken to the felt and won a combined $208,956. By the end, more than $2.8 million will have been won by players in the XL Blizzard.
We'll be bringing you daily updates of the XL Blizzard, so be sure to check back every day. For now, you can read about the latest events below.
The XL Blizzard, which offers events as low as $5 and as high as $2,100, on 888poker is just getting started. There are several exciting events on this year's schedule including a $2,100 buyin, $250,000 GTD High Roller, and $1,050 buy-in, $1,000,000 GTD Main Event on Jan. 28.
We're also offering new promotions such as awarding big cash prizes to anyone who wins multiple events ($1,000,000 if you can win five of them), a "Bubble of Bubbles" tournament (gain entry if/when you bubble a tournament), and the return of the Champion of Champions event.
The Champion of Champions returns for the XL Blizzard series and one lucky 888poker player will win a $12,000 WSOP Vegas package. Each time you play in an XL Blizzard event, you earn leaderboard points. The top 50 players on the leaderboard receive a ticket to the Champion of Champions tournament and everyone in that special event wins a prize.
"Pasha813" Denies "vampa500" Another XL Title
The $55 buy-in Event #4: $20,000 Twins Royal attracted 463 players who accounted for 130 rebuys. The 593-entry field created a $29,650 prize pool, and that was distributed among the top 63 players. The player who finished in 64th place, thus earning entry into the "Bubble of Bubbles" tournament, was Sweden's "youpornwnker."
Some of those to earn a piece of it were "Sr.Penes" (4th for $148.25), 888poker Ambassador Chris "888Moorman" Moorman (36th for $163.07), "courtiebee" (20th for $177.90), and "juicyjules22" (10th for $355.80).
Two Russians made it to the final table in "nU3DOC" and "Pasha813." The former ended up being the first one out, while the latter went on to face off against Bulgaria's "vampa500," winner of September's XL Eclipse Event #51: $10,000 Turbo 8-Max, in heads-up play. After 7 hours, "Pasha813" took it to the house to win the title and accompanying $5,633.50 first-place prize.
You might recall that, back in August, "Pasha813" topped a field of 526 runners to win the $5,000 8-8-8 for $1,139. Now he's the second Russian player to capture a XL Blizzard title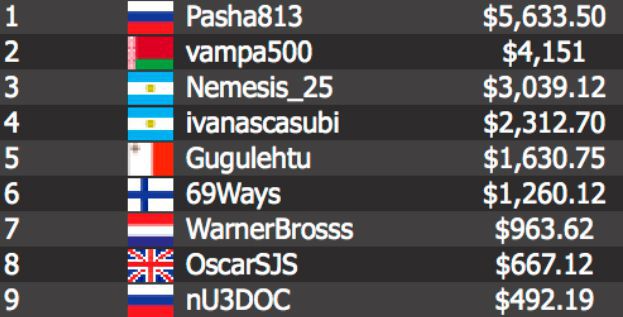 "Jamasutra" Deals "Ao1ing" Another XL Heartbreak
The $55 buy-in Event #5: $20,000 Twins Flush saw 434 players rebuy 134 times to create a total field of 568 entries. The turnout surpassed the guarantee by creating a $28,400 prize pool, which was paid out to the top 63 players including "YoureMagical" (39th for $142), "Palyaaa" (22nd for $170.40), "ob1wahn" (8th for $639), and "HotSauce86" (5th for $1,562).
Meanwhile, Norway's "AKallinAA" busted in 64th place, meaning he'll be participating in the "Bubble of Bubbles" tournament.
The final four players consisted of three Russians and a German, so the odds were there would be Twin winners from Russia. That didn't happen though as "edyvpakistan" and "dimdaf" bowed out in third and four places for $2,215.20 and $2,911 respectively.
That set up a heads-up match between the last Russian standing, "Ao1ing," and Germany's "Jamasutra." After 6 hours and 51 minutes, the tournament came to an end with "Jamasutra" on top, a feat good for $5,396.
It was another close call for "Ao1ing," who back in September nearly won the XL Eclipse Event #131: $15,000 Lightning 6-Max. Unfortunately for him, he came up one spot shy finishing in second place for $4,743.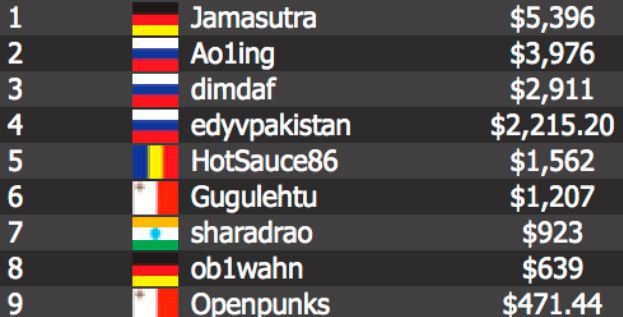 And do not forget, that all new clients can claim 888poker no deposit bonus upon sign up.