888poker's Weekly Deal - UK's "MalakiasCF" Wins 3 Major Titles in a Single Day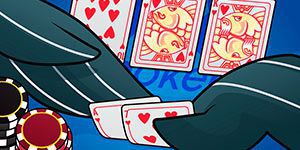 Welcome to 888poker's Weekly Deal, with all the best news, results and insights from the past week.
"MalakiasCF" Wins 3 Titles in Single Day - Takes Down Mega Deep, Whale and Crocodile!
It was a historic Sunday on 888poker as "MalakiasCF" took down three of the most prestigious titles offered on 888poker - the $100,000 Mega Deep, $10,000 Crocodile, and $120,000 Whale. You'll read about all of those events in more detail below, but know that the man from the UK overcame a combined 679 entries (including re-buys) to win his three titles and $55,577.50 in prize money.
The title complement "MalakiasCF's" XL Inferno title from back in May. That is when he bested a field of 933 players to win the $44 buy-in Event #63: $30,000 Mini Quarterback for $7,862.
It's also worth noting that had "MalakiasCF" won these three titles during the upcoming XL Blizzard, which you can read about at the end of this update, he would have won an extra $10,000. That's because anyone who wins multiple XL Blizzard events will win cash prizes ranging anywhere from $1,000 up to $1,000,000!
"MalakiasCF" Wins Whale for $33,000
The biggest win of the day, which was $33,000, came when he finished as the last players standing in the $1,050 buy-in, $120K GTD Whale. That tournament attracted 83 players who rebought 26 times to create a total field of 109 entries.
Among the dozen players to cash were "Madeon1994" (9th - $1,600) and World Series of Poker bracelet winner Christopher "NigDawG" Brammer (7th - $5,100). It took "MalakiasCF" just shy of eight hours to clinch victory.
"MalakiasCF" Bests "patrickhenry" in Mega Deep
Another of "MalakiasCF's" wins came when he topped a field of 347 players, who rebought 102, times in the $215 buy-in, $100K GTD Mega Deep. It took him over 10 hours to do it, but eventually he prevailed over Canada's "patrickhenry" to claim a $19,250 top prize.
Speaking of "patrickhenry," he nearly won a XL title himself. Back in September, he finished third out of 822 players in the XL Eclipse Event #101: $100,000 Sunday Challenge, good for $11,460.
"MalakiasCF" Clamps Down Crocodile Title
The third and final win for "MalakiasCF" came when he conquered a field of 90 players, who rebought 31 times, in the $109 buy-in, $10K GTD Crocodile, which actually surpassed its guarantee by creating a $12,300 prize pool. After 6 hours and 45 minutes, "MalakiasCF" added $3,327.50 to his bankroll, which may have been his smallest win of the day, but still nothing to turn your nose up to.
Winning a Winter WonderLand
The $109 buy-in, $100K GTD WonderLand Main Event saw 880 players generate 308 rebuys, which formed a total prize pool of $118,800. That was distributed to the top 117 players including "AKyle89" (19th - $546.48), "LifeOnMars" (8th - $2,435.40), and "ROYALJAGUAR" (5th - $5,987).
After nearly 12 hours of play, it was Malta's "stolbre29" who prevailed to win a $21,384 first-place prize.
GREAT 8 Ends in Two-Way Deal
This week's $88 buy-in, $30K GTD GREAT 8 tournament, which starts players with 8,888 in chips and plays eight-handed, attracted 340 players who rebought 132 times. That created a $37,760 prize pool that was paid out to the top 48 players.
Among those to cash were "lufEEE" (13th - $509.76), Troy "S.Janowski" Quenneville (7th - $1,038.40), and "Ocanado014" (3rd - $4,059.0). After 9 hours and 50 minutes, Brazil's "rafte" came out on top to win a $6,812.71 prize after striking a heads-up deal.