888 Poker Sunday Review: Zubi222 Wins Kickoff ChampionChips Event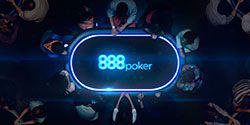 As the Summer Olympics in Rio de Janeiro enter their final week, the action at 888 Poker is just heating up. The first three events of the 888poker Summer ChampionChips were held on Sunday, attracting over 6,600 total entrants from across the world. Only instead of Rio and the beaches of Copacabana, these combatants descended upon the virtual felts of 888poker.
Overall, it was an amazing opening day for 888's first ever mirco-buy-ins tournament series called the ChampionChips. There were three real money tournaments held on Sunday to begin the 18-event series, with thousands of players in each and thousands of dollars in prize money on the line. The first three tournaments crushed their guarantees, which is very impressive considering the summer season.
The first ChampionChips event was a $5 No Limit Hold'em tournament with a $5,000 guaranteed prize pool. There were a staggering 2,036 entrants and 1,639 rebuys, which helped boost the purse all the way up to $16,721, more than triple the guarantee.
'Zubi222' was the big winner in Event #1 and turned his $5 buy-in into $1,159 after a five-way deal. He beat out 'DEDboroded2' heads-up, and the runner-up finish for the latter was worth $1,058. The top 18 in the tournament received at least a three-figure payday.
The largest cash overall in the kickoff ChampionChips event went to 'amazingteam', who ultimately busted in third place, but took home an "amazing" $1,965. The other two players to take part in the deal were '4everatoffee', who earned $1,228, and 'D1mka777', who binked just over $1,000.
Here's how the final nine cashed out:
1. Zubi222 - $1,159
2. DEDboroded2 - $1,058
3. amazingteam - $1,965
4. 4everatoffee - $1,228
5. D1mka777 - $1,002
6. pokercraft7 - $300
7. reraise999 - $167
8. bazzzarov - $167
9. Spector.V. - $167
'TheeWoolf' Takes Down $25,000 Guaranteed Half-Marathon
The second event of the 888poker Summer ChampionChips was a $12 buy-in $25,000 Guaranteed Half-Marathon. Just like in Event #1, the guarantee was blown away in Event #2 after 2,831 players turned out, creating a $30,857 prize pool, almost triple the guarantee.
'TheeWoolf' came out on top after a three-way deal and earned $3,456, the second largest amount awarded. Second place and the largest payday of the second ChampionChips tournament went to 'coatsy77', who walked away with $3,817. Third place, and the final chop participant, was 'LuckyStanis', who made a healthy $3,126. The top five players earned a four-figure payday.
Here's how the top nine in Event #2 cashed out:
1. TheeWoolf - $3,456
2. coatsy77 - $3,817
3. LuckyStanis - $3,126
4. vakrit59 - $1,820
5. 888TON43 - $1,227
6. bokisatamisa - $925
7. Q8ytilt - $617
8. fobos_y - $370
9. RSylvain - $277
'AWi17' Races to Victory in $1,500 Race Track
The third and final ChampionChips event held on Sunday, the opening day of the games, was the $1 buy-in $1,500 Race Track Turbo. The tournament brought in 1,827 players and had 1,161 rebuys for a total prize pool of $2,748. The top 207 finishers landed in the money.
There was no deal in this tournament, as 'AWi17' earned $464 for the outright win after outlasting 'elguajenuts', who raked in $330 for second place. The top six players made at least $100, or 100 times their initial buy-in. Here's how the top nine finished:
1. AWi17 - $464
2. elguajenuts - $330
3. KARE0708 - $252
4. gingerstorm - $178
5. _dejmohito_ - $130
6. deafelk - $104
7. A.FILTH - $78
8. niuzhuang - $52
9. Answer507 - $29
15 More ChampionChips Events on Tap
There are 15 more events scheduled as part of the inaugural 888poker Summer ChampionChips. The series' Main Event takes place on Sunday, August 21 and is a $30 buy-in tournament with $50,000 guaranteed. The ChampionChips' priciest event, the so-called High-Roller, begins on Tuesday, August 16 and has a $55 buy-in along with $30,000 guaranteed.
Players who enter multiple ChampionChips events could be handsomely rewarded. A special Summer ChampionChips Leaderboard will award cash and 888poker tournament tickets to the top 200 finishers. In fact, first place gets $1,000.
'TheeWoolf', who calls Brazil home, is currently on top of the leaderboard with 1,310 points, the only player over 1,000. Players can easily search their screen name to see where they stand.
Visit 888poker.com for the full Summer ChampionChips schedule.
'ThreeBunPass' Wins 888poker Baby Whale
The $320 buy-in Baby Whale was anything but "baby" over the weekend. 'ThreeBunPass' topped the field for a $16,345 payday after a two-way deal, his largest score on 888poker to date. 'ThreeBunPass' qualified for the WSOP Europe Berlin Main Event through 888poker already and continues to find success on the site.
His chopping partner was 'trino11', who earned $16,252. He's a three-time champion of the 888poker Sunday Challenge, winning it three times over a 12-month span. According to PocketFives, he has over $160,000 in winnings on 888poker alone.
Here's how the final nine in the Baby Whale cashed out:
1. ThreeBunPass - $16,345
2. trino11 - $16,252
3. Namlleh - $10,593
4. grandma1954 - $7,944
5. alexdimitrov - $5,489
6. wywrotx - $4,237
7. SiRobertson - $3,274
8. Al_Robbya - $2,311
9. xXGlamBabeXx - $1,685
You still can participate in these tournaments and can make it absolutely free with the help of 888 poker free money no deposit.