888 Claims Best Digital Operator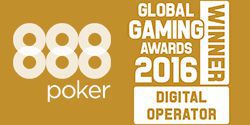 The Global Gaming Awards, hosted by G2E and powered by Gambling Insider, took place on 26 September. One highlight, which was warmly received in the Venetian ballroom, was the announcement that 888 Holdings had been voted the winner in the Best Digital Operator category for 888poker.com.
In a highly competitive category, the judges praised the way in which 888poker had expanded its operations to challenge PokerStars' online poker dominance in the US and Europe.
The Global Gaming Awards kicked off the Global Gaming Expo in style once again in 2016. 600 of the industry's most influential decision makers turned out to see who would be taking home gaming's most coveted awards, including many of the 60-person judging panel who had voted for the award winners.
On presenting 888poker with the Digital Operator of the Year award, Gambling Insider Editor Alex Hammond said: 'Congratulations to 888, a first Global Gaming Award win for the operator who has made great strides in challenging the dominance of PokerStars in both the US and Europe in the past 12 months, and in the process given the online poker industry a jolt that many believe the industry needs to return to its former glory'.
The Global Gaming Awards are the gaming industry's most prestigious accolades, because they are voted for by the industry itself.
Itai Frieberger, 888holdings CEO commented on 888poker's latest win: 'We are delighted to have received such an esteemed recognition, which is testament to our ongoing commitment to providing our players with an exceptional online poker platform and world class user experience. In a highly competitive market, we constantly strive to improve 888poker's offering with a cutting edge product, unique promotions and exciting partnerships, all of which have resulted in our increasingly dominant online presence.'